By Norma-Jeanne Hennis
Originally published in East County Magazine, May 9th 2016
On Saturday, May 14th, many San Diegans will head to Los Angeles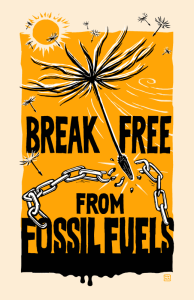 along with thousands of other Californians to participate in a mass rally in downtown L.A. to Break Free from Fossil Fuels.
It will be one of several mass mobilizations around the globe this month calling for an end to fossil fuel extraction. These rallies will be advocating to keep coal, oil and gas in the ground, an end to environmental racism, and transitioning to 100% renewable energy. The wave of global Break Free mass mobilizations kicked off last week when hundreds shut down the UK's largest open cast coal mine and 10,000 marched in the Philippines for a rapid transition to renewable energy.
In Los Angeles, rally participants will be calling for keeping California oil in the ground. CA is currently the 3rd largest oil producing state in the nation! Participants will demand an end to drilling next door to homes, schools, and businesses in Los Angeles and the Central Valley, and investigations to prevent fossil fuel disasters like the massive gas leak at Aliso Canyon. Speakers at the rally will include 350.org founder Bill McKibben and philanthropist Tom Steyer.
I asked some of the people going to the rally with local grassroots climate action group SanDiego350, to tell us why they chose to participate and also for their thoughts on the climate crisis and how they address it in their lives.
Christy Bulskov, mother of two, environmental activist and avid conservationist from Encinitas [Read more…]