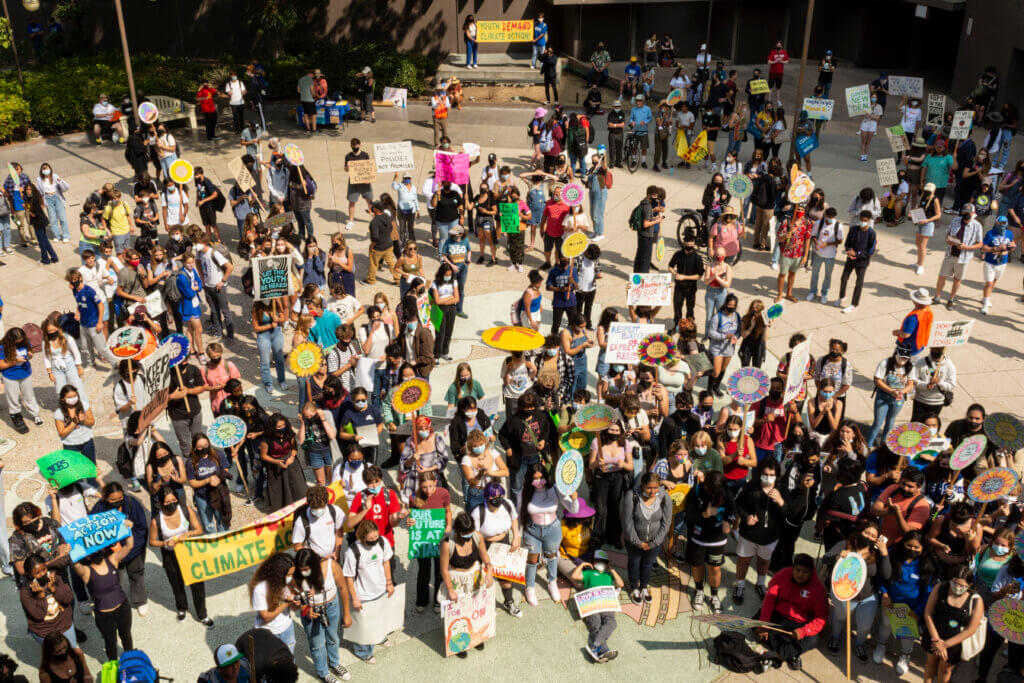 By Alec Lundberg
Trying to be more sustainable over the holidays? We've got you covered! There are many things we can all do to greatly reduce our carbon footprint.
Changing your diet AND eating locally can significantly help reduce the impact of greenhouse gas emissions! Meat and dairy makes up 14.5% of all global CO2 emissions. Beef alternatives like the Beyond Burger and the Impossible burger are around 20 times smaller than that produced by the same amount of beef. For some plant-based foods, production emissions can be below zero. This means that the production of these foods removes CO2 from the atmosphere— This is particularly true for nuts because some nut trees can be incorporated onto agricultural land – increasing its uptake of CO2. Additionally, transporting food by air emits around 50 times as much greenhouse gases as transporting the same amount by sea.
Switching to a vegetarian, vegan, or other type of diet can make all the difference! A switch to veganism, for example, could save almost 8bn tonnes of CO2e a year by 2050, when compared to a "business-as-usual" scenario. (By comparison, all food production currently causes around 13.7bn tonnes of CO2e a year.)
Dairy-alternatives like Oat Milk have significantly smaller carbon footprints in terms of land-use impacts and water requirements compared to regular dairy.
"The latest academic studies find that plant milks cause less than half the emissions of dairy milks, but these could be reduced even further by using renewable energy in production and when recycling the packaging." Another thing to keep in mind when grocery shopping is that certain vegetables have a lower carbon footprint than others, with zucchini, spinach, broccoli, cauliflower, and fennel being the lowest. Peas and beans also have a low carbon footprint because they absorb nitrogen. It's been scientifically proven that eating less meat and dairy helps keep C02 emissions low. This is crucial if we want to meet the standards set by the Paris Climate Accords!
https://interactive.carbonbrief.org/what-is-the-climate-impact-of-eating-meat-and-dairy/
https://www.ncbi.nlm.nih.gov/pmc/articles/PMC3394405/
https://slate.com/technology/2009/11/which-fruits-vegetables-and-other-crops-have-the-smallest-environmental-footprints.html
Start a garden and grow your own food! Gardening yourself gives you the greatest amount of control over what goes on your plants and into your soil. By growing your own food, you'll get peace of mind knowing what you are eating and what has gone into producing that item. Not only does commercial farming emit harmful chemicals into the air as mentioned above, but it also pours harmful chemicals into our soil and water. Conventional farming utilizes an extreme amount of pesticides and synthetic fertilizers to grow their commercialized crops, filling our earth and the foods that we are consuming with harmful chemicals, some that have even been proven to cause cancer and other diseases.
By growing your own garden, you are the one to decide what goes on your plants and into your soil, allowing you to reduce the amount of harmful chemicals polluting our environment and waterways. Organically growing your own food is sustainable and nourishes your soil by using safe and natural fertilizers and products. Growing food yourself also eliminates the concern of monocropping, which greatly reduces biodiversity, relies heavily on pesticides and commercial fertilizers, and often involves heavily mechanized farming practices. You'll also avoid consuming plastic packaging, which often can't be properly "recycled." Yes, it's true, growing a garden is one of the most sustainable practices on the planet!
https://www.onegreenplanet.org/environment/how-growing-your-own-food-can-benefit-the-planet/
https://www.trianglepest.com/blog/what-are-environmental-benefits-growing-your-own-food
Travel light, green, and offset emissions! The travel sector accounts for 8% of global carbon emissions. Climate change research by the BBC found that compared to air travel, you can reduce your CO2 emissions between 50% and 80% by taking a train, coach, or even a full passenger car instead. If you must travel by plane, you can still make more climate-friendly choices! Choosing a greener airline can offer greener forms of air travel. Major carriers such as Virgin Atlantic, United Airlines, and JetBlue have each launched sustainability programs to improve fuel efficiency, initiate recycling programs, and adopt the use of biofuels. For a more detailed list of popular airlines, view this list from greenvacations.com. Packing light can also make a difference— The heavier the plane, the higher the fuel consumption and the bigger the carbon footprint. And if you're embarking on an action-packed holiday with surfboards, skis, or camping goods, try to rent them locally instead. Don't forget, if you're worried about the emissions incurred during travel, there are a myriad of ways to offset them! You can purchase carbon offsets to restore the natural balance at websites like https://sustainabletravel.org/.
Live in a bike-friendly neighborhood? Electric bicycles are selling like hotcakes – and they have been for years.
Even in the US where the public has been slower to catch on to e-bikes, new electric bicycle companies have reached over a hundred thousand sales in just two years. The more established electric bicycle companies in the US are raking in hundreds of millions of dollars in funding as investors awaken to the huge surge in e-bike adoption. In Europe, electric bicycles are even more common and are actually projected to outsell cars by the middle of this decade. Not just outsell electric cars. All cars.
https://electrek.co/2020/05/01/electric-bike-sales-skyrocket-during-lockdown/
How to Reduce Your Carbon Footprint When You Travel? – Terrapass
Invest sustainably! Did you know that there are all kinds of sustainable funds now offered on investment platforms? Make your dollar truly green with affordable funds that don't invest in fossil fuels and instead support alternative/renewable energies, water conservation, and companies that have pledged to mitigate climate change!
https://www.fidelity.com/mutual-funds/investing-ideas/sustainable-investing?imm_pid=700000001752670&immid=100775&imm_eid=ep60581816211&gclid=CjwKCAiAs92MBhAXEiwAXTi2533GsBwNpo6IrVtbietsgrCzHBzm2cRzuvJtw6rhnYfJJn_ekXKegRoCumsQAvD_BwE&gclsrc=aw.ds
Lastly (and maybe most importantly)… Call and email your politicians! Demand that your senators and representatives pass sweeping environmental changes. Keep up the pressure and let your voice be heard! It's important to know that just 100 of all the hundreds of thousands of companies in the world have been responsible for 71% of the global GHG emissions that cause global warming since 1998, according to The Carbon Majors Database, a report recently published by the Carbon Disclosure Project (CDP). Only your politicians can hold these companies accountable and enact laws that enforce climate accountability! Remember, Climate Change affects us all, some more disproportionately than others—particularly minorities and indigenous people. Often, minorities live in areas that are more prone to destruction due to Climate Change. Everyone is entitled to a clean and healthy planet. Go Green this Thanksgiving!
https://citizensclimatelobby.org/
https://www.sierraclub.org/redwood/napa/blog/2020/11/how-minorities-are-disproportionately-affected-climate-change-and-what-we
https://www.activesustainability.com/climate-change/100-companies-responsible-71-ghg-emissions/?_adin=02021864894–