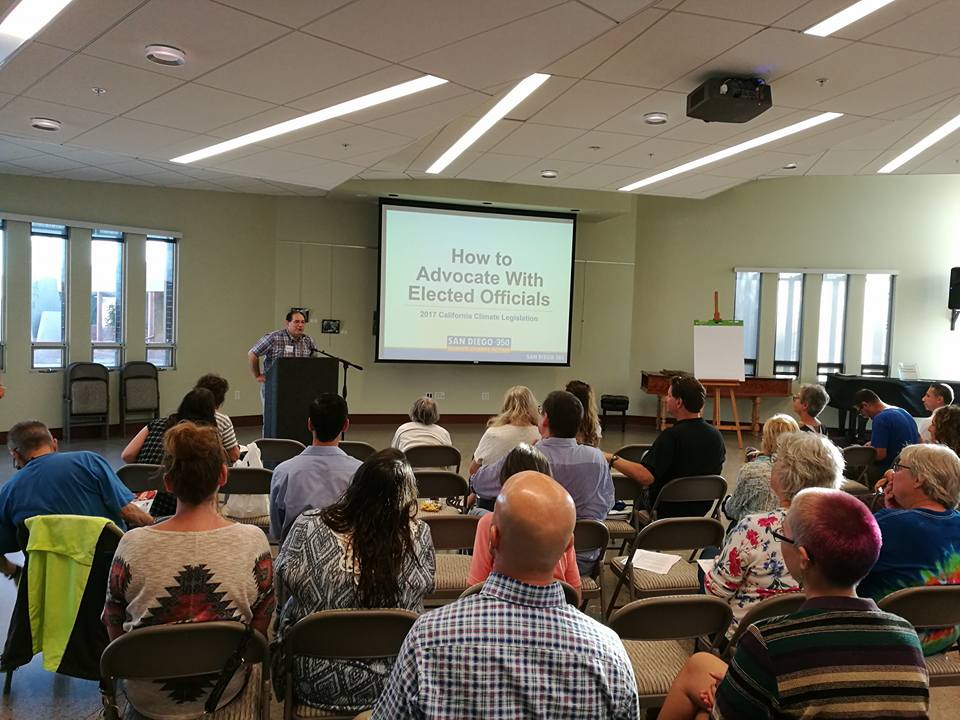 By: Jill O'Keeffe, SD350 Legislative Intern
SanDiego350 is working hard this summer on state legislation. We kicked off the effort to organize meetings with our legislators this past Sunday, June 28, at the Legislative Training where SD350 members met virtually to learn how to combat climate change with legislation and which bills are currently priorities.
The SD350 community, members from several 350 groups around the state, and individuals from affiliated organizations gathered for the event. Attendees heard presentations on the bills that SD350 is advocating for this year, how bills become law in California, and advocacy best practices.
Nine bills were highlighted within the presentation. Among the 2020 California climate bills are AB-345, SB-54, and AB-1080. AB 345 would require a 2,500 foot buffer between new oil drilling sites and homes/schools/businesses. Even now, with oil demand down, the governor is approving new drilling sites in California. We need to protect working families from the toxic environment created by oil drills. California Climate bills AB 54 and AB 1080 are both two-year bills that would move California toward eliminating 75% of single-use plastics by the year 2030. The mandated recycling proposed by these bills would reduce greenhouse gases in both production of materials and degradation of said materials if put in landfills or littered rather than recycled.
The presentation included two social justice bills: Senate bills AB-1460 and AB-3121. These bills target racial equity by advocating for an ethnic studies requirement at all California State Universities and by creating a task force to develop a plan for reparations for African Americans, respectively. AB 1460 and AB 3121 will improve exposure to cultural and social justice history and begin to address the disparities of a shameful history. Racial and economic justice are indisputable and essential to climate justice. We, as advocates for climate justice, must strive for a world where people of color have a safe and healthy future on this planet.
SD350 will be urging legislators to think big and invest in systemic changes that will allow us to reduce carbon pollution and prioritize frontline communities and workers. There needs to be a change in our economy that focuses on justice, both racial and environmental, while expanding the scope of cleaner energy. Elected officials need to be reminded that even during this uncertain time, many people are still dedicated to bettering the future for this country. By joining these legislative trainings the SD350 community will help press legislators to invest now in a more sustainable future.
The training was a resounding success with many motivated community activists. The legislative training slide deck can be found here.
What you can do:
Contact local state legislators and ask them to support the important bills above. Call Senator Atkins (619-645-3133) and Ben Hueso (619-409-7690)and tell them to support AB 345, which protects residents near oil and gas extraction sites.
Contact Amanda at Amanda@sandiego350.org to learn how to get involved with advocating for these bills—via meetings, calling our legislators, attending trainings, and more!