When:
05/12/2018 @ 4:00 pm – 6:00 pm
2018-05-12T16:00:00-07:00
2018-05-12T18:00:00-07:00
Where:
Torque Moto Cafe
3604 30th St
San Diego, California
92104

Join us a book signing featuring authour and SD350 member, Jim Miller. Jim has donated a box of his new climate-related novels to benefit SD350. Join us and help raise funds as well as enjoy and support local business, Torque Moto Cafe! Please RSVP so we know how many books to have on hand. Books are $15 each.
What: Book Signing and Fundraiser
When: Saturday, May 12th @ 4:00pm to 6:00pm
Where: Torque Moto Cafe, 3604 30th St, San Diego, CA 92104
RSVP here and on our Facebook event, please share with your friends!
Miller is a native San Diegan and a graduate of the MFA program at San Diego State University. In addition to his MFA in Fiction, Miller has a Ph.D. in American Culture Studies from Bowling Green State University. Miller teaches English, Humanities and Labor Studies at San Diego City College. He lives in San Diego with his wife, Kelly Mayhew, and their son, Walter. See Jim Miller's website here.
Hope to see you then!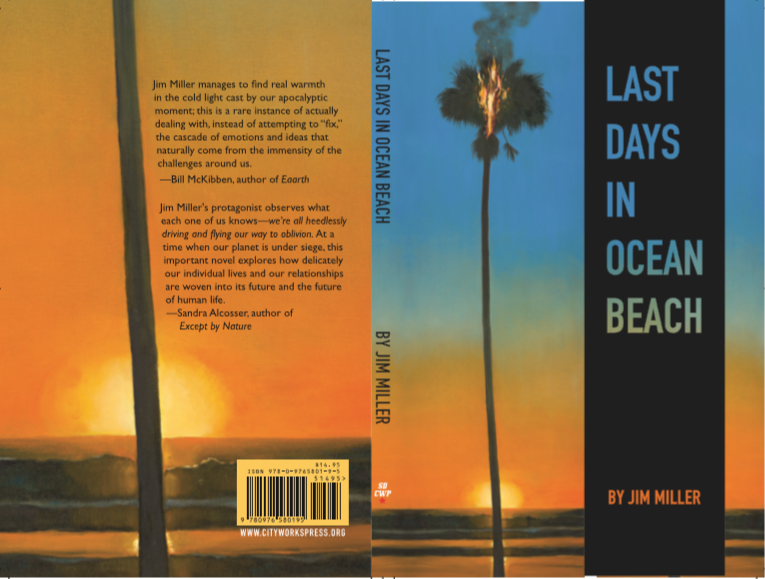 Last Days in Ocean Beach is the story of William, a scientist working at the Center for Extinction Studies, a think tank at the College of the Sun funded by a green billionaire. William lives "on the border between dread and wonder" as he desperately works to raise the alarm about climate change and its dire consequences to an apathetic public, learns to live with grief, and hold on to love. Along the way, we meet the residents of his wonderfully shabby apartment complex in Ocean Beach–bikers, hippies, skate punks, adventure tourists, reggae singers, aimless young professionals, Iraq war veterans, decadent retirees, a hospice nurse, and a Buddhist monk, all of whom are searching for something, looking to live more fully. Last Days in Ocean Beach is a blues song moaning and rocking the beach party at the end of the world.
Jim Miller's protagonist observes what each one of us knows–we're all heedlessly driving and flying our way to oblivion. At a time when our planet is under siege, this important novel explores how delicately our individual lives and our relationships are woven into its future and the future of human life.
–Sandra Alcosser, author of Except by Nature
Jim Miller manages to find real warmth in the cold light cast by our apocalyptic moment; this is a rare instance of actually dealing with, instead of attempting to "fix," the cascade of emotions and ideas that naturally come from the immensity of the challenges around us.
–Bill McKibben, author of Eaarth