When:
06/17/2018 @ 12:00 pm – 2:00 pm
2018-06-17T12:00:00-07:00
2018-06-17T14:00:00-07:00
Where:
Mission Trails Park - East Fortuna Equestrian Staging Area
Equestrian Circle, Santee, California
92071

Contact:
Stephanie Corkran, SanDiego350
Join us on Sunday, June 17th at Mission Trails Park for a rally to call on the California Public Utilities Commission (CPUC) to reject SDG&E's proposed new gas pipeline!
The pipeline would run from Rainbow down to Mira Mesa, possibly through Mission Trails, and would carry more than five times the volume of gas than the existing pipeline it would replace carries. The pipeline is expensive (costing ratepayers at least $600M), unnecessary, unsafe, and would commit us to building new fossil fuel infrastructure at a time when we need to be investing in clean energy and renewable energy jobs in order to avert the worst impacts of climate change.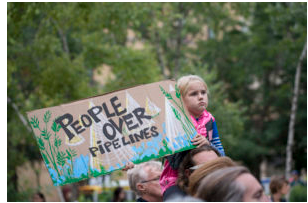 And that's not just us talking – on May 2 the CPUC's Administrative Law Judge recommended rejection of the proposed pipeline. Read our press release.
While this is a good first step, the CPUC could still vote to approve. So we hope you'll join us on Sunday, June 17.
The CPUC could vote on this issue as soon as June 21, 2018 so we need to draw public attention to this issue. Let's show our support for stopping this pipeline and protecting beautiful Mission Trails Regional Park and the wildlife that call it home!

This Father's Day attend this family friendly event and show your love for your children and all life by standing up against unsustainable and polluting fossil fuel infrastructure development. Fun poster making, face painting, and hiking. At the East Fortuna Equestrian Area in Mission Trails Park.
SCHEDULE
12:00 PM Optional: Make your own poster for the rally – we'll have all the materials
1:00 PM Rally and street theater (with Santee Councilmember Steve Houlahan and Tara Kelly, Sullivan Solar)
2:00 PM Optional: Short family friendly hike!
RSVP today to rally against the proposed pipeline, and help us ensure it is never built!
Also please join and share our Facebook Event.
p.s. If you haven't yet signed and shared the petition to the CPUC opposing the pipeline, please do so now!