Calls on the President to reject the project outright
SAN DIEGO, CA – In San Diego and across the nation today, citizens concerned about climate change applauded as President Barack Obama vetoed legislation that would have forced him to approve the Keystone XL Pipeline (KXL). SanDiego350 (SD350), an all-volunteer climate action group, called the presidential veto a battle won in the fight against KXL, but noted that it does not stop the pipeline's construction. The pipeline would cross an international border, so its ultimate approval rests with the President. SD350 is urging the President to take this last crucial step.
Masada Disenhouse, a co-founder of SD350, said, "Yes, of course I'm happy that the President vetoed the Keystone XL pipeline.  But I'm more anxious for him to finally reject it once and for all.  If he fails to take this action – that is totally within his power to do – then he fails to be the climate leader that the world so desperately needs right now."
President Obama has promised to disapprove construction of the KXL if it would make climate change significantly worse. Federal agencies and top scientists agree that it would.  The 800,000 barrels of crude oil to be transported daily through KXL will be extracted from the tar-sands of Alberta, Canada. Oil extracted from tar sands crude causes 17% to 22% more carbon dioxide (CO2) emissions than does oil produced from conventional crude oil. The destination of this particularly dirty crude is the refineries on the U.S. Gulf Coast, from where most of it would subsequently be exported.
Another SanDiego350 co-founder Janina Moretti said, "KXL would create only about 35 permanent jobs and it's only in the short-term interests of TransCanada and not at all in the interests of the average American who is already starting to experience disruptive weather events related to climate change.  Looking at it as a Southern Californian, why risk worsening our already critical drought and wild-fire situation to help out a corporation?"
According to climate scientists, we must keep global warming at or below 2° Celsius (or 3.6° Fahrenheit) to avoid the worst impacts. They estimate that, to stay within that limit, humanity must burn no more than 565 gigatons of carbon by 2050. Globally, it is estimated that five times that amount exists in oil, coal and gas reserves, meaning that 80% of these reserves would thus need to be left in the ground to keep global warming within the range recommended by climate scientists. SD350 argues that the extra emissions associated with tar sands crude oil production make the case for leaving it in the ground even stronger.
Noting this link between KXL and climate change, Peg Mitchell, a grandmother and volunteer with SanDiego350, stated, "If I didn't act to stop this horrifying threat to my grandkids' future, I couldn't live with myself. This country should be focused on a moonshot-type effort to get off all fossil fuels now."
Opponents of KXL include groups concerned with public health. RN Janice Webb, regional director of the California Nurses Association-National Nurses United, weighed in: "Nurses denounce the Keystone pipeline as a danger to public health.  Keystone's tar sands oil poses a far greater hazard than conventional oil, and has already caused a spike in cancer deaths, renal failure, lupus and hyperthyroidism in Alberta, Canada.  Accidents in oil transport have become all too common and cause disastrous contamination of air and water supplies.  We call on President Obama to stand up for the health of children, the elderly, and all people, and oppose the Keystone Pipeline."
SanDiego350 and its partners have actively opposed the Keystone pipeline since early 2013, with rallies and "pipeline walks"  in Mission Bay, Mission Beach, Balboa Park, La Jolla, downtown San Diego and even at Comic-Con.  They stand against the endless mining of fossil fuels and for an expedited transition to clean energy. The time is now, they believe, for the President finally to reject KXL outright.
    
2013 Comic-Con

February 2013, Rally at Mission Bay – Photo by Alex Turner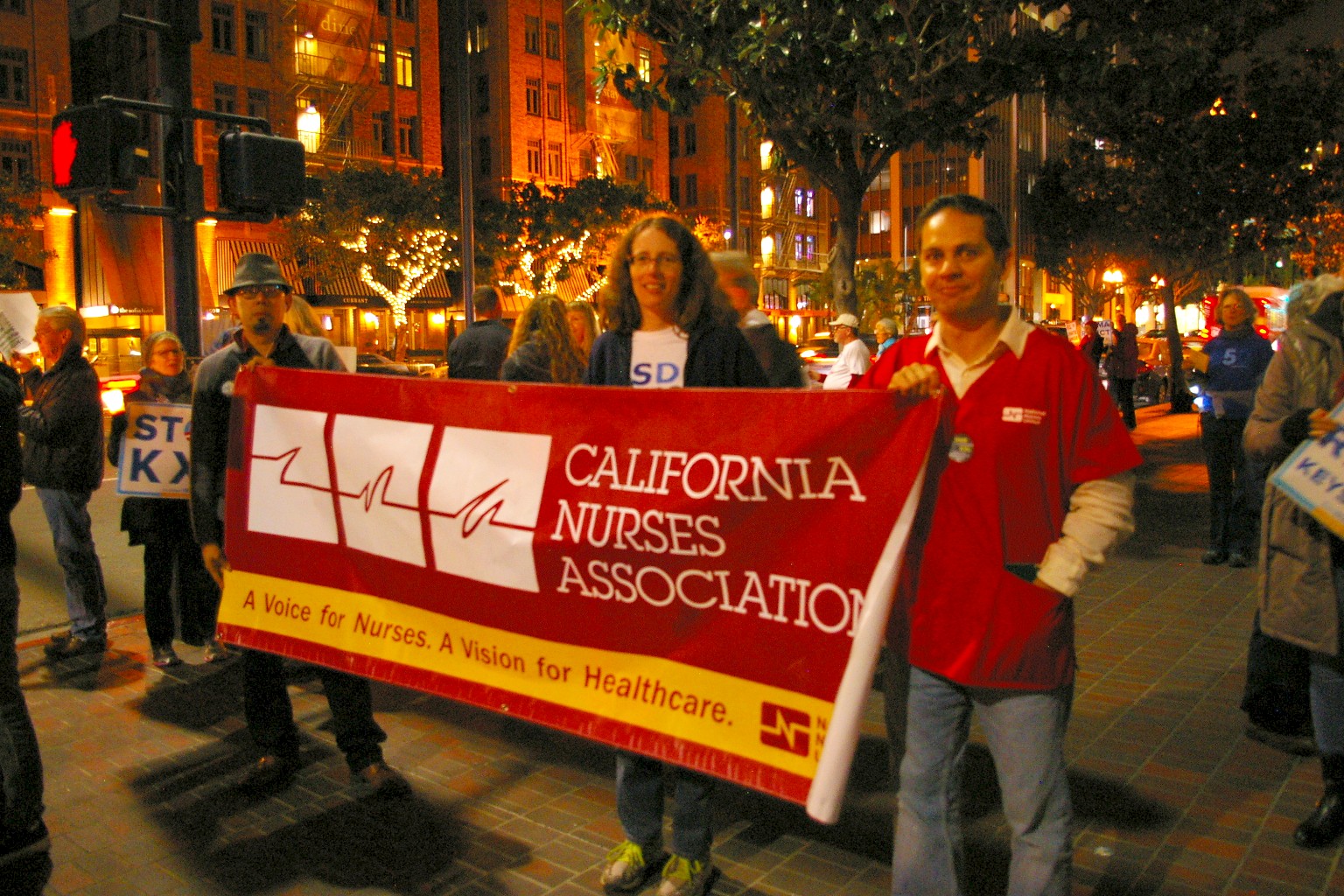 February 2014, California Nurses Association at KXL downtown vigil –  Photo by Diane Lesher

February 2014, Mission Beach  – photo by Doug Fowley
###
SanDiego350, an all-volunteer, non-profit organization, is concerned about climate change and its very real effects on our livelihoods, well-being, and the future for our children. We work to increase awareness of climate change and advocate for reducing greenhouse gas emissions. We are loosely affiliated with 350.org, the international climate organization, whose work inspires us.