2015-07-22 Stop ALEC fest 2015
Citizens demonstration against ALEC and their corporate shadow government.
Union groups and many other groups, including Citizens' Oversigh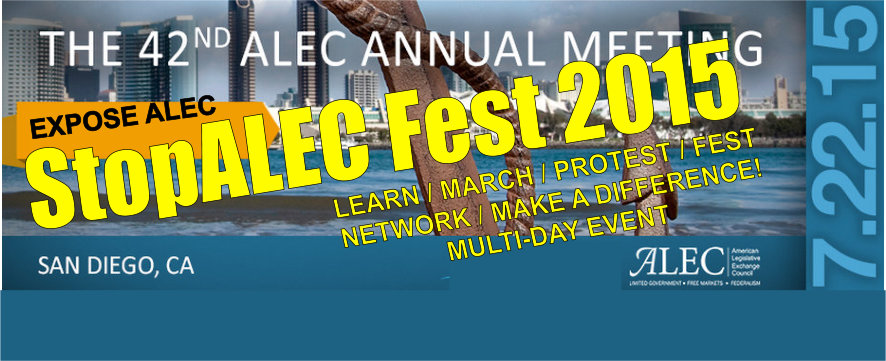 t and Artful Acti
vist San Diego will converge at the Grand Hyatt Hotel (where ALEC is hosting their 42nd Annual Meeting) starting around 4:30pm. SanDiego350's William Leslie will be one of many speakers and he will specifically be highlighting ALEC's detrimental effect on climate action.  Let's have a great showing from SanDiego350 members at this event!  We need to show ALEC they're not welcome in California!

ALEC cozies up corporate interests with legislators to produce model bills that represent the interests of corporations, not "we the people".  ALEC's 

Board of Directors includes lobbyists from ExxonMobil, Peabody Energy, and Koch Industries so is completely vested in avoiding any regulation of greenhouse gases.  

ALEC's Energy, Environment, and Agriculture Task Force was previously chaired by American Gas Association and Peabody Energy. Other ALEC members include Chevron, which has put huge amounts of money into fighting climate action in California. 


See http://prwatch.org/news/2011/07/10914/alec-exposed-warming-climate-change for more information.
You can meet up with other SD350'ers at this event at the 
grassy spot in front of Kansas City BBQ between 3:45 and 4:10pm
. We'll be toting SD350 banners/signs.  The meeting spot is on the opposite side of W Harbor Drive from the Grand Hyatt.
A crowd of around thousands is expected at this event, so it is probably advisable to take public transit or walk/bike if feasible.  
TRANSPORTATION
PUBLIC TRANSPORTION
Trolley - Seaport Village Station (Green Line) is within a block of the hotel.
DRIVING
West on SR 94 -- Take I-5 North and follow directions below for "North on I-5"
North on I-5 -- Exit 6th Ave. Left on 6th. Right on Ash Street. Left on Pacific Highway to Hyatt Hotel.
South on I-5 -- Exit Front St. Right on Ash Street. Left on Pacific Highway to Hyatt Hotel
South on 163 -- Exit Ash St. Left on Pacific Highway to Hyatt Hotel
PARKING
FREE PARKING for three hours is available at Horton Plaza, less than 1/2 mile away.  (Validate your parking ticket before you leave!)
ON-STREET Parking is FREE after 6pm in most areas. Parking on G St. Kettner Blvd, and many other streets nearby is only $0.75 per hour, and can be paid with a credit/debit card or cash.
SEAPORT VILLAGE parking is NOT free! Seaport Village guests pay $4 for the first 3 hours with validation and $3 every 30 minutes thereafter.
When
July 22nd, 2015 4:30 PM through 6:30 PM
Location
1 Market Pl




San Diego

,

CA

92101




United States