#NoDAPL at the Rose Parade (Pasadena)
SanDiego350 is cosponsoring this event being organized by the Bernie Sanders Brigade, local Native American leaders and other organizations. We'll show up to support the water protectors at Standing Rock and bring our #NoDAPL and #KeepItInTheGround signs and banners. We can discuss carpooling once people RSVP. Here's an initial rundown for the day. More information is in the
facebook event
.
RSVP NOW!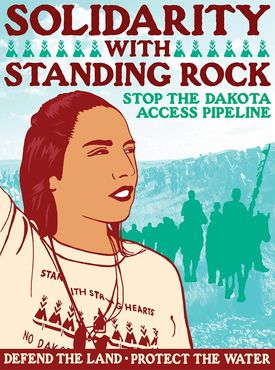 Meetup at 7 AM at Singer Park: 250 W California Blvd, Pasadena, CA 91105, (corner of California Blvd & St. John Ave)
Rally 7:30am: Prayer, guest speakers, parade participants instructions and general information
Line up 8:20am: behind last float on Orange Grove Ave.
Start Marching: We will march immediately behind last float & tow trucks. (City and parade officials have been notified and we are working with them to make sure we have the space immediately at the end of the parade to exercise our first amendment right to express our message). Note that we are not an official participant of the parade. Organizers of this event have the experience organizing for this parade. It is extremely important that we be creative with our props and signs.
The parade route is 5.5 MILES: Wear comfortable shoes, bring a sweater (for the morning), sunscreen
Transportation: We will organize carpooling from San Diego if people want to go. If you go on your own, use public transportation if possible - take the Gold Line and get off on Filmore Station. Walk to California Blvd. and go west to Singer Park (St John Ave and California Blvd.). If you are driving we recommend parking near the end of the parade route and taking the Gold Line back to Filmore Station.
When
January 2nd, 2017 7:00 AM through 1:00 PM
Location
Singer Park, 250 W California Blvd




Pasadena

,

CA

91105




United States