Dear ,
SanDiego350
grew tremendously in 2014. We scored major climate action victories and became a non-profit organization.
Thank you
for your dedication to combatting climate change, and for your hard work and your support.
Together we are making a difference
.
Below we reminisce about big things we accomplished together in 2014, but first we want you to take a moment to think deeply about the climate impacts we're already seeing, the narrowing window to turn things around, and about everyone and everything we love bearing the brunt of climate change. And to feel the growing momentum to change that narrative – divesting funds from fossil fuels, the U.S.-China deal, the millions who marched this year to demand timely and just action on climate.

Now think about how you can contribute to growing the climate movement right here in San Diego in 2015. To change everything, we need everyone.

VOLUNTEER


We've shown how much we can accomplish as regular San Diegans when we come together.

RSVP for an upcoming event (at right) or email us to set a time to talk about becoming more active. This can't wait.

DONATE
Make a monthly or one-time donation to SD350. You'll grow our efforts in 2015 and support rallies, education, anti-fracking and Keystone campaigns, and better local policies. Any amount helps.
Donate now
. Thank you!!!
SanDiego350 is a 501(c)(3) non-profit organization; your contributions are tax-deductible to the full extent of the law.
What a Year for Climate Action in San Diego!
So much happened in 2014 that it's difficult to fit into a single email...
We organized San Diego's biggest climate march ever
Roughly 1,500 of us marched through downtown San Diego on Sept 21 as part of the world-wide People's Climate March that had 400,000 people in the streets of New York. Council President Todd Gloria, Labor leader Richard Barrera, Councilman David Alvarez, faith leaders and others rallied us to demand
action on climate. Reminisce with
photos, videos and TV coverage of the march
and get motivated all over again.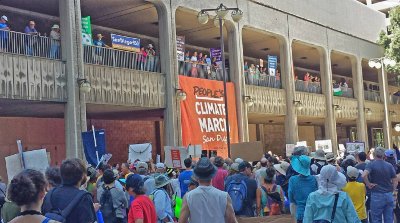 Crowds gather for the People's Climate March San Diego at City Hall
We gave San Diegans a voice against fracking
SanDiego350 created the San Diegans against Fracking coalition and held many events in 2014 to educate the public and elected officials. In March we brought 50 San Diegans to a
huge rally in Sacramento
and
received a grant from Patagonia
for our work on fracking. In May we turned people out to a forum on fracking led by Supervisor Dave Roberts and
bird-dogged Governor Brown
during his visit to San Diego. In July we hosted the movie Backyard and an anti-fracking ex-mayor from Texas. In August we protested the Coastal Commission's lack of action on fracking. We held educational events, gave presentations, generated media coverage for the issue in San Diego, and
represented San Diegans in the state-wide Californians Against Fracking coalition. Join us for an upcoming forum (Jan) and state-wide rally in Oakland (Feb) – info at right.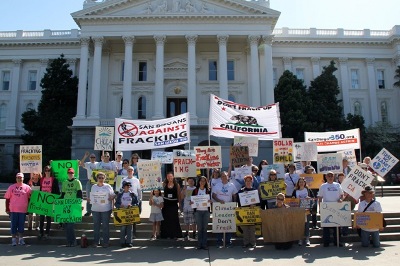 SD350 members in Sacramento to call for a ban on fracking in California
We delayed the Keystone Pipeline
With protests and vigils and preparation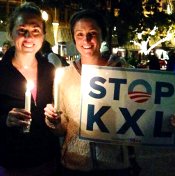 for civil disobedience happening all
over the country, it may not be surprising that President Obama chose to delay a decision on the KXL in 2014. Here in San Diego we turned out hundreds for
a vigil in February
and
President Obama's visit to San Diego in May
, as well as holding several "
pipeline walks
" and civil disobedience trainings. Now that the Republican Leadership in Congress is promising a vote to force the President's hand in a matter of weeks, we're planning actions in January to call on the President yet again to *reject* the pipeline once and for all. Stay tuned for a call to action!
We made real progress on local climate policies
We worked in coalition with other SD organizations to support a strong
climate action plan
in San Diego. The plan put forward by Mayor Faulconer is legally enforceable and has the required greenhouse gas emission reduction targets. As this plan moves through the review process we'll be involved every step of the way to push for effective measures that increase efficiency and incentivize transitioning to clean energy, and to ensure plan details and implementation achieve the goals.
We also strongly supported
Community Choice Energy
, hosting a fundraiser in April,
co-hosting a forum in June
, and
protesting against AB2145
, which would have effectively killed community choice in California, in May (it thankfully failed in the senate).
We work with the
Transportation Justice Coalition
to ensure all San Diegans have access to public transit and active transportation.
We attended numerous council meetings and hearings, met with elected officials, sent in comment letters, and more. The Public Policy Team will continue to focus on these issues in 2015.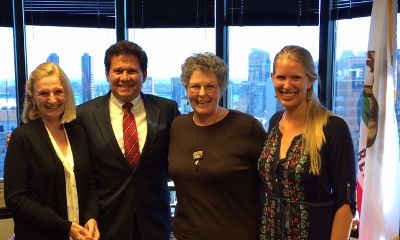 SD350 members meet with CA Senator Marty Block to discuss AB2145 and fracking
We educated San Diegans about Climate Change
We educated thousands and thousands of San Diegans about climate change through presentations, tabling, workshops, and media coverage.
Of special note: a special climate change activism workshop for young people in August, meeting hundreds of people at our booths at Earth Fair in April, and giving many presentations throughout the year.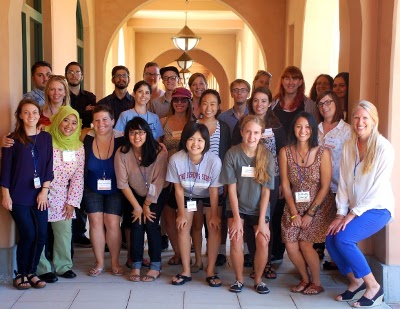 Participants in SD350's climate change activism workshop for young people in August
We grew and strengthened our organization
In 2014 our membership grew to nearly 5,000 San Diegans. We now have seven active teams doing on-going great work (see right). We became a 501(c)(3) non-profit organization. We raised enough money to hire a few interns in 2015. Our
Facebook page
is nearly at 1,000 likes (nudge, nudge). And lest you think we don't have enough fun, in 2014 we enjoyed our third annual picnic in July and our very first camping trip in October.

There's one simple reason we were able to accomplish all this and more in 2014: YOU. Every SD350 member enables us to do more.
Thank you!
Yours for powerful climate activism in 2015,
SD350 Steering Committee - Emily, Bob, Jeanne, and Masada