February 2015
Dear ,
Welcome to SanDiego350's

February 2015

newsletter. We hope to see you at upcoming events.

Email us to volunteer.

SD350 Monthly Meeting - Tomorrow, Tuesday Feb 17, 6:45
Join us for the SanDiego350 April Membership meeting at the First Unitarian Universalist Church in Hillcrest. Great way to learn what SanDiego350 is working on, how you can get involved, and to meet like-minded climate activists (monthly on third Tuesdays). See Feb 17 meeting details, including transit/carpooling/free parking.

SanDiego350 Intro-Chat for New Members - Feb 26, 5:30pm


New to climate activism? Want to join SanDiego350 but don't know where to start? Join us
to learn more about our organization and activities in a low-key, welcoming setting. Mingle with climate game-changers, ask questions, see how we are organized and what we're doing, and explore opportunities for getting involved.
Info/RSVP/Facebook
100 San Diegans join 8,000 Californians at Real Climate Leadership Rally in Oakland, CA to call for ban on fracking
About 100 San Diegans, including roughly 40 King Chavez High School
students, boarded 2 buses chartered by SD350

at midnight on Feb 6 to get to Oakland in time for the huge rally the next morning to let Gov. Brown know that real climate leadership means banning fracking and leaving fossil fuels in the ground. View our great photos and media coverage.

SD350 High Water Line project educates Mission Beach businesses and residents about sea level rise caused by climate change
In January, SD350 volunteers held the "High Water Line", culminating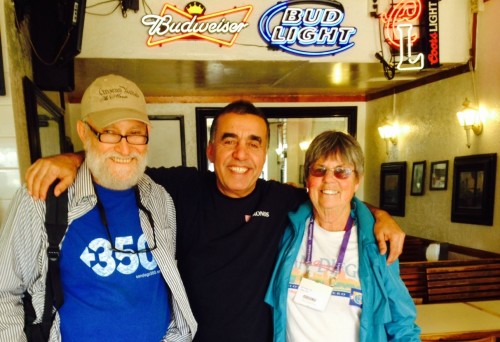 3 weeks work canvassing businesses, educating residents, and bringing a very visual reminder to Mission Beach of how sea level rise will impact this quintessential San Diego neighborhood. The king tides helped to bring home how Mission Blvd will be being regularly flooded at high tide by 2050. View a great photo essay, including media coverage.



Contribute to our work
Please donate to SanDiego350, a 501(c)(3) nonprofit organization. Your support will help our all-volunteer organization print materials, mobilize San Diegans for rallies and hearings, hold trainings, do public education, and more. Any amount helps. Thank you! ♥♥♥

Help Wanted
Help us maintain & improve the SD350 website. Basic design/html skills great. Email Masada.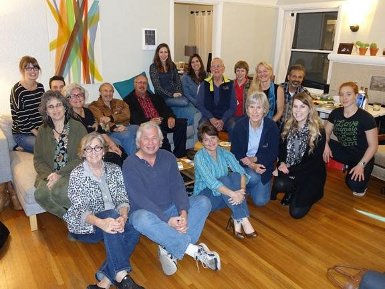 SD350's "Planet-Based Diet" Team is off to a great start. Here's their "Comfortably Unaware" book club event in January.
Get involved today!

Friend on Facebook

Follow on Twitter
+1 on Google Plus

Forward to a friend



Feb 17, 6:45pm - SD350 monthly membership meeting (Hillcrest)
First Unitarian Universalist Church, 4190 Front St. San Diego 92103. (Info)

Feb 26, 6:45pm - SD350 Intro-Chat for new members (Univ Heights)
4429 New Hampshire St. San Diego 92116 (private home). (Info/RSVP)
Mar 15, 2:00pm - People's Climate Walk and Rally
Coalition event organized by the Ocean Beach People's Organic Food Market. At City Hall, 202 C Street, SD 92101.
(Info)



Climate is big issue for Hispanics, and personal (NY Times)

Editorial: Amid a lack of fracking data, the state should halt new operations (LA Times)

San Diego labor goes green: New environmental caucus formed (SD Free Press)

Editorial: Mr. Obama's easy call on Keystone bill (NY Times)

Deep in the Amazon, a tiny tribe is beating big oil (Yes! Magazine)

Sides square off over climate change proposals (LA Times)

If we all eat meat we're doomed (Newsweek)

Chance of "megadrought" in U.S. Southwest now 50% (LA Times)

San Diegans head to Oakland for climate march

Want to make your home more energy efficient? From LEDs to solar panels, energy use monitoring to home automation, Tyler's simple guide on the SD350 blog has you covered.