FOR IMMEDIATE RELEASE
San Diegans call for rapid implementation of strong, measurable climate action plan

SanDiego350, Climate Action Campaign, Environmental Health Coalition, and the American Lung Association in California rally at scoping meeting that marks beginning of Climate Action Plan review process; Councilman Todd Gloria joins call for action
San Diego, CA
– At a rally in Balboa Park ahead of the scoping meeting that marks the beginning of the formal review process for the City of San Diego's Climate Action Plan, speakers and community residents called for the draft Plan to remain legally binding and provide the details of measurable methods the City will utilize to achieve the greenhouse gas emissions reductions required by the State of California.

Ralliers holding colorful signs called for beginning implementation of key strategies now, while the review process moves forward, given the urgency of the climate crisis and the increased wildfire, drought and coastal flooding dangers it poses in San Diego. Councilman Todd Gloria spoke to the crowd, saying, "I was extraordinarily proud to present this plan while I served as mayor, and agree that the time to act is now. I pledge to do what I can to move the Plan forward today. We don't need to wait for the environmental review process to tell us that the future of San Diego's quality of life depends on immediate action."

Ralliers supported the plan's goals of achieving 100% clean energy for all homes and businesses by 2035; significant increases in the number of commuters biking, walking and taking public transit; increases in residential and commercial energy efficiency; and creation of high-skilled, high-wage clean energy jobs. Nicole Capretz, Executive Director, Climate Action Coalition, said, "The Climate Action Plan is a game-changer for how we grow and develop as a City. After going out and talking to many community groups about the plan, we hear one message time and again – let's act now and implement our 100% renewable energy future before it's too late."

Emily Wier, a Steering Committee member with SanDiego350 said "The environmental review needs to ensure that this plan will meet long-term greenhouse gas reduction targets, including 2035 and 2050 reduction targets as required by AB-32 and S-3-05. San Diegans are very concerned about climate change and the City's Climate Action Plan, as evidenced by the 1,500 strong attendance at the San Diego People's Climate March we organized with our partners in September."

Kayla Race of Environmental Health Coalition (EHC), which earlier in the day held a Press Conference on the Plan stated "The city should act now to reduce the threat of climate change, and it should start in the neighborhoods who are most impacted and breathe the most polluted air. The Climate Action Plan should put these neighborhoods first for transit infrastructure, solar, and energy efficient buildings."

Debra Kelley of the American Lung Association in California emphasized the significant impacts of climate pollution on public health in San Diego, saying "Climate Change creates the ideal conditions for smog formation, increasing the likelihood of serious health effects. The Lung Association supports aggressive strategies to reduce greenhouse gas emissions that will have the co-benefits of reducing air pollutants and providing rapid public health improvement."
Before and after the rally the crowd joined in call-and-response style chants such as "Climate Change is here today. Fossil fuel is not the way." After the rally most of the participants entered the Balboa Park Club to voice their opinions at the scoping meeting.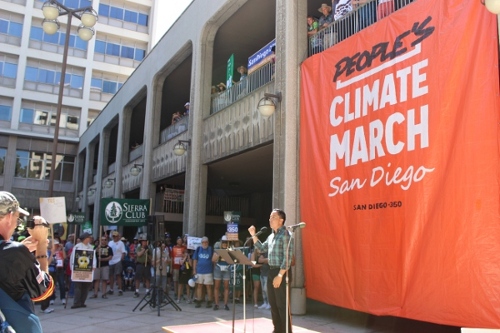 Sept 2014, Councilman Todd Gloria speaks at the People's Climate March - photo by Tara Kelly
SanDiego350, an all-volunteer, non-profit organization, is concerned about climate change and its very real effects on our livelihoods, well-being, and the future for our children. We work to increase awareness of climate change and advocate for reducing greenhouse gas emissions. We are loosely affiliated with 350.org, the international climate organization, whose work inspires us.