May 2015
Dear ,
Welcome to SanDiego350's

May 2015

newsletter. We hope to see you at upcoming events.

Email us to volunteer.
Earth Day Successes and Photos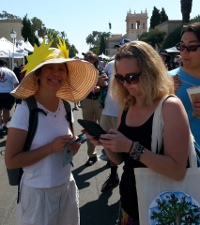 Earth Day was a huge success for SanDiego350. We educated people about climate change, fracking, and the impact of their diet. We sent several hundred petition signatures to Mayor Faulconer (calling for 100% clean energy by 2035) and Governor Brown (calling for a ban on fracking in California). Our Planet-Based Diet Team's "Garden of Eating" made the front page of the Union Tribune! More photos here.
Intro Chat: Orientation to SanDiego350 -
Tues, May 5, 6:30PM
New to climate activism? Want to join SanDiego350 but don't know where to start? Join us
to learn more about our organization and activities in a low-key, welcoming setting. Mingle with climate game-changers, ask questions, see how we are organized and what we're doing, and explore opportunities for getting involved.
Info / RSVP
North County Climate Action Plan Workshop - Sat, May 9, 1:30-5 pm
Learn about one of the most effective ways to advocate for climate solutions at the local level. You'll learn what a Climate Action Plan (CAP) is, review the status of various cities' CAPs, connect with other climate advocates in your city and region, and leave with follow-up actions and contacts. The workshop will combine presentations by CAP experts, breakouts to discuss the status of individual cities, and fun networking and energizing activities. Co-sponsored by Climate Action Coalition and Preserve Calavera.
Speakers:
Nicole Capretz
, Executive Director, Climate Action Coalition and a primary author of the City of San Diego draft Climate Action Plan,
Diane Nygaard
, President, Preserve Calavera
, and Dwain Deets and Lisa Wellens, from SD350's Public Policy Team. $5+ requested to cover snacks and materials but no one will be turned away. Info / RSVP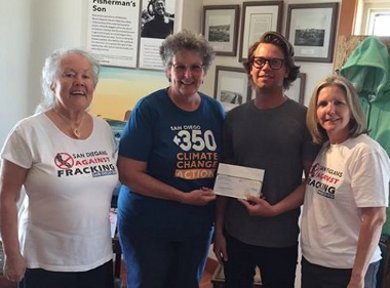 A huge thank you to Patagonia (Cardiff, pic above) for supporting our anti-fracking efforts for a second year, to Rob Greenfield for supporting our planet-based diet team, and to everyone who has contributed their time and/or money to make our grassroots climate efforts successful!!!
SD350 Monthly Meeting - Tuesday May 19, 6:45pm
Join us for the SanDiego350 May Membership meeting at the Seaside Center for Spiritual Living in Encinitas. A great way to learn what SanDiego350 is working on, how you can get involved, and to meet like-minded climate activists (monthly on third Tuesdays).
See May 19 meeting details
, including transit/carpooling/free parking
.
Contribute to our work
Please donate to SanDiego350, a 501(c)(3) nonprofit organization. Your support will help our all-volunteer organization print materials, mobilize San Diegans for rallies and hearings, hold trainings, do public education, and more. Any amount helps. Thank you! ♥♥♥