Dear ,

We've asked Rep. Susan Davis to show us she's a climate leader by taking three simple steps: 1) Cosponsor the Green New Deal; 2) sign the No Fossil Fuel Money pledge; 3) host a town hall meeting on climate change.

But she has yet to take action.

So, as part of the Raise the Alarm Campaign, SanDiego350 is leading rallies outside her office every single Friday, beginning June 7, until she does.

RSVP now to join us Friday, June 7th to demand that Rep. Davis act on climate change.

What: Rally to demand a Green New Deal
When: Friday, June 7 @ 10 am - 12 pm
Where: Rep. Davis' Office, 2700 Adams Ave # 102, San Diego, CA 92116

We will continue to Raise the Alarm until the Green New Deal is adopted. There is strength in numbers! Join us, make your voice heard, and help us spread the word.

RSVP now to demand climate action June 7th, then share with your friends.

Hope to see you there!

Barbara Jaffe-Rose
Volunteer

P.S. If you can't come on June 7th, but want to get reminders for Friday rallies, please respond to Barbara at barbarajr@sandiego350.org

P.P.S. Join us at other upcoming events:

Legislation Training. Thursday, June 27 @ 6:30 pm, Hillcrest. Exciting legislative training that will prepare you to meet with our state legislators in July and August to talk about priority climate bills. RSVP

Visit to Sycuan Cultural Center. Saturday, July 13 @ 11 am, Sycuan Cultural Center. Join us for a guided tour and Q&A session to better understand and appreciate the Kumeyaay community, history, culture, and values. RSVP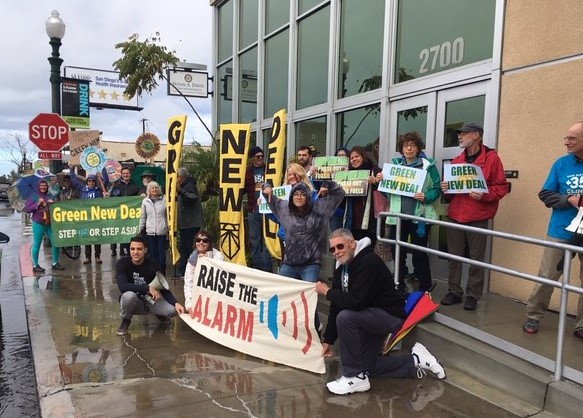 GND Petition drops at Susan Davis' office, 2019
Donate to support our work
The organizing and movement building we are doing makes a difference and delivers climate victories, whether it's in Standing Rock or at the City Council. Support our work today by becoming a monthly donor or making a one-time donation.

Visit our website, Facebook, and Twitter to stay in touch! Email us with questions.