Dear ,
On the heels of our monthly meeting this Tuesday, we have two important events coming up. You are welcome at any/all of these. Please consider joining us at them!
SD350 monthly meeting: Tuesday July 21st, 6:45 pm – 8:15 pm
Join us for the SanDiego350 July Membership Meeting at Bethel University Seminary. This is a great way to learn what SanDiego350.org is working on, how you can get involved, and to meet like-minded climate activists. New or not, you'll be welcome!
INFO
(No need to RSVP)
Anti-ALEC Protest: Wednesday July 22nd, 4:30-6:30 pm
The American Legislative Exchange Council, with fossil fuel giant corporate members like ExxonMobil and Peabody Energy, cozies up corporate interests with U.S. legislators to produce model bills for state legislatures - all behind closed doors. This protest will have about 3,000 people gathering outside ALEC's 42nd Annual Meeting at the Grand Hyatt hotel to shine a spotlight on this shady organization and their anti-worker, anti-environment shenanigans. You can meet up with other SD350'ers before the event at the grassy spot in front of Kansas City BBQ between 3:45 and 4:10pm. We'll have signs for you, so please
RSVP
so we know how many to bring.
MORE EVENT INFO

Tomorrow, Sunday July 19th,
11am to 4pm -
Help make signs for the ALEC event
at the home of member Sarah Chase,
4307 Manzanita Way, Oceanside.
Call Sarah at
(314) 299-1729
if you need directions.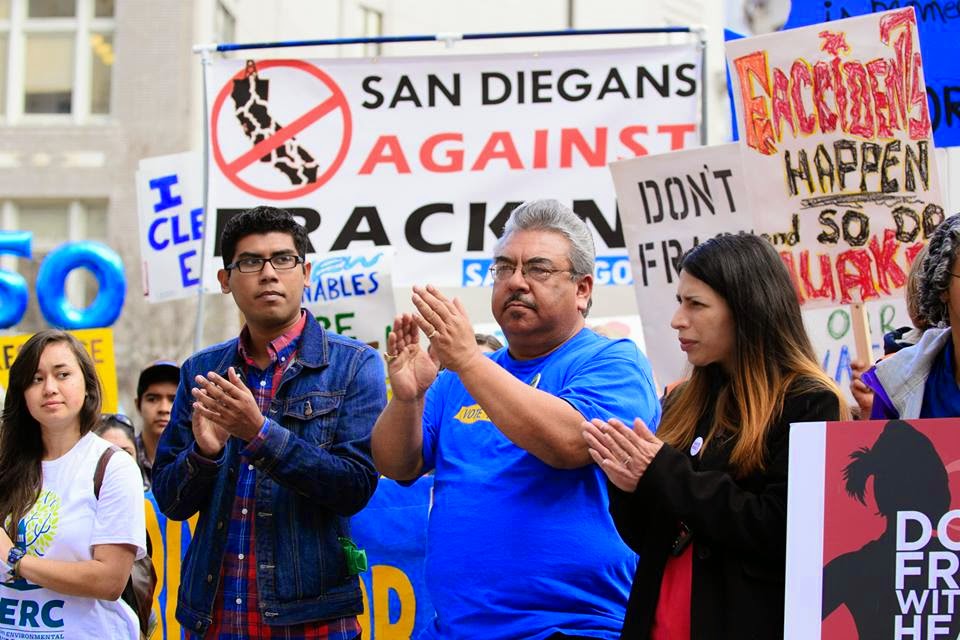 Clean – Not Extreme! (Governor Brown, ban fracking!), Saturday, August 1, 11:00 am – 3:00 pm
On August 1, citizens are gathering in their communities all over California to
send this message to Governor Brown: Ban Fracking!
In San Diego we'll gather in Ocean Beach for a fun, participatory art project on a giant canvas - to be delivered to Gov. Brown later this Summer. Come to OB, learn all about why fracking must be banned, and help us with our artwork too!
INFO / RSVP
Can't come to an event but want to support our work?
Please consider
making a donation
.
Please
visit our website
& check us out on
facebook
,
twitter
,
instagram
&
google+
to stay in touch!
Email us
to find a carpool to an event, or with any questions. See you soon!
Angela Deegan and the SanDiego350 team