FOR IMMEDIATE RELEASE
San Diego Residents use Thumbprints on Canvas to Call on Gov. Brown to Stop Fracking
In Statewide Day of Action, California Families and Residents Urge Gov. Brown to Protect Public Health, Water and Climate
San Diego, CA
– On Saturday dozens of San Diegans participated in an interactive, family-friendly, anti-fracking art project to be delivered to Gov. Brown later this month signalling a "thumbs up" for 100% clean energy and a "thumbs down" for fracking and extreme fossil fuel extraction. The event was one of more than a dozen that were held around California this weekend as part of a statewide day of action signifying the mounting opposition to fracking and other extreme oil extraction methods.

The day of action followed the release last month by the California Council on Science and Technology (CCST) of an independent statewide scientific study on fracking and other extreme methods of oil well stimulation in California. The study outlined serious risks associated with oil development processes and concluded that state regulatory officials lack data to adequately protect the public or even to propose effective mitigation strategies to avoid associated health and environmental risks including drinking water contamination, induced earthquakes and contamination of crops.

San Diego residents have reason to be concerned, particularly over the negative impact that fracking and other oil and gas activities may have on our ocean waters and on our water supply in these times of serious drought. Recently, Gov. Brown and the Dept. of Gas and Geothermal Resources (DOGGR) granted nine permits for offshore fracking from the oil platforms off Long Beach, just north of San Diego waters, while the EPA is allowing the dumping of up to nine billion gallons of fracking waste water into our oceans. As Oceanside resident, avid surfer and business owner Mike Sidebottom said, Governor Brown has a duty to protect our shores, our people, and our livelihoods. I am appalled at his approval of offshore fracking permits and deeply concerned that his carelessness in this shows how out of touch he is with risks associated with this type of extraction.

The fracking process also requires large amounts of water, mixed with any number of highly toxic chemicals. For every barrel of oil recovered there are 15 barrels of waste water ("produced water") which cannot economically be cleaned. It is typically stored in open, often unlined, pits to evaporate, or re-injected into abandoned underground wells, allowing contaminated wastewater to percolate into the ground.

Additionally, the CCST study concludes that operations still are fraught with unmitigated risks, including toxic air pollution from operations close to neighborhoods, such as in Los Angeles. Oil and gas activities in residential areas create major public health concerns including risks to children, pregnant women, the elderly, and those with pre-existing health conditions.

Last week, Gov. Brown met with Pope Francis and mayors from around the world in the Vatican on the need to combat climate change and to leave one third of the world's oil in the ground. While the governor has taken steps to demonstrate California's leadership, his continued support for fracking and expanded oil drilling is prompting growing scrutiny and outrage. California remains the third largest producer of oil in the United States.

In the absence of statewide action to protect public health and the climate, communities across the state facing the threat of expanding oil development are taking steps to protect themselves. Last year, Santa Cruz and Mendocino counties joined the city of Beverly Hills in passing measures to ban fracking and similar oil extraction techniques. San Benito County voters also approved a fracking ban with a 59 percent majority, despite a $2 million opposition campaign by the oil industry. In March, voters in Hermosa Beach stopped E&B Natural Resources' attempt to lift a ban on drilling in their community which would have allowed the company to drill as many as 34 oil wells within city limits. Mass transit, vehicle fuel efficiency, electric vehicles powered by renewable energy, and biofuels are all viable replacements for our dependency on oil.

This day of action is just the latest in a series of many actions over the past few years, including huge protests in Oakland and Sacramento, where people from all over this state have called on Gov. Brown to show climate leadership and protect the health and welfare of Californians by banning fracking. As La Mesa resident Angela Deegan stated, He needs to heed the persistent calls and show real climate leadership by banning fracking.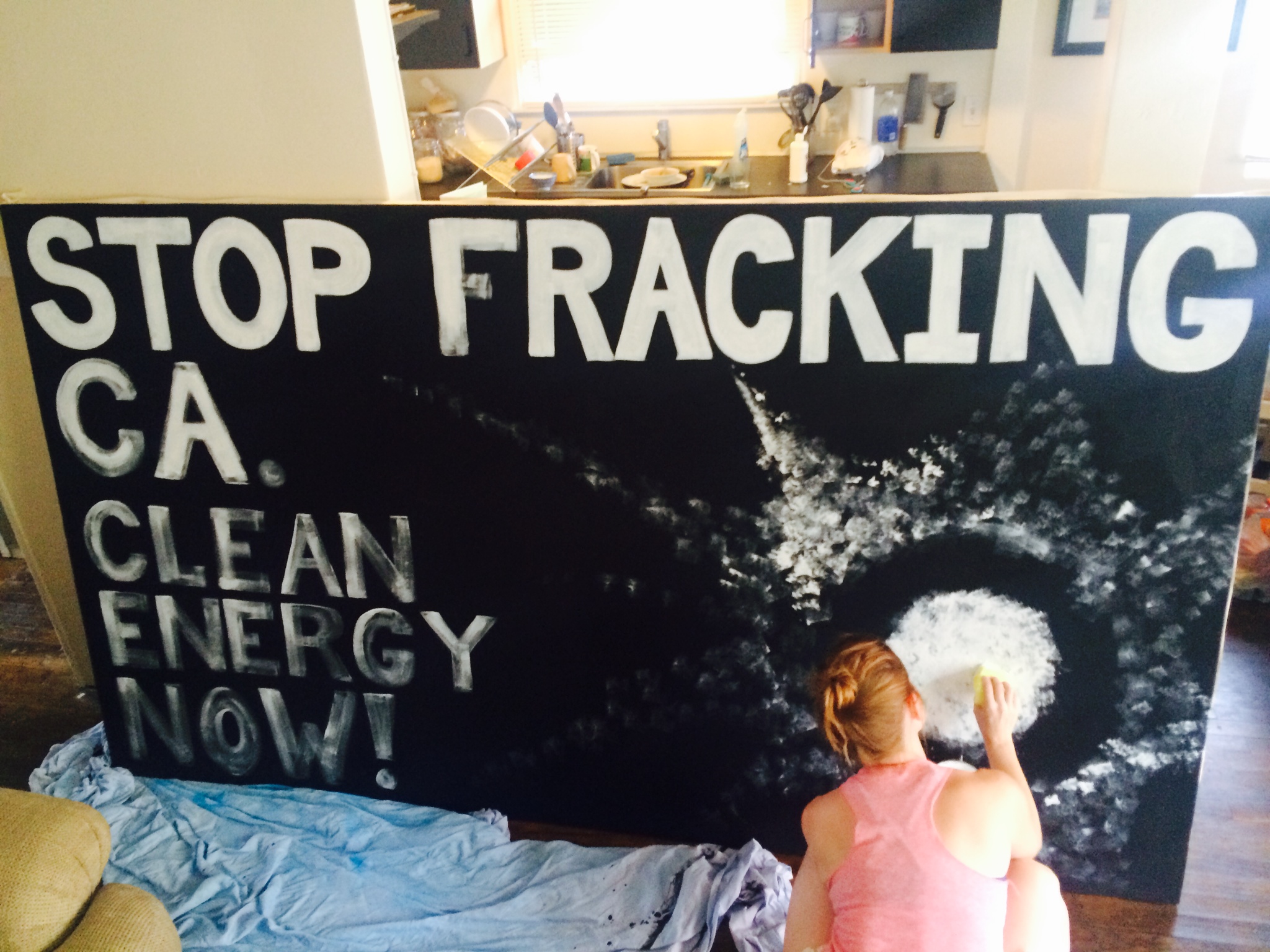 Katrina Fowler prepares the 5' x 9' canvas for San Diegans to apply their thumbprints, representing "thumbs ups" for clean energy - photo by Keith Fowler
SanDiego350, an all-volunteer, non-profit organization, is concerned about climate change and its very real effects on our livelihoods, well-being, and the future for our children. We work to increase awareness of climate change and advocate for reducing greenhouse gas emissions. We are loosely affiliated with 350.org, the international climate organization, whose work inspires us.