FOR IMMEDIATE RELEASE
San Diegans tell CA Public Utilities Commission: Don't kill solar

Say proposed changes to Net Energy Metering will kill the local solar industry and make it impossible to reach state greenhouse gas emission reduction targets
San Diego, CA
– Members of SanDiego350 spoke out at the California Public Utilities Commission (CPUC) Forum on Net Energy Metering on Wednesday. The SanDiego350 members, who are residents from all over San Diego County joined dozens of other San Diegans who have been angered by SDG&E and other California utilities' proposed changes to Net Energy Metering and increased fees for rooftop solar customers. During the public comments they expressed to the commission "stop the utilities' misguided campaign to put the brakes on solar energy".

Because CPUC President Michael Picker needed to catch a flight, only about half of the 115 members of the public who signed up to speak were actually allowed to comment (and those only for a minute each).

The proposed changes to Net Energy Metering and fees would reverse progress toward renewable energy goals, disincentivize energy efficiency, and damage the local job-creating solar industry. If the utilities get their way, the payments for rooftop generated solar energy would drop by up to 50%. On top of that, the utilities want to add extra fees for solar customers only. It would take a harsh toll on owners of rooftop solar panels—including homeowners, school districts and municipal governments.

Joyce Lane of San Diego, who signed up to speak but was one of the roughly 50% of those who were unable to, said "Rooftop solar is helping to create a better San Diego - bringing in good jobs and boosting our local economy, and reducing air pollution and the health risks associated with climate change. We can't let the utilities force us to keep using dirty fossil fuels, just because they'd rather hang onto their monopoly business model which requires more power plants. San Diego's all about innovation - we should be embracing the cheaper, cleaner energy offered by rooftop solar."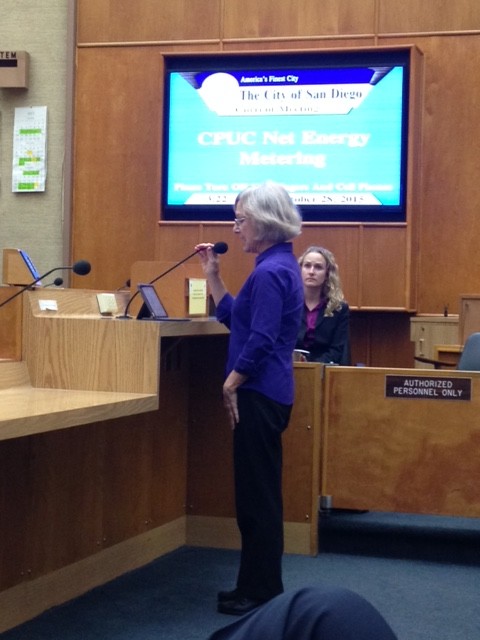 Lisa Wellens, Chair of SanDiego350's Public Policy team, said that "this is not the time to put the brakes on rooftop solar. The State of California has been passing legislation that requires us to ramp up renewable energy, and rooftop solar is a big part of that. Net Energy Metering ensures that we can get the most amount of solar on homes and businesses as quickly as possible."

John Garcia from Carlsbad, said "As a grandparent, nothing is more important to me than securing the happiness, health and prosperity of my grandchildren, and their generation. Climate change means that they will already live in a California very different from the one I've lived in - with more fires, coastal flooding, drought, heat waves, and infectious diseases. We owe it to our kids and our grandkids to do everything in our power to minimize the impacts of climate change, and dramatically increasing renewable energy is a necessary part of that."

Photo: SanDiego350 member and La Mesa resident Bonnie Mosse Funk speaking at the CPUC Forum. Photo by Lisa Wellens.
SanDiego350, an all-volunteer, non-profit organization, is concerned about climate change and its very real effects on our livelihoods, well-being, and the future for our children. We work to increase awareness of climate change and advocate for reducing greenhouse gas emissions. We are loosely affiliated with
350.org
, the international climate organization, whose work inspires us.