FOR IMMEDIATE RELEASE
San Diegans mobilize for global Break Free from Fossil Fuels action in L.A.

Join thousands in march through downtown Los Angeles to demand an end to reliance on fossil fuels and a just transition to renewable energy as part of global actions
Los Angeles, CA
– On May 14 2016, on the heels of the disastrous Aliso Canyon gas leak, ongoing drilling in South Los Angeles neighborhoods and record-breaking temperatures for the 11th consecutive month, nearly a hundred San Diegans participated in the Los Angeles Break Free from Fossil Fuels rally with thousands of people from all over California calling for an end to fossil fuel extraction. The crowd marched from City Hall through the heart of downtown LA ending at the headquarters of SoCalGas - the company responsible for the Aliso Canyon gas leak, the worst methane leak in US history.

Speakers at the rally included 350.org founder, Bill McKibben and philanthropist and founder of NextGen Climate, Tom Steyer. They demanded elected leaders eliminate the oil and gas extraction practices that threaten the state's health, environment, and future. Los Angeles was chosen for this mobilization because it is home to the nation's largest urban oil field. This rally was one in a wave of actions around the world from May 4th to 15th, targeting the most dangerous and egregious fossil fuel projects. It included a mass trespass that closed down a coal mine in Wales and civil disobedience at the site of two oil refineries in Anacortes, WA.

With the growing awareness that the fossil fuel industry, in particular Exxon, has wilfully misled the public for decades about the link between burning fossil fuels and climate change, people are outraged and are uniting to stand up for their interests. They see this rally as a chance to show that our health, our communities, environmental justice, and our climate are more important than the profits of a deceitful industry.
Encinitas resident Christy Bulskov, who is riding the bus to LA with her children Noah, 14 and Evelyn, 10 said "Climate Change is a huge concern for me as a mother, environmental activist and conservationist. I understand that as a citizen I need to keep the pressure on my elected officials so that we can transition to renewable energy as quickly as possible. By participating in the L.A. rally we are doing our part to ensure a future that is healthy and sustainable for all kids and for generations to come.".

San Diegans are proud that the City of San Diego adopted a ground-breaking, legally enforceable Climate Action Plan that achieves 100% clean energy by 2035, something they'd like to see replicated throughout the state. But they recognize that they will need to hold elected officials accountable for implementing measures to actually achieve the Plan's goals in energy generation, energy efficiency, and transportation and that the corollary to a new era of 100% clean energy is the demise of fossil fuel extraction.

Joyce Lane who co-leads the Public Policy team for SanDiego350, the local grassroots climate action organization that chartered a bus to L.A., said "We're mobilizing people to go to Los Angeles because it's crucial that we reduce our carbon emissions, but also crucial that we do it in a way that promotes environmental justice - this is an opportunity to remove environmental burdens, secure local jobs, and create healthier communities."

Many groups were represented at the rally, including the social justice group STAND L.A., Food and Water Watch, the Sierra Club, several local groups affiliated with 350.org, Physicians for Social Responsibility and the Center for Biological Diversity.

If California wants to uphold its legacy as a global climate leader, then we must keep oil and gas in the ground and transition rapidly to a 100% clean energy economy.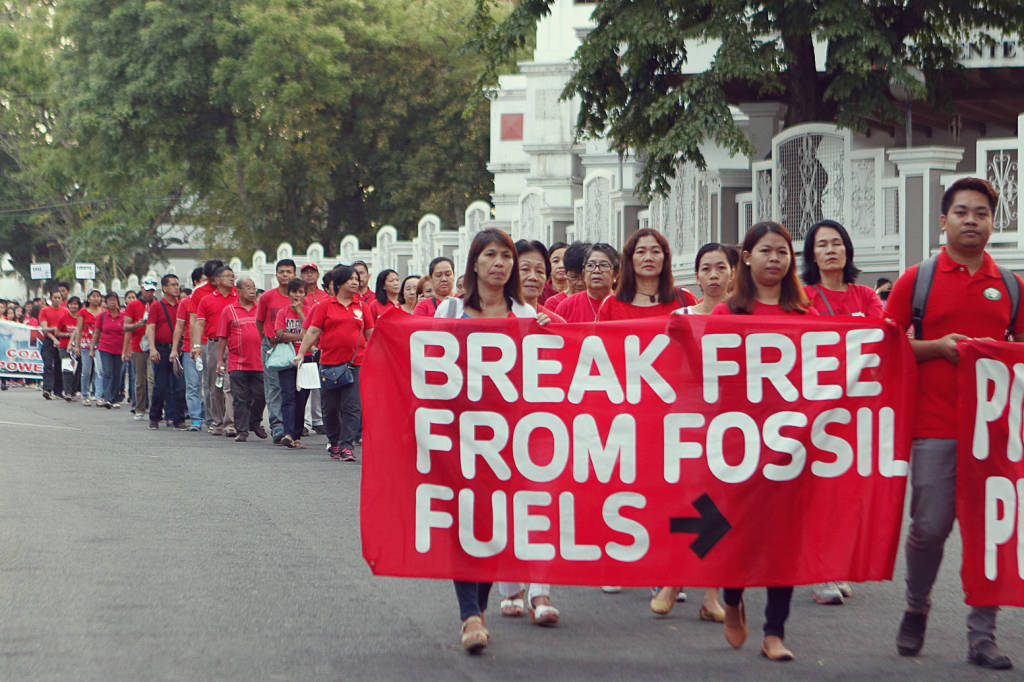 May 2016, Anti-coal activists participate in a Break Free from Fossil Fuels march in Batangas, Philippines.
SanDiego350 is an inclusive volunteer 501(c)(3) nonprofit organization devoted to inspiring a movement to prevent the worst impacts of climate change and climate injustice, and to create a future that supports a livable planet and just society through education and outreach, public policy advocacy, and mobilizing people to take action.