FOR IMMEDIATE RELEASE
San Diegans frustrated with SANDAG tax that fails on climate change ejected from Board meeting

SanDiego350 volunteers, citing a moral requirement to protect future
generations from climate impacts, refused to relinquish the mic
San Diego, CA
– Nearly a dozen volunteers with the local nonprofit group SanDiego350 had their mic shut off one after the other at a SANDAG Board meeting Friday, and two
were escorted out
by security staff when they continued speaking (video clip).
Their comments followed the first of two required readings of a ballot measure that would increase the county sales tax by a half cent to fund transportation projects which speakers said are inconsistent with state greenhouse gas (GHG) emission reduction targets. Residents from across the county refused to relinquish the mic after their allotted time ran out. Many held "traffic" signs saying "Wrong Way - Do not Enter".

Speaking clearly and passionately, Glenda Poliner of Scripps Ranch who teaches seventh grade science said, as her mic was cut off, "Scientists have made it crystal clear that we must reduce greenhouse gas emissions dramatically in the next 20 years if we want to avert catastrophic, irreversible changes to our planet. I just can't stand by while we lock in a future for our precious kids that is less healthy, less safe, and less economically stable than the one we inherited from our parents."

The speakers' comments were accompanied by a slide featuring a graph from SANDAG's own planning documents that illustrates how poorly its transportation plan compares to the GHG emission reduction targets set by California executive orders S-3-05 (Schwarzenegger-2005) and B-30-15 (Brown-2015), which require reducing GHG emissions to 40% below 1990 levels by 2030 and to 80% below 1990 levels by 2050. The press release for B-30-15 clarified that these targets are based on "the scientifically established levels needed in the U.S. to limit global warming below 2 degrees Celsius."

Dr. Janina Moretti, a chemistry lecturer at Palomar College who lives in University City said that she and other millennials want more transit options. "It's time to embrace the 21st Century and a modern vision for San Diego County that is healthier, greener and provides more equal access to jobs and services," she said. "SANDAG's plan is going the wrong way - even jeopardizing the success of the City of San Diego's groundbreaking Climate Action Plan."

Jean Costa, a retired high school teacher from La Mesa said "I'm so frustrated by the failure of the members of this board to do their jobs. Their plan falls way short of what's needed to avert the worst impacts of climate change, like super droughts, rising sea levels, destructive wildfires, extreme temperatures and devastating storms." "Cars and light trucks produce nearly half of the greenhouse gas emissions in San Diego County," she added, "so there's just no way we can meet state targets without a bold, forward looking plan that dramatically reduces greenhouse gas emissions."

A key problem speakers identified is SANDAG's plans for new and expanded highways instead of building a well-designed public transit network. They said it is both a climate issue - because of the failure to achieve the GHG emissions reductions needed - and a justice issue - because few transportation options are provided for inner city, low income people who often do not have a car and spend an inordinate amount of time commuting.They also called for a smooth transition to local green jobs governed by labor agreements.

Speakers pointed out that the mix of highways and transit projects to be funded by the ballot measure is worse for GHG emissions than the overall transportation plan. Instead, they supported a vision statement produced by the Quality of Life Coalition - a broad coalition of San Diego environmental and labor groups that calls for SANDAG to course-correct on transportation planning. They also felt strongly that SANDAG should not be using taxpayer funds to pay for a slick PR operation that misrepresents their plan. SANDAG spent half a million dollars on outside media consultants before the vote on the "San Diego Forward" plan. That was in addition to more than $1 million in salaries for 12 in-house communication staff members and three interns.

Vista resident and mother of two, Lisa Wellens, who was one of two people escorted out by security staff, said, "I have been to many SANDAG meetings and have asked the board repeatedly to please put our transportation system on the right path, but it's had no effect. I'm here today because the seriousness and urgency of climate change make it a moral issue for me as a mother. I feel that I have no choice but to keep testifying. I'm not generally a rule-breaker, but I don't know what else to do."

Chris Barroso, an electrical engineer from Encinitas said he was inspired by members of Congress who staged a sit-in this week. "If Representatives Peters, Vargas and Davis can sit on the House floor to show the need for gun safety laws, the least I can do is stand here and call on SANDAG to lead on this most morally-important issue - preserving our home planet for future generations." He also quoted President Obama, saying "when our children's children look us in the eye and ask if we did all we could to leave them a safer, more stable world, with new sources of energy, I want us to be able to say yes, we did."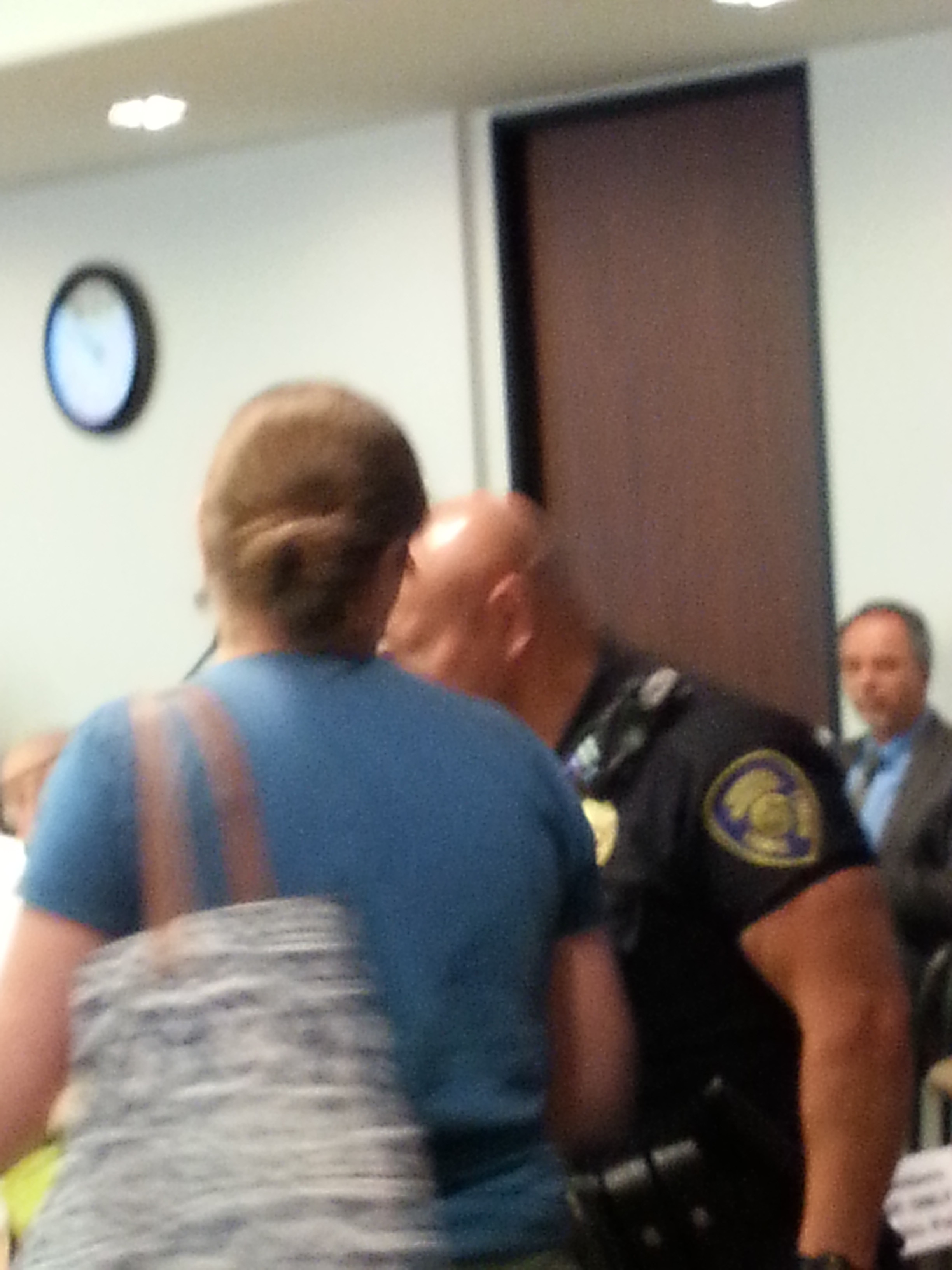 Jun 24, 2016 - SanDiego350 member Lisa Wellens is escorted from the SANDAG Board meeting - photo by Masada Disenhouse
SanDiego350 is an inclusive volunteer organization devoted to inspiring a movement to prevent the worst impacts of climate change and climate injustice. We strive to create a future that supports a livable planet and just society through education and outreach, public policy advocacy, and mobilizing people to take action.. We are affiliated with
350.org
, the international climate organization, whose work inspires us.