Dear ,

Ready to take action on climate change? You're not alone! To achieve meaningful action on climate change, we need to grow the climate movement until we're a force to be reckoned with – and each of us has a role in that movement, whatever our skills, availability, and interests. Join us at these upcoming events and take action!



SD350 Monthly Membership Meeting: Tues, Dec 20th, 6:45 pm, Encinitas
Join us for our last monthly membership meeting of the year! Learn about what we're working on and how you can get involved, and meet like-minded climate activists. At the Seaside Center for Spiritual Living, 1613 Lake Drive, Encinitas, CA 92024. More info
#NoDAPL Contingent at the Rose Parade: Mon, Jan 2nd, 7 am, Pasadena
Join the #NoDAPL contingent organized by our partners in the San Diego Native American community to support the water protectors at Standing Rock. We'll bring our #NoDAPL and #KeepItInTheGround signs and banners. It's a 5.5 mile walk and we'll be done around 1 pm. We can discuss carpooling once people begin to RSVP. More info / RSVP
Join a Climate Action Team!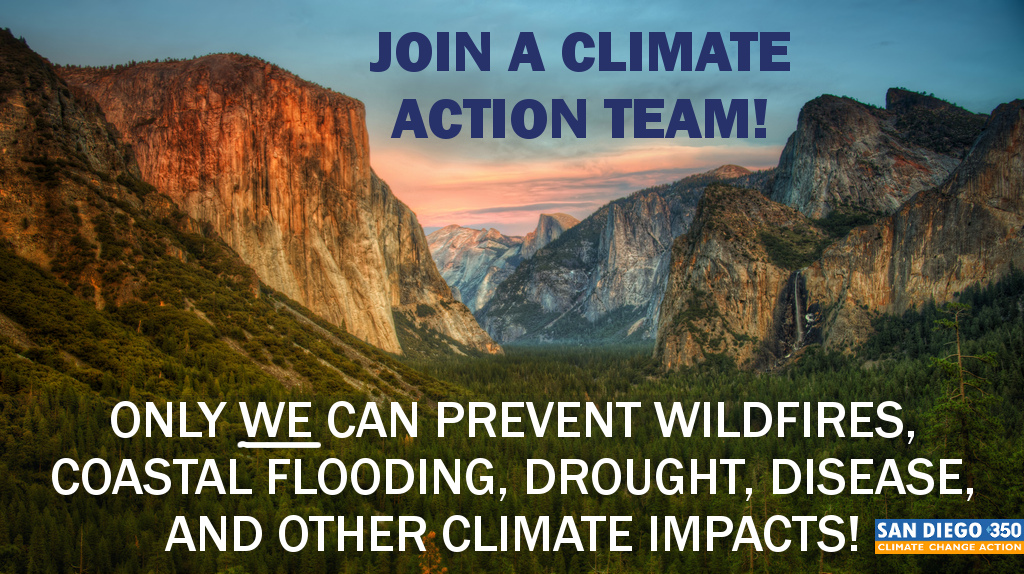 Sat., Jan 7th, 11am (Hillcrest) or
Sat., Jan 28th, 12 pm (Vista)
Join us at one of these meetings to explore SanDiego350's volunteer teams and committees and brainstorm with other participants about potential new teams. Teams and committees are at the heart of SanDiego350's work, and we could use YOUR help with a wide range of projects.
These meetings are especially geared for newer members, but everyone is welcome. We'll also have refreshments. More info / RSVP
Say NO to Trump's Climate-Denying Nominees: Mon, Jan 9th, Downtown


Join us for a national day of action calling on both our U.S. Senators to vote against Trump's climate-denying cabinet nominees, including Exxon CEO Rex Tillerson, the Secretary of State nominee. Time is TBD but will likely be in the evening. At Sen. Feinstein's office (Federal Bldg), 880 Front St., San Diego 92101. To help organize, contact us. More info / RSVP
Non-Violent Direct Action Training: Sat, Jan 14th, 10am-2:30pm
SD350 is cosponsoring an NVDA training with our partners in labor and the Native American community. The training will discuss the why and how of NVDA. An outline for the training and other details are coming soon. RSVP and we'll keep you updated. More info / RSVP
SanDiego350 Orientation Chat: Wed, Jan 25th, 6:30pm
Are you considering becoming a SanDiego350 member? Learn more about our organization and activities, meet members, ask questions, see how we are organized and what we're doing, and explore opportunities for getting involved. 6:30pm mixer, 7pm program. The venue is a member's home (TBD) - after you RSVP, we'll send the address. More info / RSVP
Make a year-end donation!
The organizing and movement building we are doing makes a difference and delivers climate victories, whether it's in Standing Rock or at the City Council. Support our work today by becoming a monthly donor or making a one-time donation.
We can't wait to see you!

Masada Disenhouse
SanDiego350
Please visit our website and check us out on Facebook and Twitter to stay in touch! Email us to find a carpool to an event, or with any questions. See you soon!