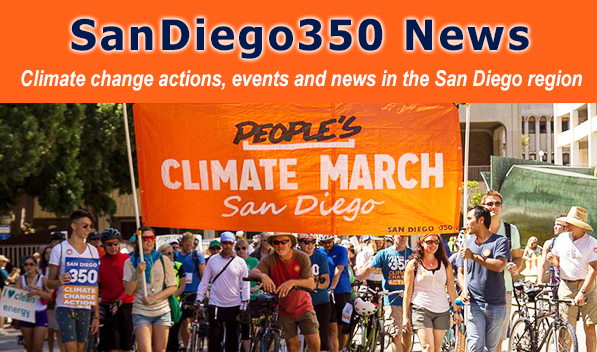 Oct-Nov 2014

Welcome to SanDiego350's

October-Nov

ember

2014 newsletter. We hope to see you at upcoming events.

Email us to volunteer. SD350 Monthly Meeting - Tues, Oct 21, 6:45pm

Join SanDiego350's October Membership meeting at the Seaside Center for Spiritual Living, 1613 Lake Dr, Encinitas 92024. Great way to learn what we're working on, how you can get involved, and to meet like-minded activists. (Third Tuesdays,

moves

around county). See full meeting info and try our new carpooling app!

SD350 Fundraiser w/ 350.org's Bill McKibben - Sat, Nov 22, 4:30-6:30pm

Join 350.org co-founder and aclaimed autho

r a

nd journalist Bill McKibben to support SanDiego350's work in 2015. Bi

ll will t

alk about the amazing progress and challenges of the

glo

bal climate movement. Rumor has it there may be Karaoke involved... and definitely tasty nibbles and drinks. 921 25th St., San Diego, CA 92102. RSVP or DONATE NOW "Natural Selection", A Climate Crisis Comedy


October 31-Nov 9 at Palomar Performing Arts.

By Eric Coble and directed by Michael Mufson. With most of the world in extreme climate conditions, all the indigenous habitats and peoples have been preserved in Orlando's Culture Fiesta Theme Park. Manager Henry Carson ventures into the wilds and returns with a trickster whose nature creates havoc for everyone. . .but, he just may be the only one who can save them from the coming apocalypse. Half the ticket price of $15 goes to SD350 when you use the coupon/code

Get more info or buy tickets (use code NSSD350). People's Climate March Photos, Videos, News
In case you missed them, or just want to view them again, photos, videos and news coverage from the amazing People's Climate March are here. Thanks to everyone who helped make climate history in San Diego. Neil Young and Stephen Colbert sing "Who's gonna stand up (and save the earth)?" Contribute to our work

Please consider a donation to SanDiego350.org. Your support will help our all-volunteer organization print materials, hold trainings, do public education, and more. Any amount helps. Thank you! ♥♥♥

Help Wanted

Help us maintain & improve the SD350 website. Basic design/html skills great. Email Masada.