Submitted by

bsilvern

on Mon, 11/25/2019 - 20:22
Stop SDG&E's Unjust, Anti-climate Rate Increase!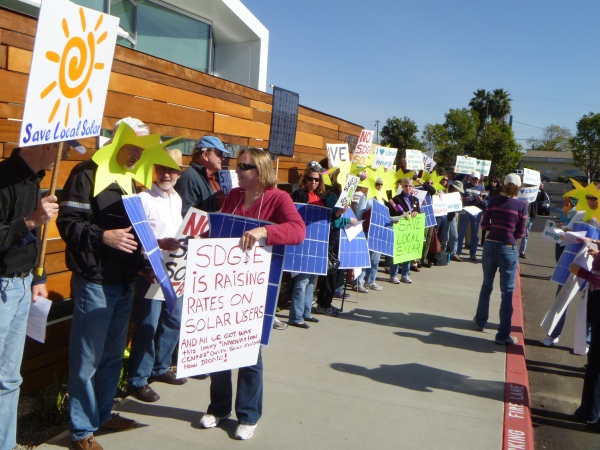 SDG&E is proposing to raise the minimum electricity bill from $10 to $38 per month for all households in San Diego County, and adding a $10 fixed charge.
This dramatic increase, to the highest minimum bill in the country, would greatly reduce the amount of solar that is installed and would unfairly burden low income residents and others who use little energy.
By reducing solar savings and discouraging homeowners from installing solar, the rate increase would lead to higher greenhouse gas emissions at a time when we should be doing all we can to expand renewable energy generation.
Thanks to advocacy by our members and allies, the California Public Utilities Commission (CPUC)'s Administrative Law Judge issued a proposed decision on February 5th that rejected the proposed minimum bill and fixed charge increases. If the CPUC denies SDG&E's request this will be a step in the right direction to benefit the environment, low income residents, and local solar.
However, this is a proposed decision so we need to keep advocating for the CPUC to approve the recommendation! Will you make your voice heard?
Tell the Public Utilities Commission to deny SDG&E's current $38/month fee proposal and any future proposed increases in the minimum bill!

Our voices can prevail. Other utilities have also recently tried to increase similar fees. In Sacramento; advocates pushed back, and the utility canceled the proposal!

Sign the petition now and share!
You'll receive periodic updates about this campaign and others like it from SanDiego350.

Progressbar:
We need 1,000 emails sent.
70.20%
702 have emailed the CPUC.