Mar
17
Tue
ONLINE Monthly Membership Meeting
Mar 17 @ 7:00 pm – 8:30 pm
Join us for the March Membership Meeting. We are excited to host Encinitas Mayor Catherine Blakespear. Monthly meetings are a good way to learn about the organization and meet like-minded volunteers. New and long-time members are equally welcome!
Due to the coronavirus, we will be holding this meeting on Zoom, a videoconferencing platform. Use this link to join the meeting. You can also dial in at: 669-900-6833, Meeting ID: 241-602-980 (more info on Zoom below). If you haven't used zoom before, please download the app onto your computer or phone now, and read more about how to use zoom. You may videoconference in (with your camera on or off) or call in on your phone. We'll be online at 6:45 pm and we encourage people new to Zoom to join early to test their setup. Please also use your full name when joining along with your prefered pronouns.
Guest Speaker: Catherine Blakespear – Encinitas Mayor
Hear from Mayor Blakespear about what Encinitas is doing to combat climate change and what people can do to influence their cities to take action. You will also have an opportunity to ask her questions and hear about the projects she's initating.
Coronavirus
We will also create space for members to share our thoughts and feelings about the COVID-19 pandemic and discuss how to prevent the spread of the virus while we continue our climate activism during this difficult time.
SanDiego350 is taking the pandemic of coronavirus (COVID-19) very seriously, and urges everyone to heed to governmental precautionary measures in this difficult time. According to medical leaders, the coronavirus is spreading faster than our government and our doctors can track it, test for it, or contain it. As a result, SanDiego350 has decided to cancel all in person gatherings for at least the next several weeks. We will move as many events and volunteering opportunities as possible online and continue our work to fight climate change even as we fight this disease and its impacts on our community. As the situation evolves we will make decisions about future events. Thank you for your continued support and stay safe! Read SD350's full coronavirus update here.
Apr
4
Sat
Youth Climate Action Summit! (ONLINE)
Apr 4 @ 9:45 am – 1:00 pm
NOTE: due to the coronavirus / COVID-19, we will hold a short, online version of the Youth Climate Action Summit on Saturday April 4. We will reschedule the full-day in-person summit to sometime in May or June once such gatherings are safe. We will keep you updated.
The Youth Climate Action Summit equips high school students to become climate leaders at their school and in their community. Youth will gain leadership and teamwork skills, knowledge, and support to effectively influence policy and inspire their peers to take meaningful action on climate change and climate justice.
Registration: There is no cost to attend the online summit on April 4, but sign up now to receive the Zoom (videoconference) link.
We have time for 4 student mini-TED talks. Read more here and apply.
One page overview for students and educators – google doc / pdf doc Questions? email masada@sandiego350.org.
Learn. Organize. Act. Build A Movement to Demand Climate Action and Climate Justice.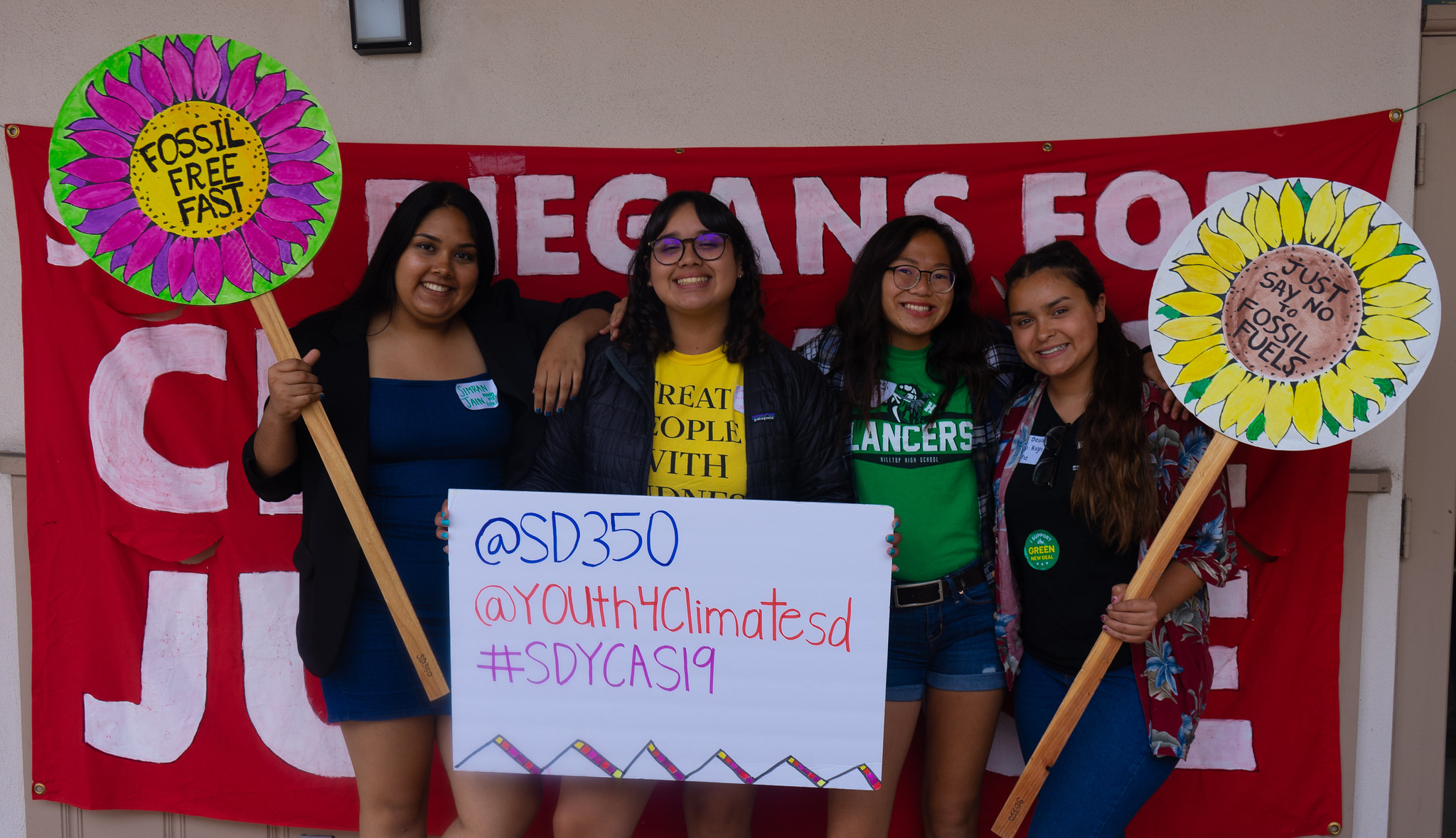 FOR IN PERSON MEETING (DISREGARD FOR ONLINE MEETING)
Download quarter page flyers to share and post.
For the full day summit we are asking each person who registers to pay $15 to help us cover expenses, materials and meals (or less or nothing if 15 is too much for you to pay). If you have already paid for the full day summit, we'll hold your registration until it is rescheduled, though you can ask us to refund you if you prefer.
Apr
22
Wed
Earth Day Virtual Climate Uprising
Apr 22 @ 12:00 pm – 5:00 pm
Earth Day 2020 (Wednesday, April 22) marks the 50th anniversary of the world's first major environmental movement. Unfortunately, a sustainable future for us and our children has never been more threatened.
This year, in order to ensure everyone is safe we will be organizing actions to take place virtually. We still need your passion and expertise in helping to create change for Climate Action!
In collaboration with our partners, we will be holding one main virtual rally on Wednesday (time TBD, likely noon). A variety of workshops, teach-ins, and acts of solidarity will take place throughout the day.
Please RSVP now, and we'll keep you updated about the schedule and opportunities for action. Or, Email us now if you'd like to volunteer with organizing this action – we need help with promotion, programming, and more.
We will also continue to support students in leading their own virtual school events and fostering their climate leadership. Please email us for resources for school actions.
On the first Earth Day in 1970, 20 million Americans demonstrated for a healthy, sustainable environment in massive coast-to-coast rallies. This led to creation of the EPA and passage of the Clean Air, Clean Water, and Endangered Species Acts. We need that type of people power again!