Submitted by

bsilvern

on Sat, 05/26/2018 - 12:56
Demand that the California Public Utilities Commission
deny proposed SDG&E Pipeline 3602
Say NO to the unnecessary, ill planned, expensive, risky,
greenhouse gas promoting SDG&E pipeline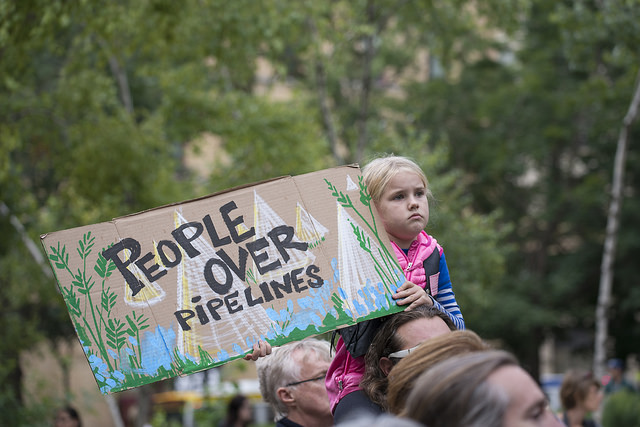 The continued burning of fossil fuel is causing climatic disruption all over the world. We must ensure that no new fossil fuel infrastructure is built.
In early May, the California Public Utilities Commission (CPUC)'s Administrative Law Judge recommended that SDG&E and SoCalGas' proposed pipeline 3602 (CPUC A1509013, which would run from Rainbow down to Mira Mesa) be denied. The review concluded the pipeline is unnecessary, stating "the applicants have not shown why it is necessary to build a very costly pipeline to substantially increase gas pipeline capacity in an era of declining demand and at a time when the state of California is moving away from fossil fuels."
The pipeline is clearly inconsistent with the climate goals of the state and the goals laid out in the city of San Diego's climate action plan. It would also put public health at risk and cost ratepayers over $600 Million. Funds proposed for this pipeline should be invested in clean energy, which is cheaper and more sustainable into the future – not a costly piece of unnecessary and harmful infrastructure that only benefits SDG&E shareholders.
Although the preliminary recommendation is to reject the project, the CPUC could still vote to allow SDG&E to go forward with the pipeline.
The CPUC will be meeting as early as June 21, 2018 on whether to approve the pipeline, so please sign and share today! This petition will be delivered to the CPUC before June 21.
As residents of San Diego County, we call on the CPUC to reject this unneeded, costly, unsafe pipeline.
Sign the petition now -- and share!
You'll receive periodic updates about this campaign and others like it from SanDiego350.

Progressbar:
We need 2,500 signatures.
44.28%
1,107 of 2,500 have signed this petition.