SanDiego350 is an inclusive volunteer organization devoted to inspiring a movement to prevent the worst impacts of climate change and climate injustice. We strive to create a future that supports a livable planet and just society through education and outreach, public policy advocacy, and mobilizing people to take action.
Midsummer Night's Garden Party – Saturday, July 29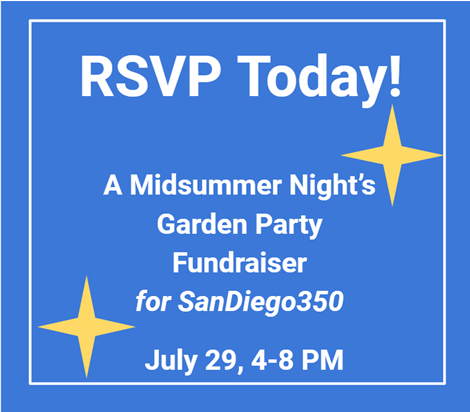 Take a night off from working and worrying about the climate crisis to celebrate SanDiego350's achievements in good company, and know your contribution supports our bright future. 
The event will be held in the beautiful garden of a private residence in Hillcrest. There'll be beer, wine and appetizers (vegetarian and vegan), entertainment from local musicians, a guided tour of the permaculture garden and a fun party game or two. If you're new to SanDiego350, this will be a wonderful opportunity to get acquainted with other members. The event is open house style, so stay for the whole event, or just an hour or two. RSVP Now!
Thanks for joining the People's Climate March!!!
On Saturday, April 29th, over 5,000 thousand San Diegans joined hundreds of thousands nationally to send a strong message of unity with the massive Washington march. Facing the looming threat of a President who denies the reality of climate change, and openly attacks women, people of color, immigrants, Muslims, people with disabilities, LGBTQ people, workers, and so many more, we are standing up and taking action to protect everything and everyone we love.
We marched for our families. We marched for our air, our water, and our land. We marched for clean energy jobs and climate justice. We marched for our communities and the people we love. And we were louder and stronger than ever before.
See the PCM website for photos, news coverage, our coalition and more

PHOTOS
Check out our Flickr Account for photos from recent events
Our Public Service Announcement (PSA)
Vea PSA en español / View PSA in Spanish
---
Videos
  TV coverage and footage from rallies can be seen on our YouTube channel
Climate change is real. It's happening now. Together, we can stabilize our climate and move to a clean energy future.
Google+