Transportation for All - Lifting Up Communities with Microtransit
When:
March 4, 2023 @ 9:30 am – 12:30 pm

2023-03-04T09:30:00-08:00

2023-03-04T12:30:00-08:00

Where:
Malcolm X Library
5148 Market Street
San Diego, California
92114

Contact:
peter@sandiego350.org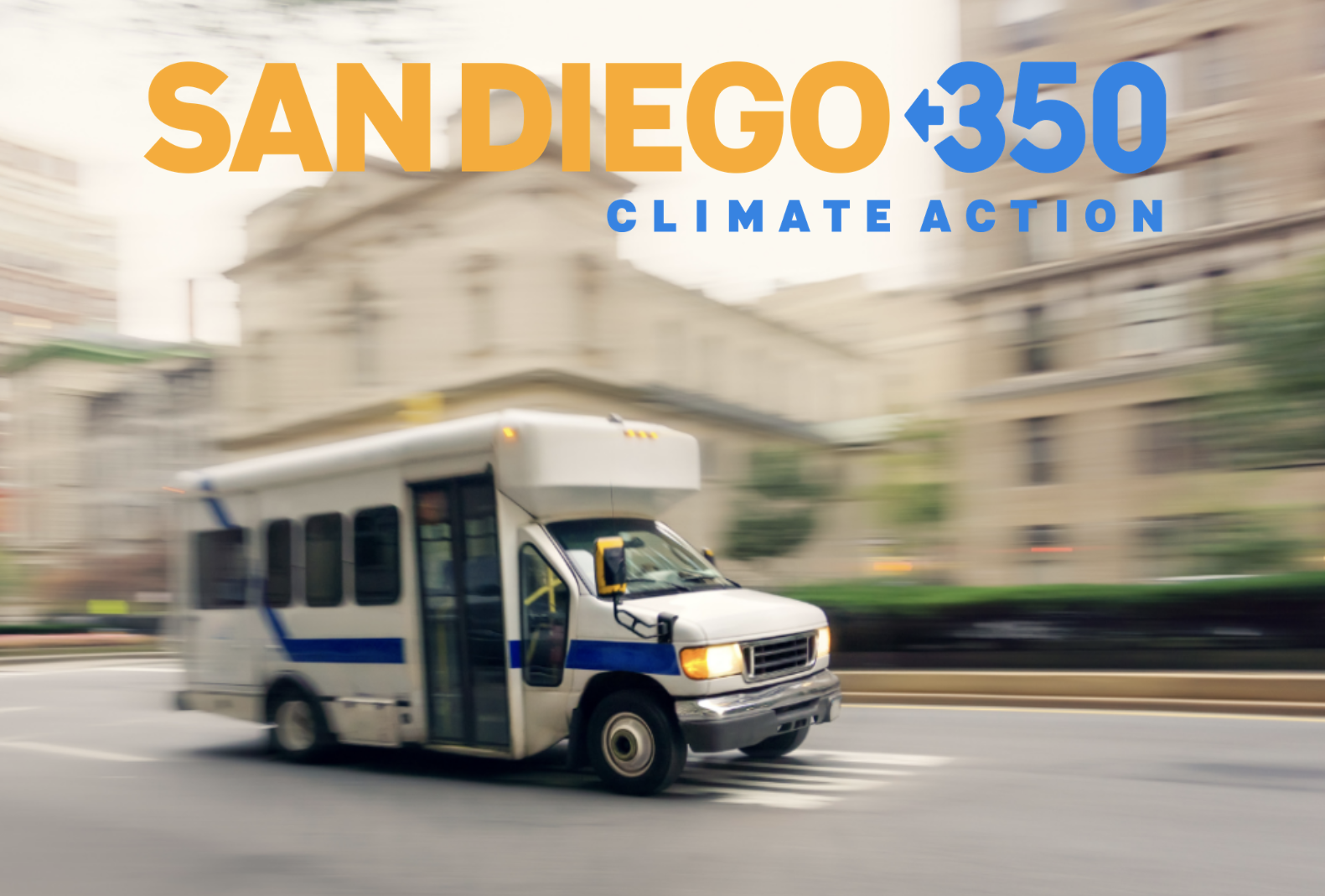 Join the Transportation Team for an interactive workshop on Microtransit, a term for electric shuttles and vans that provide shared rides between locations within a zone or a community, including access to local trolley stations and express bus stops. This event continues the conversation begun at a recent Climate Chat on the same topic. SanDiego350 presents this event in collaboration with our partners, Urban Collaborative Project, Environmental Health Coalition, SANDAG, San Diego Urban Sustainability Coalition, Via, and LA Metro Micro.
Vegetarian pizza lunch will be provided.
Please register for this event using the green button above.
Event description
Part 1
Panel: Introduction to microtransit, user experience of LA Metro Micro, "universal basic mobility," featuring local and national experts:
John Niles (author,

The End of Driving)

Sanjiv Nanda (SanDiego350, previously strategic advisor to SANDAG)

Rani Narula-Woods and Harpreet Curry (LA Metro Micro)

Jennifer Williamson, April DeJesus, Emily Doss (SANDAG)

Krystal Ayala (City of San Diego)

Carolina Martinez (Environmental Health Coalition)

Barry Pollard (Urban Collaborative Project)

Krista Glotzbach (Via Transportation)
Facilitated round table discussion, led by local community leaders.
Part 2
Community/neighborhood-based breakout sessions, joined by subject matter experts, panelists and note takers. Breakout groups will share their findings with the full group.
Part 3
Pizza Lunch
To learn more, read SD350's blog post on Microtransit: https://sandiego350.org/2022/10/04/microtransit-will-reduce-transportation-inequity-and-boost-transit-ridership-in-san-diego/
Microtransit

supplements our regional transit network

by providing convenient connections to trolley stations and express bus service to residents in the service zone at a low fixed cost per ride.

Microtransit

lowers the monthly household transportation budget

by serving those who do not own a private car, including students, low income households, and seniors. Reduces the need for a first or second private car.

Microtransit

reduces traffic congestion and greenhouse gas emissions

by replacing single occupancy trips with shared rides.

Microtransit

expands the footprint for affordable housing development

by connecting the entire zone to regional trolley and express bus service. Reduces the need for parking at trolley stations.
Read our white paper: https://drive.google.com/file/d/10RnxPu_JDo1rKUPBB1pNPSTWQr4WF0MR/vie