Speak Up Against Higher Energy Rates! California Public Utilities Commission Hearing on SDG&E rates increase
When:
March 23, 2023 @ 12:30 pm – 8:00 pm

2023-03-23T12:30:00-07:00

2023-03-23T20:00:00-07:00

Where:
Sherman Heights Community Center, Multi-purpose room
2nd floor. 2258 Island Ave
San Diego, California
92102

Contact:
Peter Sloan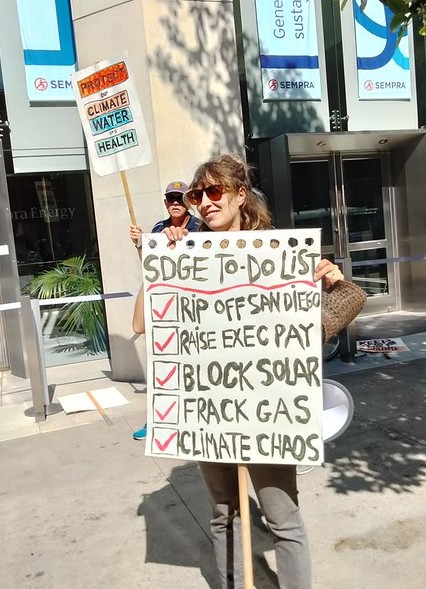 CORPORATE GREED! San Diego customers already pay the highest energy rates in the country, but San Diego Gas & Electric (SDG&E) is asking for the California Public Utilities Commission's (CPUC) approval to increase their rates even further. If approved, a typical residential customer can expect an increase of over $26 per month or $318 annually on their monthly gas bill, while SDG&E executives award themselves extravagant salaries and bonuses. SDG&E is claiming that these increases are necessary to fight wildfires and climate change, all while raking in record profits. And as families that can afford to do so switch to all-electric homes and vehicles, an increase in gas rates will disproportionately impact low-income families, communities of color, seniors, disabled people, and children. Use SD350's toolkit to tell the CPUC to deny this unjust profit grab!
There will be two hearings on Thursday, March 23, at 2pm and 6pm, at the Sherman Heights Community Center (2258 Island Ave). SD350 partner organization The Utility Reform Network (TURN) will host a rally from 12:30-1:30pm before the first hearing at the same location. Come out and show your support!
Please also submit an eComment to the CPUC in advance of the hearings using the toolkit below.
What: CPUC hearing on SDG&E rates increase proposal
When: Thursday, March 23. Rally, 12:30-1:30pm. Hearings 2pm and 6pm.
Where: Sherman Heights Community Center, Multi-purpose room, 2nd floor. 2258 Island Ave, San Diego, CA 92102.
Why: Tell the CPUC to deny SDG&E's unjust profit grab!
View SD350's toolkit here with information on how to submit a comment, attend the hearing, or call in during the hearing, along with talking points developed by SD350 volunteers.
Please register using the green button above to receive updates and reminders.