On May 14, 2012, acclaimed author, Bill McKibben, co-founder of 350.org, gave the Keeling Memorial Lecture at the Birch Aquarium in La Jolla. For an hour prior to his lecture, he met privately with 36 members of San Diego 350.org.
Bill noted that  the fossil fuel industry, the richest industry in the history of the world, is the biggest obstacle to climate action. We have a choice: either a healthy fossil fuel industry or a healthy planet. We cannot match the enormous financial resources of the fossil fuel industry, so we need to build a "people movement" at the grassroots level and put it to work politically. This is what is happening. As 350.org has spread around the world, the movement is made up mainly of "black, brown, Asian, poor, and young people," which is what most people in the world are.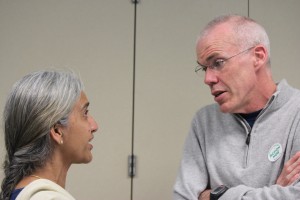 In light of the upcoming elections, Bill suggested two approaches to confronting the fossil fuel industry in the U.S.: (1) ending oil subsidies which 80% of voters in all parties support and (2) exposing politicians – their financial connections to the fossil fuel industry and their track records on climate change. Perhaps in the next 5 years, a price on carbon may be possible.
Here are a few additional thoughts that came out of the meeting. As happened in the recent fight over the Keystone Oil Pipeline, the climate movement needs to be nimble and agile–able to mobilize quickly to address issues as they come up. We should think globally but act locally and consider doing things that are small enough to be possible but large enough to matter. We have a great resource locally in Scripps Institute where several top scientists are located. We should cooperate with other like-minded groups in the community.
Overall, Bill was encouraging but realistic. He inspired us to keep working for climate change action.
Additional photos from our meeting with Bill are here.