By Alexa Lewis-Rosenfeld, Communication and Marketing Team Co-leader
As 2022 comes to a close, it is a great time to reflect on SanDiego350's momentous wins and accomplishments this past year. Our community worked relentlessly to fight climate change and climate injustice and it has paid off. See some of the highlights below.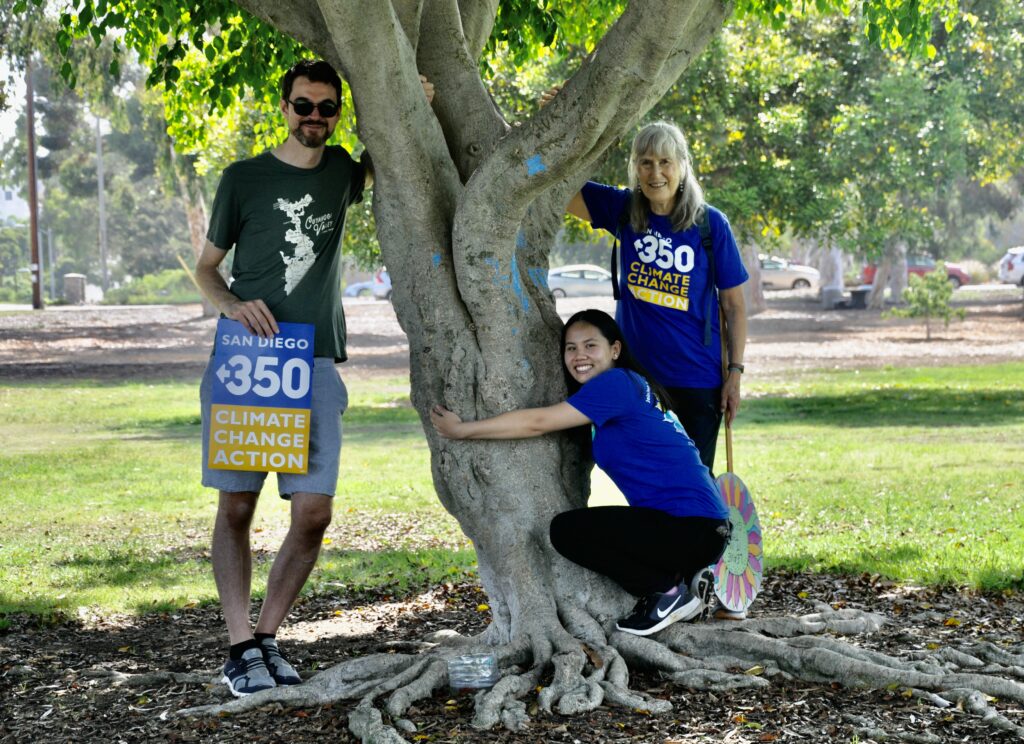 Food and Soil Team
The Carbon Farming Working Group (CFWG) wrote a proposal to the County in 2021, asking that they include carbon sequestration from carbon farming techniques as a primary measure in revision of the Climate Action Plan (CAP).  The CFWG kept up the pressure in 2022 and had a major win when the San Diego County Board of supervisors approved a measure for its CAP team to develop a pilot carbon farming program. This program will explore how to give incentives to San Diego farmers to use carbon farming techniques in their agricultural practices. David, the leader of the CFWG explains, "We are very excited about this, but we want to continue this important work in 2023 and hope we can convince them to make this a primary measure."
The Food Waste Working Group (FWWG) worked hard this year in advocating for the amendment of the People's Ordinance in San Diego. By working with a coalition of other stakeholders, the FWWG was successful in getting this initiative on the ballot as Measure B in November's elections. Measure B passed and now that the city no longer has to offer free trash-pickup, it can divert these funds to other waste collection needs such as organic waste collection for SB1383. Tina, the co-leader of the FWWG, says " This work is important because as SB1383 continues to be implemented, there is still not a sustainable way of collecting organic waste." Tina says going forward, the FWWG plans to continue outreach and education to students on SB1383 and will monitor city and state updates on infrastructure and implementation of the food waste law.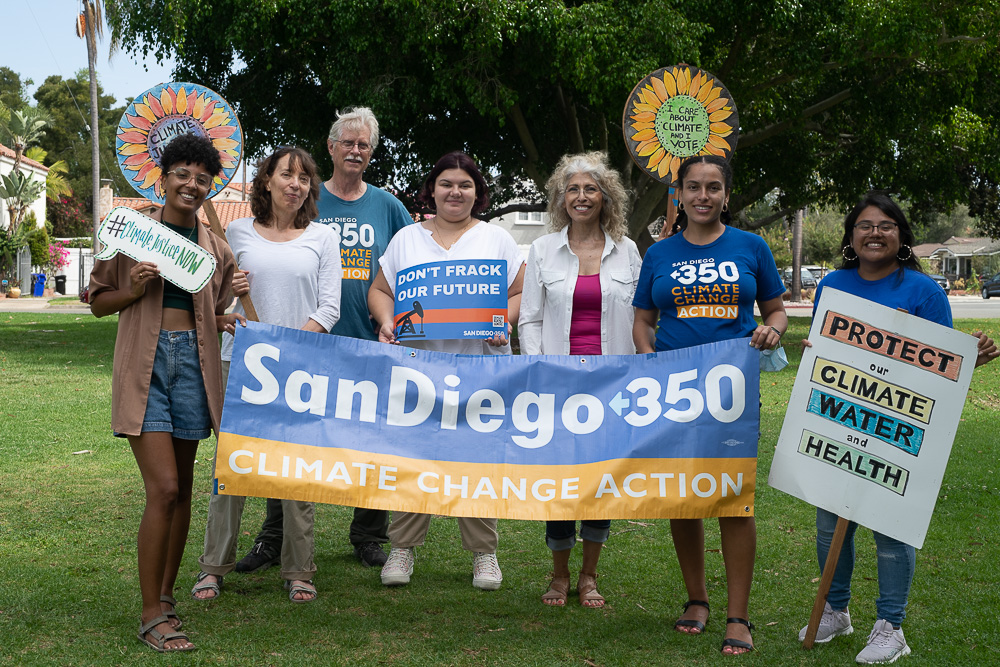 JEDI Team
The JEDI Team was successful in putting on a workshop vital to the work at SanDiego350, called Why Racial Justice IS Climate Action. The workshop educated attendees on the history of how colonialism, slavery, and redlining created segregated impoverished communities and made hazardous pollution acceptable in them. The workshop facilitated discussion on local anti-racism projects and innovative solutions to climate injustice. The JEDI team continued this important work holding the first of it's educational series called "Climate Justice Leadership Conversations" on December 8th. The event featured local environmental justice leader Victoria Brenica, who spoke about combating environmental racism in Spring Valley. This indispensable series will continue in 2023.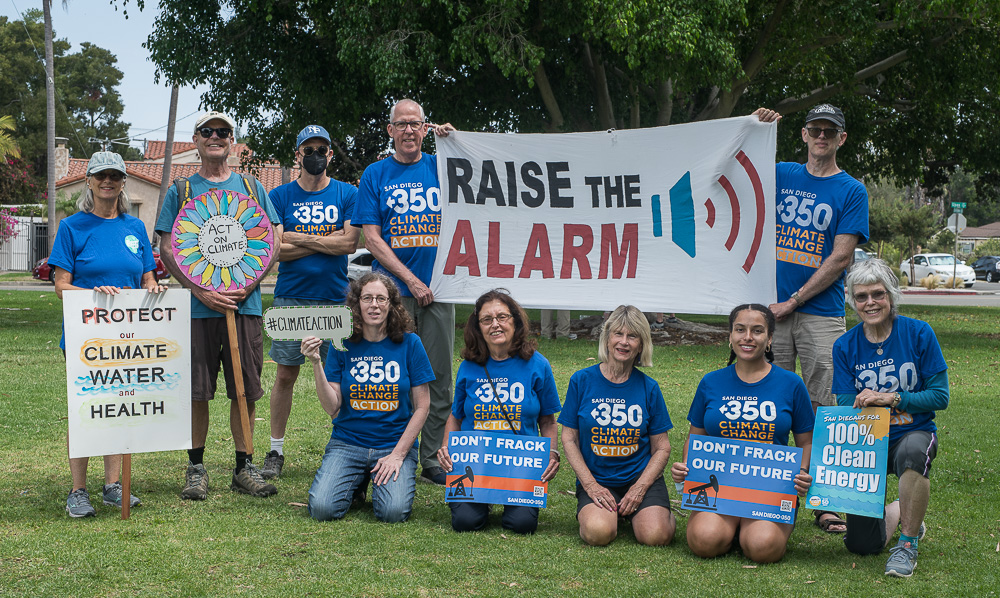 Raise the Alarm Team
The Raise the Alarm Team was triumphant in generating media attention and disseminating the message that SEMPRA is accelerating the climate emergency, while charging San Diegans the highest utility rates in the nation. They organized non-violent direct actions at SEMPRA headquarters, including blocking the driveway of SEMPRA for 90 minutes, which received media attention. Dr. Scott T. Kelly, co-leader of the Raise the Alarm Team at SD350, explains why it is crucial to continue to fight SEMPRA's business agenda by saying "Not only are they massively expanding the shipment of liquified natural gas around the world, but they are pushing the 'hydrogen economy' so that they can sell even more fossil fuels. Hydrogen is a new scam that will make the climate crisis worse while preventing the development of true renewables such as wind and solar."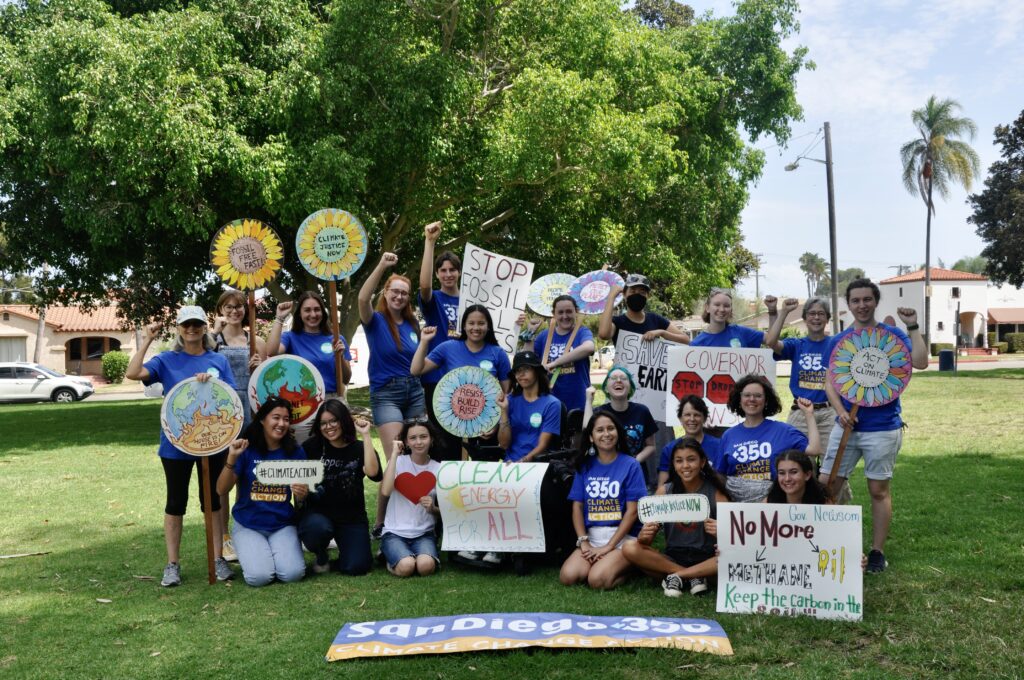 Youth4Climate Team
The Youth4Climate Team had a major win this year when SB1137 passed in California. The new law bans oil and gas wells within 3,200 feet of homes, schools, and any other places people could be harmed by drilling operations. Youth v. Oil worked tirelessly in advocating for this bill by meeting with elected officials, conducting mass calling campaigns to legislators and Assembly Members, and creating heavy social media presence to spread their message. Besides this massive win, the Youth4Climate Team aided in mobilizing 1000+ youth on September 23rd to demand climate action at the youth-led climate strike in downtown San Diego. Sydney Chan, a Youth4Climate intern at SD350, says this work is important because "Youth voices hold tremendous amounts of power—our efforts spark change intergenerationally and urge our leaders to prioritize effective climate action."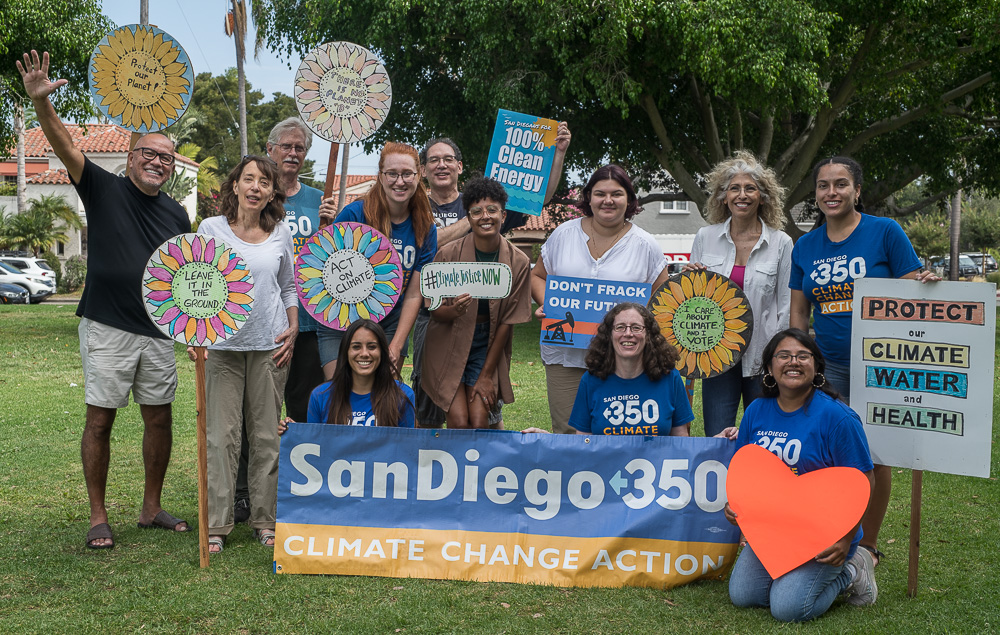 Engaging New People/Movement Building
SanDiego350's volunteer coordinator, Paloma Cuautenango, and her committee had a monumental accomplishment this year of revamping the organization's volunteer onboarding process. They managed to merge the individual onboarding process within teams into one organization-wide onboarding process, trained a team of greeters, updated resources for new volunteers such as welcome packets, and started a trial period for the new system. Paloma explains "…as a volunteer-based organization the national average says one in every three volunteers will stop volunteering sooner than hoped and we want to make sure the teams have the capacity and support they need to continue fighting climate injustices." Paloma and staff plan to continue these critical movement building efforts by offering new trainings for volunteers in 2023.
The SanDiego350 community has accomplished so much this past year and has much to be proud of. As volunteers, donors, and staff, let's celebrate these wins/accomplishments and carry this inspiration into 2023 to continue bold climate action work for a more sustainable and just planet.