By Steve Gelb, Transportation Team Co-leader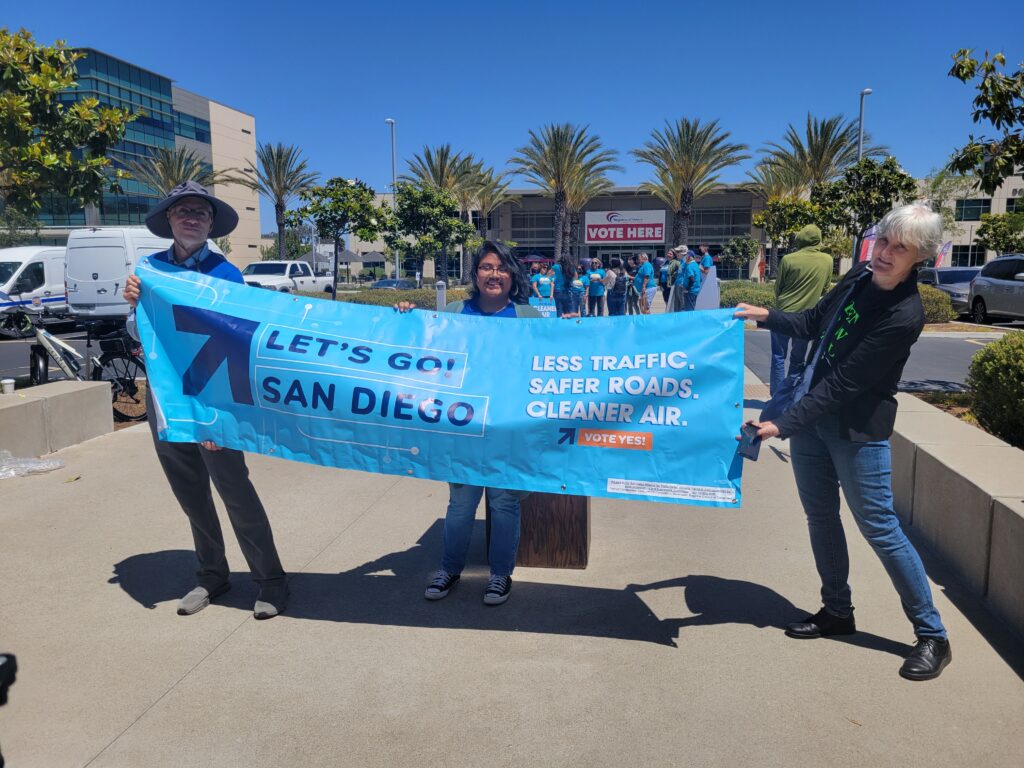 "Let's Go! San Diego" is a campaign to put an initiative in front of voters on the November 2024 ballot that would fund transit infrastructure and operations in San Diego County, prioritizing investment in communities of concern. This initiative is crucial to achieving our goals of climate justice, environmental health, and a connected, equitable future for all San Diegans.
SanDiego350 and the Environmental Health Coalition are launching a coordinated grassroots effort that brings together a coalition of community-based organizations and hundreds of volunteers in order to collect thousands of signatures from June to November, 2023 in support of the overall petitioning effort.
We need your help! Sign up now to attend our Let's Go! Kickoff event on Saturday, June 24th in Hillcrest 
For decades, local governments in our region – and throughout much of the U.S. – poured funding into expanding highways instead of prioritizing public transit. The result? A sprawling, car-centric transportation system of roads and highways that has burdened our communities with toxic air pollution, planet–threatening greenhouse gas emissions, and unacceptable levels of traffic deaths and injuries.
Meanwhile, our skeletal transit system all too often can't get County residents where they need to go, when they need to be there.
Improving transit is essential for a healthy, sustainable, equitable and vibrant San Diego. One with safe, walkable and bikeable communities; with clean air; with access for everyone – regardless of race, income or location – to education, medical care, jobs and opportunities. Building out transit will also create hundreds of good-paying, green jobs in our region.
The SANDAG 2021 Regional Transportation Plan pivoted, for the first time(!), to prioritize transit and active transportation alternatives to driving. But SANDAG lacks the funds to implement the plan. And with the looming expiration of federal Covid relief funds that buoyed transit systems during the pandemic's drop in ridership, even maintaining current levels of transit service is now in jeopardy.
That's why the Let's Go! initiative is so crucial. It would place a one-half cent sales tax on the 2024 ballot, and, if passed, go a long way toward putting us on the path to a healthy, equitable, and climate-friendly transportation future.
Join us on Saturday, June 24th, at our Let's Go! San Diego kickoff event! Register today. 
If you can't make the Kickoff, sign up here to volunteer and we'll get back to you with next steps.
Together we can do this. Si se puede.