By Deanna Alderson, Climate Writer
The sun was shining and the crowds were full of enthusiasm at SD350's first Carnival for Climate, held on Saturday, April 15th in Balboa Park. It was a fantastic way to kick off Earth Week, with hundreds of guests enjoying games, entertainment and the festive atmosphere, all while learning about the importance of climate action. Thanks to our generous sponsors, we were able to make this event free and open to the public, and we ended up raising over $11,000(!). But this event wasn't just a fundraiser—it was a way to bring our community together to celebrate our collective vision for a healthier planet and sustainable future.

The atmosphere was fun and family-friendly, with kids lining up to participate in activities like face painting, juggling classes and rock painting. The face painting booth was a huge hit with our young guests, who couldn't wait to get their cheeks painted before trying out our climate-themed games!
Visitors could choose from 9 different educational games, all designed and staffed by our dedicated volunteers. They learned ways to be more eco-friendly by completing some classic and not-so-classic climate themed carnival games, like shooting hoops (Hoopin' for the Planet game), fishing in a mini pool (Fish'n for Plastic game), and sorting recyclable waste (Throw Where It Goes game). Every guest received a game passport when they entered the event, and they earned stamps by answering climate questions at each game. Once they earned enough stamps, they headed over to the BikeSD/RideSD booth to spin the unicycle prize wheel and collect their reward.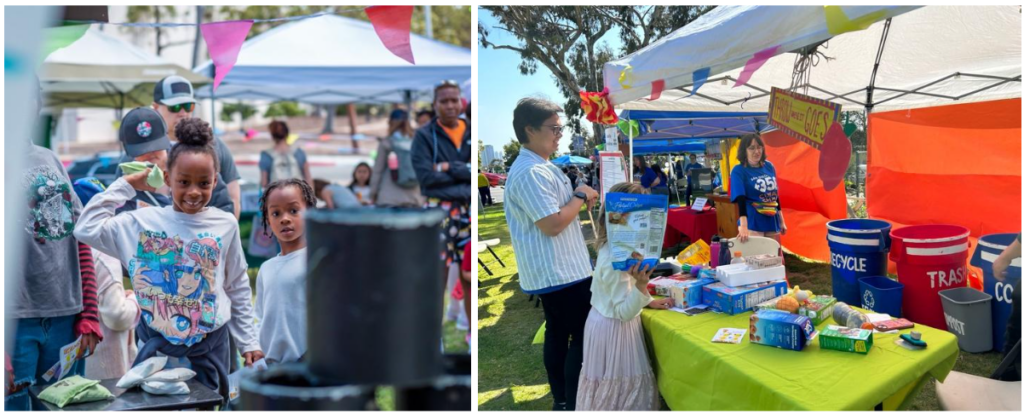 One happy parent shared these comments with us: "I came with my 6-year-old and 4-year-old and they had a blast. The games and interactive presentations were really nice. I especially liked how the games all had a clear link to climate change and in a way that even the little ones understood. And the stations were prepared with so much love for detail and presented so joyfully."
A volunteer at the carnival commented, "I loved the music and that there were things for people of all ages so everyone could enjoy the event. I loved educating people and their families about climate change & watching parents read the educational posters to their children."
Crowds gathered throughout the afternoon to watch our talented guest performers, and there was hardly an empty seat near the main stage. We welcomed a magician, circus juggler and Zumba dancer, who were great at keeping the crowd energized and entertained. And there was no shortage of great music, with a live Samba music performance by Supersonic to start off the event and a relaxed, soulful session by singer-songwriter Lee Coulter later in the afternoon.

To support our fundraising efforts, we hosted both a raffle and silent auction. Guests could buy tickets for three separate raffle drawings or place their bids at the silent auction table. Thanks to the generosity of local businesses and donors, we were able to offer over 20 curated gift baskets, travel experiences and art pieces. All of the items were from sustainable businesses, and we were thrilled to showcase brands that are working towards a greener future.
SD350's fundraising team spent months organizing the event, and over 70 volunteers showed up on the day to make the event a success! It was truly a team effort, and Fundraising Coordinator Jaidacyn Madrigal had this to say:
"The carnival was a big hit, it went so well thanks to all the volunteers who helped plan the event! Everyone seemed to really enjoy all the games, entertainment, and face painting! It was great to see so many young kids and families in attendance. I think education is the first step to inspiring people to make a difference, and this event did just that! The carnival educated people of all ages about climate change and other environmental issues in a fun way, in hopes of encouraging people to get more involved in the climate movement!"
We want to extend a very hearty 'thank you' to all the sponsors including, IBEW Local 569, The AFT Guild, Bye Bye Mattress, BikeSD, California Nurses Association, San Diego Community Power, the Samuel Lawrence Foundation who made this wonderful day possible. We also had nine partner organizations tabling at the carnival, and they were a great source of information about all the ways we can make our communities more just and sustainable. Thank you to everyone who participated, and to all the volunteers—we couldn't have done it without you!