In early observance of Earth Day, dozens of SD350 volunteers, high on solar power and down on fracking, showed up Sunday, April 19th to work at Earth Fair 2015.  (Officially Earth Day is April 22nd.)  60,000 fair-goers crowded into the park, many of them crossing Cabrillo Bridge and walking along El Prado where they came upon SD350's Sustainability and Anti-Fracking booths. What a great spot for visibility! — right there on Balboa Park's only western access route.
On the Prado
All day long on El Prado we could see from a distance that the largest groups of people were gathered in front of our booths, easily identified by our Blue Man and our willing volunteers bobbing with their yellow sun hats.                 — Sue Zesky, SD350 Earth Day volunteer coordinator
Easily visible, SD350's Blue Man, Paul Sasso, helped slow traffic down so volunteers could corral visitors with our message about climate change: It's happening, humans are causing it, and together we can do something about that.
A new attraction this year was the photo booth.  Volunteers enticed passers-by with the lure of having their picture taken for signing petitions on Nooks, also new this year.  With signers often waiting, volunteers could have used more of those Nooks.  Over 800 people signed petitions.
Signers could don a wig or a mustache and hold their choice of climate-change slogan placard for three photos that would be made immediately into a bookmark they could take with them. Kids, especially, had fun mugging for the camera while their parents signed two petitions, one to Governor Brown to stop fracking in California and the other to Mayor Falconer to strengthen San Diego's Climate Action Plan. Three copies of each bookmark were made. Two were signed on the back to be delivered, one to the governor and the other to the mayor, and the third went home with the petition-signer.
       Over 800 signatures gathered!
San Diego's former Interim Mayor, current Councilman and Climate Action Plan champion Todd Gloria came by to offer encouragement.  He even joined in the photo booth hilarity.
All day long, people entered and exited Earth Fair by way of Cabrillo Bridge, providing many opportunities for SD350 volunteers to engage them in conversations about combating climate change.
Fracking Team members seized this opportunity to inform the public that fracking degrades the environment and the water supply in a number of ways. But engaging people who know little about climate change issues takes some ingenuity. To introduce fracking to people who didn't know what it was, Nicole Peill Moulter used this easy-to-grasp image:
In the past oil was easy to access, like a swimming pool of oil not too deep underground. We could drill a well and suck the oil up, like through a straw, without much effort. Now all that easy-to-access oil and gas has been used up. The only oil and gas left is locked up in shale rock layers many thousands of feet underground. So we have to use more extreme extractive processes like fracking.
Peg Mitchell found herself challenging a skeptic from the financial industry who didn't like the idea of disrupting the economy with new policies to address climate change. She approached him from his own perspective: Hearing from her that there are known financial risks associated with climate change gave him something to think about.
The Garden of Eating
One big attention-getter at Earth Fair 2015 was Rob Greenfield's eye-catching Food Waste Fiasco, found in the Garden of Eating.  In addition, this year SD350's Planet-Based Diet Team had a massive educational display right at the center of the park in the Plaza de Panama.  The featured message was the astonishing amount of greenhouse gases contributed to the atmosphere by animal agriculture — more than that produced by all transportation worldwide!
But the Garden of Eating had even more to offer, including live music and informative talks from their stage — with colorful vegan recipes to sample.
High-Fives and Solar Smiles
In fact, SD350 gave this Earth Fair a lot of its energizing color.  High-fives from SD350's Blue Man came in sizes from Adult Extra High to Toddler Extra Cute.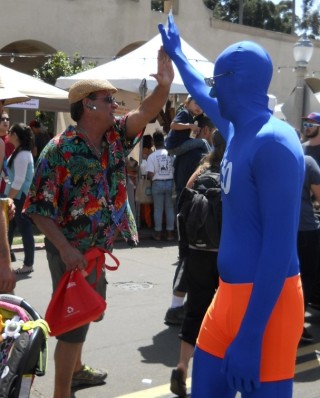 Blue Man, being very tall and very blue, got people's attention, but what drew them in was the photo booth. When Councilman Todd Gloria came by, he entered into the spirit of signature-gathering and smiled for the camera.
Among fair-goers, reactions were varied and the interest level high.
It was quite a day, exhausting but ultimately gratifying.  Many SD350 volunteers spent the whole day gathering electronic petition signatures on Nooks, explaining the need for a ban on fracking or how animal agriculture affects climate change, taking time out to wander around and see other booths and displays, and enjoying the camaraderie of our big group effort.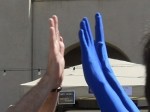 High-tens for all the volunteers who worked so hard and with such spirit to make our Earth Fair effort so successful!
Thanks to SD350 volunteers Bill Avrin, Janina Moretti, Martha Sullivan, Masada Disenhouse, Ashley Mazanec and Angela Deegan for sharing photos they took at Earth Fair 2015.