by James Long
I started my journey singing with Pete Seeger and ended it three weeks later with the fiery intellectual Cornel West! I just got back from Pando Populus in Claremont, California, and the Unitarian Universalist General Assembly in Portland, Oregon. After 25 to 30 lectures — together with great music, stimulating presenters and a lot of new friends — I'm ready to get down to the business of local organizing for climate action.  But first, I'd like to share my notes about these inspiring conferences. I'll tell you about Pando Populus this time, and the UU Assembly in a second posting.
What is Pando Populus?
The name Pando Populus refers to a Utah aspen grove that may be the oldest and largest living organism on Earth.  "Above ground Pando appears to be a grove of many individual trees.  Underground they are interconnected through a single root system — sprouts of the same tree."  Pando Populus, the environmental organization, has adopted this name as symbolizing the interconnectedness of all living things.
The Pando conference started with a welcome message from Pete Seeger, recorded on video a few months before his death. We all sang along with what must be one of his last performances of, "Where have all the flowers gone?"
Keynoter Bill McKibben
350.org's Bill McKibben keynoted the conference by laying out the global response to the climate catastrophe.  On June 4th, the air in the hall crackled with electricity as McKibben described climate movements around the world.  From Africa to India to the Pacific Islands, he brought us images of vulnerable people of all colors and creeds, standing up to demand action on climate change.  Addressing the conference theme, "Toward an Ecological Civilization," McKibben laid out  350.org's successes in stopping fossil fuel infrastructure with protests like Keystone Pipeline and the growing oil divestment campaign.
What a thrill to meet Bill McKibben after his conference address, and accompany him to the airport the next morning after a radio interview.  I witnessed first hand how tirelessly he works for the climate movement.
That evening, I returned to  Urban Mission Church where  fellow SD350ers — Ashley Mazanec, Dwain Deets, Michael Brackney, Keith Mesecher  — stayed four nights with new friends from LA350. Pando climate conference organizer, Sadie Mizisin, had graciously arranged lodging at the church for us. We enjoyed the warm hospitality.  The Urban Mission Church hosted a dinner on our behalf, where church members came to welcome us.
For me, our Pando Populus group shared a "mini-retreat" experience where we lodged, ate and bonded over shared experiences; it was where we engaged with professors, artists, bloggers, and climate activists from around the world.  Theologian and author Philip Clayton came just to meet us at Urban Mission Church, because he wanted to share how churches can build resilient communities by planning urban farms.
Biodiversity and Agriculture
Another highlight of the conference was the energizing eco-feminist Vandana Shiva, who gave a breathtaking  plenary address. Shiva, originally trained as a particle physicist, has redirected her efforts towards issues more directly affecting her people. She spoke about the devastating effects of industrial agriculture on India.   She sees industrial monoculture farming as a "violent agriculture that sees all life as an enemy," tying such agricultural methods to the patriarchal mindset of the west.  In contrast, she says polyculture farming can heal the planet and still grow enough food for the world while increasing biodiversity. Shiva stressed that the solution to climate change lies in the earth itself, in the living soil. Demonstrating this, she was exuberant, saying "species are flowering … one study says there are six times more pollinators on our farm than in the forest next door … the more we give to the earth, the more she gives to us."
Then, focusing on the monoculture vs polyculture struggle in the US, Shiva warned us about a dangers of The California Seed Law, AB2470, passed in 2014.  (A member of SoCal350 had alerted Shiva about the law.) Polyculture seed breeding, which is the key to sustainable agriculture, is criminalized by AB2470. The law declares that the success of the state agriculture depends on industry research (as opposed to breeding seed by farmers) and potentially makes only industrial monoculture seed available for sale in California. To take action against this law, we of SD350 can exert some influence: Pressure on California Assembly Speaker, Toni Atkins, may be the most effective way to abolish,or at least change this law.
San Diegans at Pando Populus
I encountered so many interesting "Pando Populists." Fellow San Diegan, Lee Van Ham, director of Jubilee Economics for One Earth. talked to me while Bill McKibben was giving a television interview. Lee hosts a monthly podcast promoting practices, ideas, and stories for living economically. Lee has been a long time advocate for sustainability and changing our economic system.  Lee's team is producing a series of 20 interviews filmed at Pando Populus Conference, including Bill McKibben.
The high point of the conference came Saturday afternoon when Ashley, Michael, and I presented a paper, "SanDiego350 Activism".  We had an audience of about 30 people in our workshop where we presented for 15 minutes.  We had a unique presentation, emphasizing hands-on organizing, We gathered the room into a circle and opened with an ice breaker.  Then we each in turn spoke about SanDiego350 history, organizing, and our team structure. I really hope we communicated our passion to those who attended our workshop.
Community Development
I also want to tell you about an amazing session on Environmental Racism with Dr. Paloma Pavel and Carl Anthony, co-founders of Breakthrough Communities Project in Oakland.California. They developed a blueprint for statewide planning tools (SB 375). In the city of Richmond, community leaders across racial lines collaborated with leading transportation and urban planners. The community leaders presented their own development plan, and the local regional planning agency adopted it. What a different story from SANDAG.
Not everything was peachy keen, but mostly for the best of reasons.  One difficulty I had was trying to get around the Claremont campus.  My friend Keith Mesecher and I were often getting lost between sessions.  We debated ecology, economics, Buddhism, and philosophy, and got disoriented so we couldn't find our way to the next session.
Ecological Economics
The best line in the conference came on Saturday morning.  Theologian John Cobb Jr, and economist Herman Daly spoke on the topic Ecological Economics for an Ecological Civilization.  When asked about modern economists, Cobb said, "Theologians can do without God much better than Economists can do without Growth." (Find at 8:57 on the video.) Ecological Economics is based on rejecting "growth" as the goal to organize our economy.  Conventional economists consider the only viable economic model to be one based on growth and maximizing profits for big corporations. They ignore the costs of excess CO2 in the atmosphere in pursuit of growth. According to John Cobb Jr., the discipline of economics seems more like a dogmatic religion guarding growth and profit for corporations. I had to laugh with appreciation at the plain-spokeness of the 90-year-old architect of the Pando conference,who is so obviously a loved and respected  figure among the ecological crowd.
Sustainable Agriculture
The Pando conference ended Sunday with the encouraging research of Wes Jackson, director of the Land Institute.  Jackson's motto, "If your life's work can be accomplished in your lifetime, you're not thinking big enough," is how he has lived his life. He's worked the last 40 years on a project to create a sustainable agriculture by learning from nature.
At the Land Institute, ecologists explore ways to replace annual grains, oil seeds and legumes with perennial plants so the soil stays intact, and create bio-diverse farm fields.  Perennial crops mean the soil is not tilled and replanted every year, like annual crops.  The result is that roots can grow longer and develop a much more resilient soil.  (See photo at left.) As the seasonal patterns change with climate change, perennial plants are more resistant to drought.  Longer roots mean more organic carbon sequestered from the atmosphere to the soil. Jackson reports that perennial high-yield grain varieties can be developed just like annual grains.
This approach to developing grains for harvest circles back to the beginnings of agriculture and civilization 10,000 years ago.  Such an ecological transformation is a metaphor for the climate movement.  We must similarly re-think the root of every activity of modern society with a goal of sustainability and cooperation with the planet.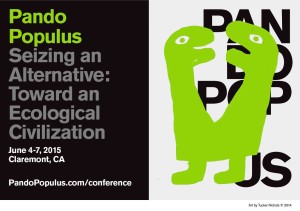 The Pando Climate Conference by no means promised a future without problems for humanity. But Pando did inspire us to look carefully at the problems and come up with systemic solutions and ideas to create an ecological civilization.
This climate conference was not the end for me.  In the next blog, I'll talk about the second conference I attended in Portland Oregon, right after Pando Populus.
An invitation to our San Diego readers:  SanDiego350.org is sponsoring a Climate Chat on Thursday, August 27th at 7PM at the First Unitarian Universalist Church in Hillcrest.  Author James Long and others will be sharing their experiences and Pando's vision for an ecological civilization.  For more information and to make a reservation, follow this link.
Guest blogger James Long is an accountant for the City of San Diego.  He lives in El Cajon with his wife, and looks forward to traveling more when he retires.  James joined SD350 to do something for a future that is threatened by climate change.  Working together with others is the way for him to have hope for that future.