by Celeste Oram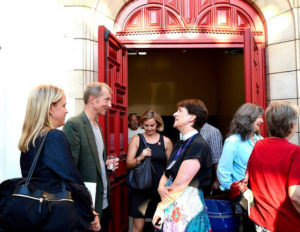 Over 400 San Diegans arrived at St. Paul's Cathedral in Hillcrest Thursday evening to hear a decisive, energetic message on clean energy and climate action from climate advocate and philanthropist Tom Steyer. The public talk, organized by grassroots climate action organization SanDiego350, was co-sponsored by over 20 San Diego community groups. In a week of devastating natural disasters and controversial political announcements, the clarity of Steyer's clean energy message was warmly received by a fired-up audience.
Welcoming remarks by the cathedral's Dean, Penny Bridges, soberly reflected the urgency of the evening's discussion, and a moment's silence was held for victims of recent natural disasters: Hurricanes Harvey and Irma; wildfires on the West Coast; flooding in Pakistan and Bangladesh; landslides in Sierra Leone.
San Diego City Councilmember Chris Ward, by way of introducing Tom Steyer, took the opportunity to thank SanDiego350 for their "unrelenting" climate action, and acknowledge his strong relationship with the organization: "now more than ever we need those grassroots".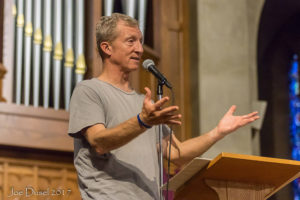 Tom Steyer, the casual Californian in a t-shirt and slacks, echoed Dean Bridges's comments, noting that Hurricanes Harvey and Irma are striking big oil & gas regions, the home of climate denial. "This is not a phenomenon that will spare you just because you don't believe in it", he said. "Let's not waste the pain." Steyer also echoed Councilmember Ward in his praise of SanDiego350, via 350.org's founder and Steyer's fellow advocate and friend Bill McKibben. "There is no part of 350 that is better and more effective than 350 in San Diego", McKibben told Steyer in a phone call earlier that day.
Steyer led with the good news that it is now cheaper to build new renewable energy plants than it is to maintain existing coal and gas plants and the prediction that renewable energy costs will continue to fall as battery storage technology advances. He described clean energy as a "giant jobs program for the middle class", comparing the prosperity of a nation like Japan, which has no oil & gas industry, versus Venezuela, one of the world's largest oil exporters.
During audience question time the issue of the different leveraging powers of grassroots organizations versus the massive personal wealth of a philanthropist like Steyer was raised: how can low-income groups be engaged in climate advocacy? Steyer's response was that climate policies—like clean air acts or vehicle regulations—must first and foremost help and protect lower-income communities and communities of color. He cited the example of California towns where thousands of passing diesel trucks have led to childhood asthma rates of up to 70% in poor neighborhoods close to freeways. A sick child cannot attend school, explained Steyer, which impacts their future.
Steyer was optimistic when asked about another elephant in the room—political partisanship—asserting that most Republican voters support clean energy, though their support is "cold comfort" while Republican elected officials are "violently against us". His final message? "Tell the truth," he urged, "and let people be smart. Because they are smart and decent."
San Diego City Councilmember Barbara Bry spoke following Steyer, outlining San Diego's plans for a Community Choice Energy (CCE) program. CCE allows cities and counties to purchase power on behalf of residents to provide cleaner power options at competitive prices. Bry drew on Steyer's message that clean energy would bring prosperity to the San Diego region through jobs and innovation, with re-investment in the local economy, rather than payouts to shareholders.
Joyce Lane of SanDiego350 concluded the event by posing two action items to the audience: to contact the Mayor and City Council to express support for CCE and to contact their state assembly member to express support for SB100 – a bill in the California legislature that would set a 100% renewable energy goal for California by 2045. Postcards advocating CCE and addressed to the Mayor and the City council were distributed to audience-members to add their signature and name/address. These were eagerly signed and returned to SanDiego350 for hand-delivery. CCE will go to a Council vote in early 2018. SB100 goes to a final vote in the California Assembly before September 15th.
Another strong message from Steyer was the need for climate activism to join forces with a progressive coalition that "wins on everything": immigration rights, reproductive rights, and economic equality. The event's co-sponsoring organizations, represented by members at display tables in the St. Paul's forecourt before Steyer's talk, together demonstrated what a coalition of grassroots groups can look like. While some groups exclusively combat climate change, others have begun addressing climate change as a crucial component of related campaigns.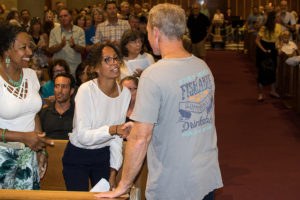 The Democratic Woman's Club of San Diego County is targeting climate change as a women's issue because of its disproportionate effects on women: especially women of color and low-income women. The Club president, Susan Peinado, explained that the economic uncertainties of a changing climate threaten individuals in precarious economic circumstances — such as those in low-paying service industry jobs, most of which are filled by women. The impact of resource scarcity and price fluctuations in utilities will also be most acutely felt by low-income households.
The San Diego chapter of Interfaith Worker Justice has also lately begun addressing climate justice as a key factor in economic and labor justice. "It's not enough to believe", member Steve Rivera asserted. "You have to walk your faith".
The San Diego chapter of the Sierra Club, a long-time advocate for wildlife and the environment, has been throwing its weight behind local issues: working to dismantle the San Onofre nuclear power plant, clean up sewage spills in the Tijuana estuary, and detoxify the Salton Sea. The club's several action committees—some binational—have achieved environmental successes where local governments have stalled. And their efforts have intensified this year. "We have an Irma in the White House", said steering committee member Karenlee Robinson, "a hurricane of bad decisions". Ruben Arizmendi, steering committee chair, explained the need to engage with climate deniers. Hope for this effort comes from China, a nation which has previously taken minimal climate action, but is now "coming round to the full realization that you cannot deny climate change".
Stay Cool 4 Grandkids is also a locally-focused organization, mobilizing seniors and grandparents to take action on climate change. Founding member Peg Engel described the group's motivation as "harnessing the moral authority of elders", and taking a multi-generational approach by leading children's programs.
Lake San Marcos Democratic Club's president Gary Bland insisted on the crucial role of community organizations to influence and compensate for an equivocating legislature. "I don't think they know what their role is," said Bland of Congress. "They should be doing a lot more".
The event's other co-sponsoring organizations included NextGen America, San Diego CALSEIA, Change Begins with ME (Indivisible), Citizens Climate Lobby San Diego, Climate Action Campaign, San Diego Coastkeeper, American Federation of Teachers Guild Local 1931, North County Climate Change Alliance, San Diego Climate Mobilization Coalition, Equinox Project, Preserve Calavera, Martin Luther King Jr. Democratic Club, Pt Loma Democratic Club, La Jolla Democratic Club, Escondido Democratic Club, and the Democratic Club of Carlsbad/Oceanside.
—————
About the author:
Celeste Oram is a composer, musician, writer, and SD350 volunteer from Aotearoa New Zealand, currently studying at UC San Diego. No, she is not far from home; the Great Pacific Oceanic Highway does more to connect us than divide us.