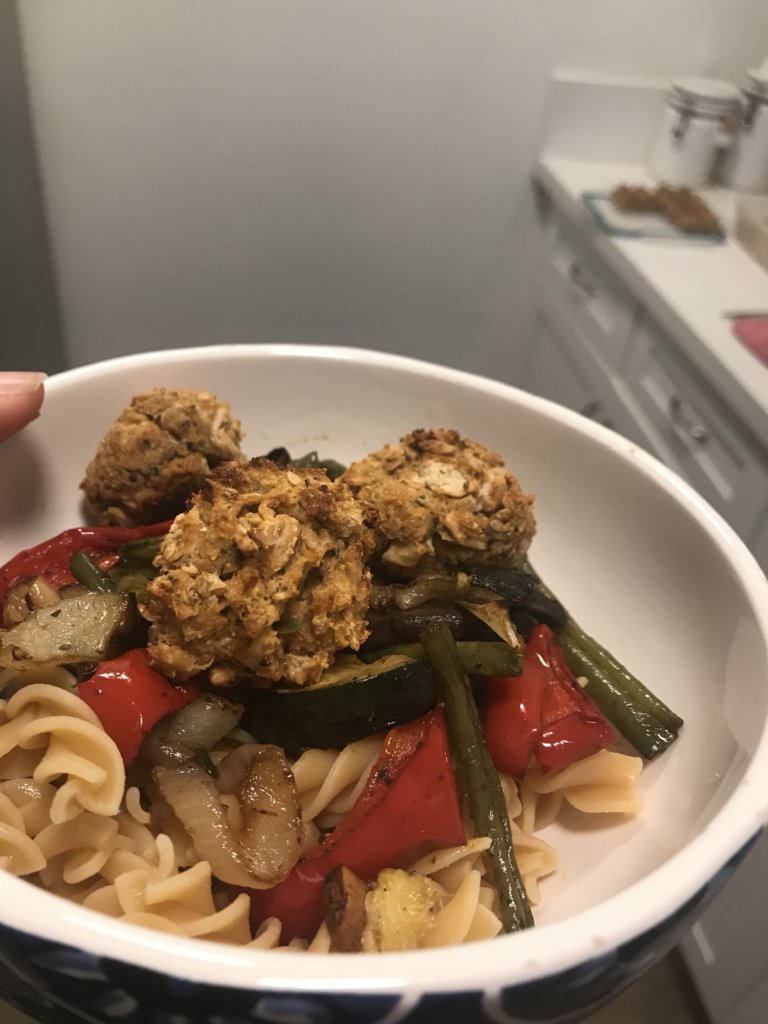 Looking to incorporate plant based meals into your diet? This quick dish is a great and customizable combination of familiar and yummy foods- 'no-meat' balls over pasta and oven-roasted veggies with a balsamic twist. Recipe below:
VEGGIES (serves 4-5):
1 onion, 2 zucchini, 2 red bell pepper, 2 eggplants *any combination of your favorite veggies is possible — (green beans and broccoli would also be great in this), 2 tbsp olive or avocado oil, salt, pepper, fresh or dried herbs (thyme, oregano, celery, basil, etc.), balsamic vinegar

1. Preheat oven to 400F
2. Slice onion and zucchini into half moons, eggplant into sliced quarters, and red bell peppers into strips. Toss with oil and spices.
3. Cook for 20 minutes and take out to flip veggies. Cook another 20 minutes, take out to do the same.
4. After 40 minutes or when veggies begin to caramelize, bring over to 300F and cook for 10-15 minutes.
5. Remove from oven and finish with balsamic vinegar. Let sit for 5 minutes before serving.

NO-MEAT BALLS (serves 4-5): 1/2 c cooked and cooled quinoa, 2 tbsp nutritional yeast, 1 can beans of choice (white beans used in this recipe, black beans work too), 1/4 c flour of choice, salt, pepper, 2 tbsp ketchup, tomato paste, or barbecue sauce, 1/2 tbsp sriracha (optional), 1/4 cup sesame, hemp, flax, or chia seeds, 1 tsp garlic powder, herbs (oregano, thyme, basil, parsley, etc.)

1. Preheat oven to 400F
2. Drain beans and use a fork to mash them in a bowl.
3. Mix in all other ingredients well.
4. Scoop mixture into desired sized balls and place on a baking sheet.
5. Cook in oven for 30-40 minutes, or until crispy.

PASTA: Your choice, but @sprouts and @banza have great protein pasta options that boost the nutritional quality of this dish and keep you fuller for longer.

Serve and enjoy! This dish is great with pesto, or sub the balsamic for marinara sauce. Let us know in the comments if you tried it and what you think!
By: Maddie McMurray