In order to honor Black History Month, SanDiego350 reached out to leading Black environmentalists we work with. We asked for statements on their work, what they find important, and asked for their perspective on what environmental movements can do to better prioritize racial justice.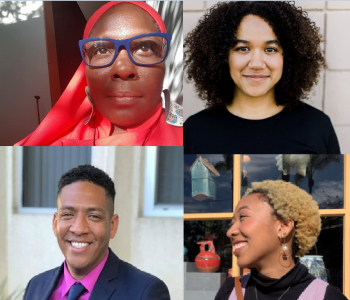 Clockwise from upper left: Maria Muhammad, San Diego Urban Sustainability Coalition; Tianna Arredondo, 350.org  California/Hawaii Regional Organizer; Marcus Bush, City Council Member, National City; Rachal Hamilton, Justice & Equity Intern, SanDiego350 .
As San Diego strives to grow in sustainable ways, what efforts should policymakers prioritize to ensure growth is inclusive? 
Maria Muhammad, SD Urban Sustainability Coalition
My father has a saying, folks pay for what they want and beg for what they need.
I have observed nothing greater in my lifetime than the lengths people will go for what they want.
What do this city and its policymakers truly want? Do they desire inclusivity? Are they actually prepared to do the incredible work necessary for inclusivity? Inclusivity requires true grit. It requires getting beyond the rhetoric and hashtags and getting to the root cause of exclusion, a white supremacist ideology.
If policymakers are committed to striving toward a more sustainable future, the deconstruction of white supremacy has to be at the forefront of their agendas. That laborious task will surely bring about resistance, misunderstandings, mistakes, human frailty, and excruciatingly uncomfortable conversations.
The process of deconstructing white supremacy will also require long hours. This will, of course, lead to bigger budgets, but the benefits of inclusion will ultimately have a positive impact on our collective prosperity. Inclusivity will allow our city to be more competitive regionally, nationally, and globally. There can be no sustainable growth when a city suffers from social, economic, and political desertification.
When policymakers prioritize their efforts with collaboration, listening deeply, transparency, accountability, funding, and popular education; we all have the chance to get what we want, leaving none of us having to beg for what we need.
As a National City councilmember, what environmentally-focused changes would you prioritize for the county? What plans are currently underway?
Marcus Bush, National City City Council Member
National City is one of the most environmentally-challenged cities in the county, particularly when it comes to air pollution, as we suffer some of the highest rates of asthma. This past week I was appointed by Mayor Alejandra Sotelo-Solis and the County officials to represent the South Bay region on the newly-expanded Air Pollution Control District of San Diego County. One of my priorities will be addressing air pollution and emissions by reducing vehicle-miles traveled and supporting alternatives to driving, including walking, biking, and public transit. This is also critical to addressing the climate crisis and reducing our greenhouse gas emissions. That's why I strongly support SANDAG's new efforts to overhaul the Regional Transportation Plan with bold investments to expand regional transit.
We as regional leaders also need to support infill housing and job growth around transit stations, while opposing new sprawl development projects in our backcountry and sensitive habitat. More resources are needed for habitat preservation and restoration projects throughout the County.
What drives you to contribute to the environmental movement? What changes would you like to see in it?
Rachal Hamilton, Justice & Equity Intern, SanDiego350
My experience as a young Black girl who grew up in the midwest really pushed me to understand the impact that environmental racism has on lower-income Black communities. I believe that one's environment is the biggest factor in their overall mental and physical wellness and that free access to clean resources and basic needs is undoubtedly a human right. I am driven to do my part in the fight for environmental justice because I know that there are so many low-income, Black populations across the globe and the United States that are facing climate injustice due to systems of racism. I believe that in order for the environmental movement to truly begin breaking down these systems, they must unlearn the anti-blackness that has been taught throughout the history of this work, and use an intersectional lens for their activism.
Are there currently any ways that environmental activists in general—or 350 in particular—could improve our work in racial justice? What would you suggest people do to prioritize justice more in their activism?
Tianna Arredondo, 350.org California/Hawaii Regional Organizer
To improve racial justice, 350 local groups can prioritize listening and connecting as humans first. We will always have a strategy to create or a plan to adjust. What we won't have unless we make time for it – is space to listen to one another and connect with one another. The more that we listen to each other and take time to be accountable to one another's needs – the more we can get into a practice of reciprocity and begin to cultivate integrity based relationships that allow for trust building. We need to learn to prove our reliability to one another so that we can trust one another's commitment to racial justice.