This month, we are featuring Susan Duerksen of the Justice, Equity, Diversity & Inclusion (JEDI) Team, to find out what she prioritizes in her environmental advocacy.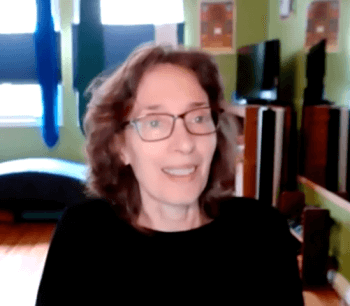 How did you first get involved with SD350, and when was that?
I don't remember when I first became a SD350 member, but I got actively involved as a volunteer after I retired from the Center on Policy Initiatives in early 2019.
What drives your activism?
As a secular humanist, I believe we humans are responsible for taking care of each other and the planet. I believe in science, so I'm terrified of the destruction ahead if we don't change how we treat the earth. I'm also outraged at the destruction already happening to the people around the world who are least to blame for the problem and have the least resources. We have to stop letting corporate capitalism call the shots, always putting profit ahead of human life.
What do you recommend to people who want to have a larger impact through the environmental movement? What do you prioritize in your own activism?
I recommend everybody read as much as you can on the intersection of racial/economic justice with climate – and the importance of unifying efforts. And join the SD350 JEDI (Justice, Equity, Diversity, & Inclusion) team! The climate crisis is overwhelming, obviously, so just pick one part of it to work on and dive in! Maybe try something that stretches you beyond your usual realm, for the excitement of learning. I started out helping with SD350 communications, because that's what I know from my career, but switched to focusing on the JEDI work. I also have deep respect for everyone working on public policy, which is essential for major change.
Is there anything else you would like people to know about you?
I love fuyu persimmons and have a ton of kumquats and lemons to trade.
I'm a brutal editor, so please accept my apologies if I ever work with you on writing something, or have in the past. I mean well.