By Chris Kracha
This July and August, SanDiego350 launched an in-person Youth4Climate (Y4C) summer camp at two San Diego High Schools for the first time, as part of the Level Up program – with support from the SD Foundation and the San Diego Unified School District. This program was created to provide summer learning and enrichment opportunities for students who have less access to these types of programs. The camp was held four days per week, for five weeks at Morse and Hoover High Schools.
At the beginning of camp, we were all still emerging from our COVID bubbles. After over a year of isolation and zoom class, it gets hard to break out of one's shell!
But by the second week, we were making jokes, playing games, and doing projects together. The field trips were especially helpful with getting everyone used to being around each other again. On our hike in Manzanita Canyon, I got to know each of the campers much better, and showed them some native plant names and traditional uses. Joel was one student who was really interested in plants, and by the end of the hike, we had gathered handfuls of fragrant fennel buds to take home.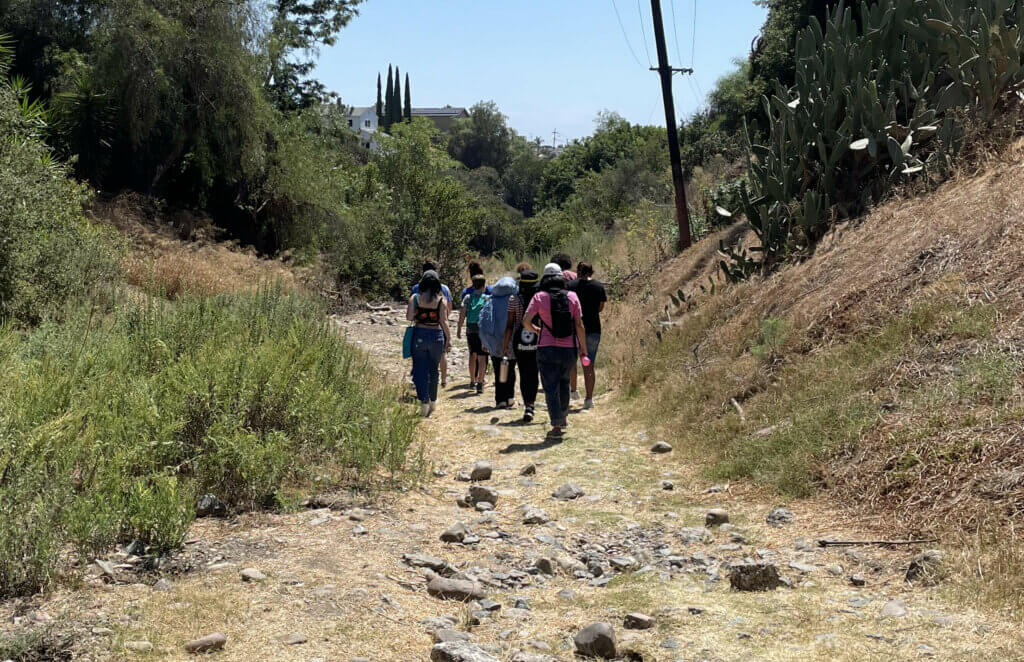 Early on, campers started to realize that living "green", supporting environmental causes, and getting involved in their communities was easier than they had previously thought. When we played a game of "personal action BINGO", one camper, Jiyaulei, said she had no idea that so many of the actions she and her sister took at home were good for the environment: They were already using public transit, reusing old food containers for storage, air drying clothes, and more! Another student named Michael had a similar realization, and started to question why so much advertising and corporate messaging focuses on changing the individual actions we take, when everyone in the room was already taking many actions themselves.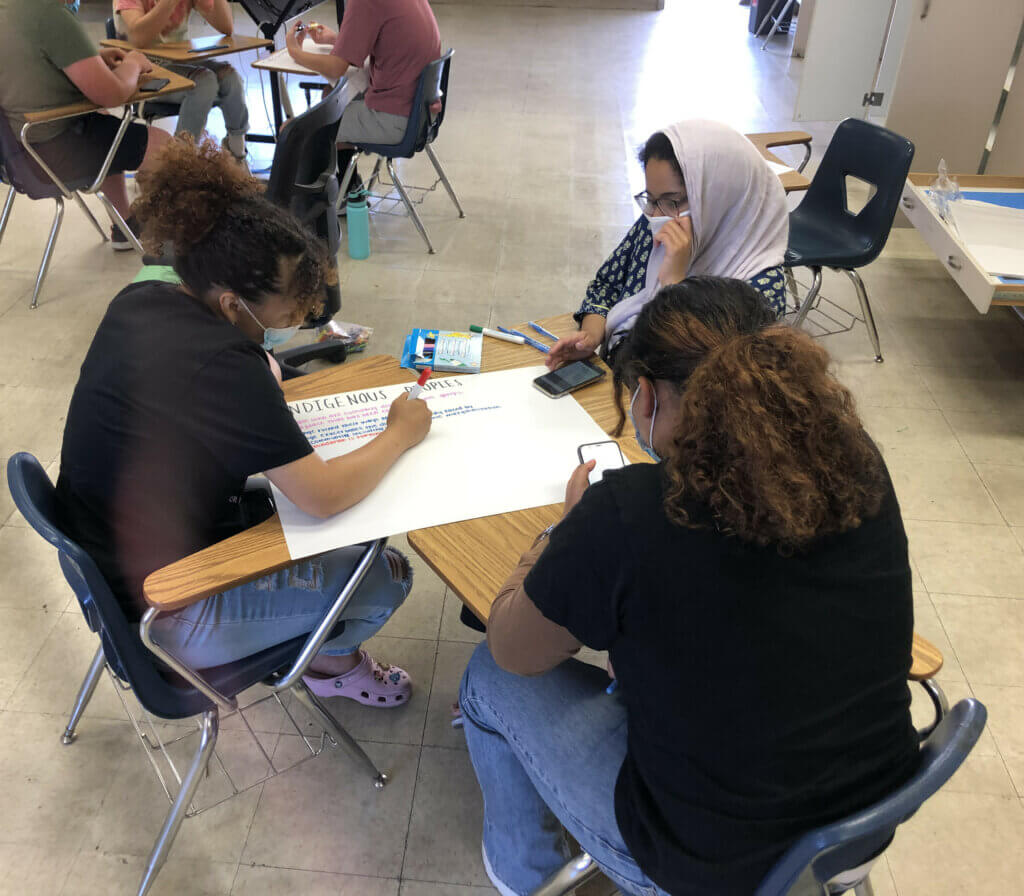 In the middle of the camp, we focused on building personal resilience and developing support networks for ourselves among our friends, family, peers, role models, and community groups. This was my favorite part of the camp, because I got to share many of the methods I use to keep myself calm and resilient. Some students benefited from this as well. My co-facilitator Alyssa Nguyen – a high school student at Mt. Carmel High School and active in the Youth4Climate Program – was able to use some of the personal resilience methods to help out a student who came to camp visibly distressed. By the end of the day, we were all playing charades together and there were no tears to be seen.
Later on, we began to explore the common roots between economic and racial injustices and environmental injustices. Ronald and Nafeesa were two students already involved in social justice groups who were able to connect their current efforts to environmental change. Many other students became even more interested after learning that environmental injustices disproportionately impact their communities and communities around them. Once we learned about environmental injustices, we focused on how organizing our communities can combat injustices of any kind.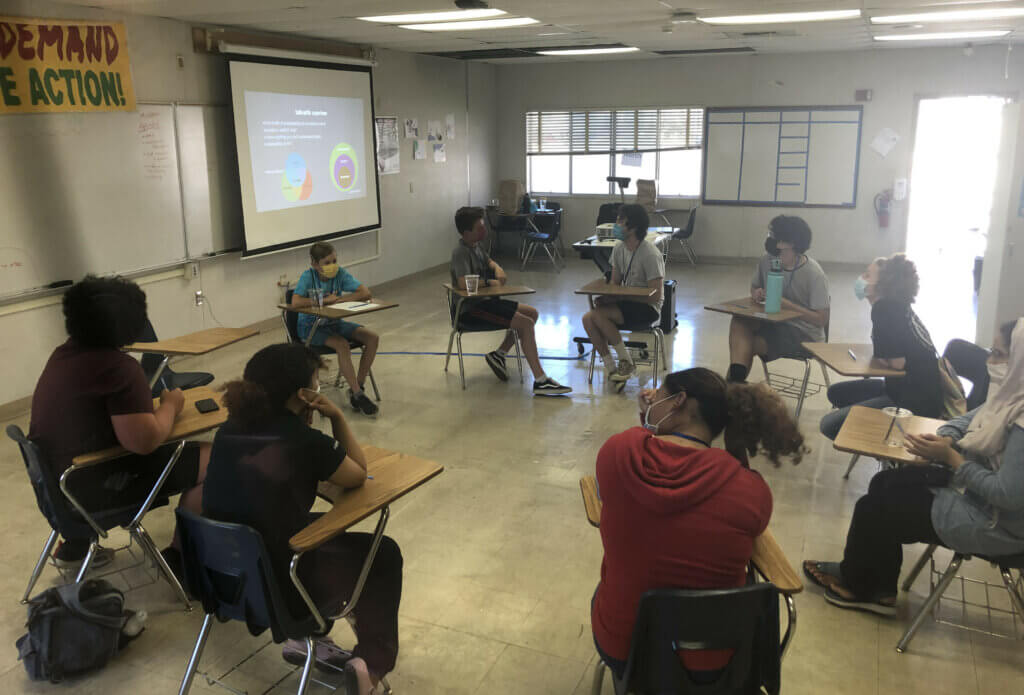 By the end of the camp, everyone had made new friends. Melaina, Jiyaulei, Jiyaunah, and Nafeesa were all relieved that they had met fellow students at Hoover High, before they entered high school for the first time in-person! Alyssa and I were a camp counselor dream team by the end of the camp, and we had both become much more confident leading and teaching groups around our own ages. On the last Wednesday of camp at Hoover, we spread out in the grass, munched on vegan banh mi from a local Vietnamese cafe, and played a few rounds of Uno.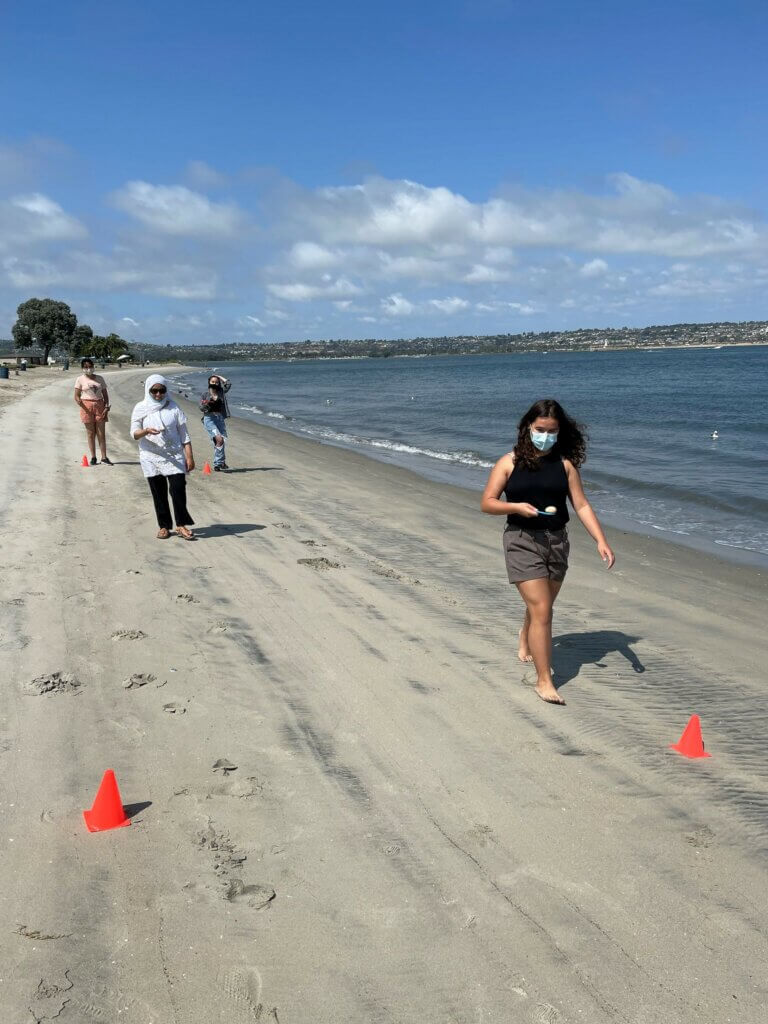 The last day of camp was also the last field trip. We traveled to Mission Bay where we had a picnic of vegan burritos and played games, like egg and spoon races in the sand. The campers also noticed all the trash littering the beaches around the bay and we took this opportunity to take action together. We used our trash grabber to clean up the litter around the area. It was inspiring to see the campers so concerned for the wellbeing of wildlife and the oceans. They were so eager to spring into action! We discussed the interconnectedness of the San Diego waterways and the importance of keeping the roads, as well as nature spaces, free from trash. Spending time in nature on a beautiful sunny day at the bay was an amazing way to finish off our camp!