Power San Diego Kickoff Event
When:
December 5, 2023 @ 5:30 pm – 7:30 pm

2023-12-05T17:30:00-08:00

2023-12-05T19:30:00-08:00

Where:
Bard Hall, First Unitarian Universalist Church
298 W Arbor Dr
San Diego, California
92103

Contact:
Adam Aron @ SanDiego350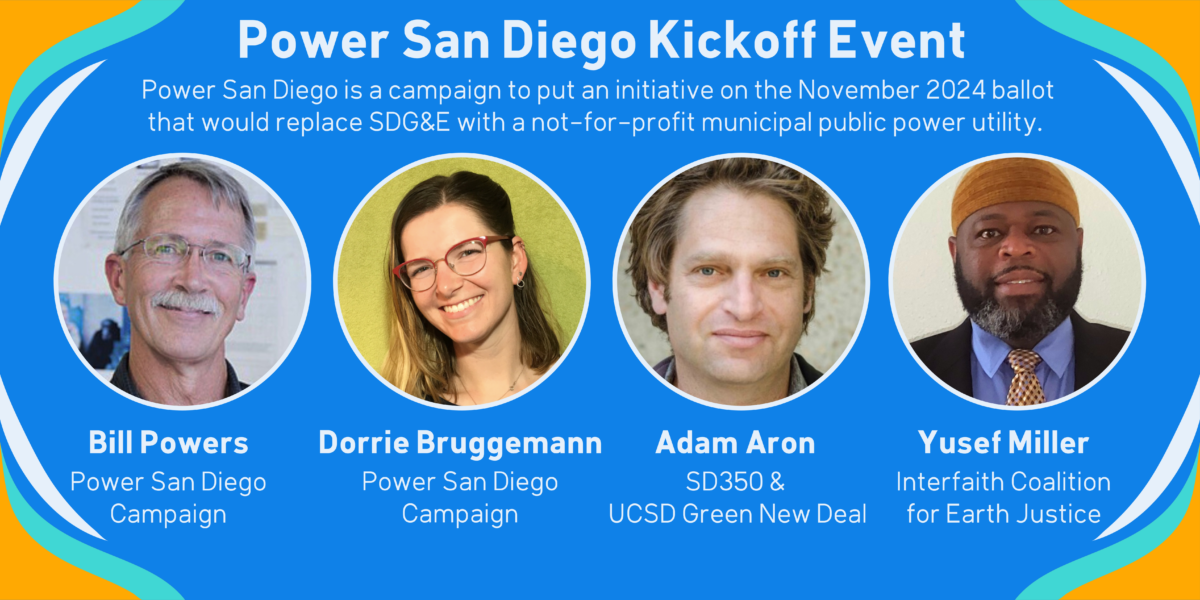 Power San Diego is a campaign to put an initiative on the November 2024 ballot that would replace SDG&E with a non-profit municipal public power utility. We'll be collecting thousands of petition signatures for this important measure from December 2023 through April 2024.
Why Power San Diego? Come learn about why a municipal power utility that owns our poles and wires is essential to lower rates, speed regional decarbonization, and create energy democracy. We'll talk about the mechanics of municipalization, how this approach will center union workers and protect and expand local rooftop solar, and how this is different from and complementary to San Diego Community Power. With the highest electricity rates in the entire country, with 1 in 4 San Diego households unable to afford their utility bills, and with a utility that has used its profits to lobby against rooftop solar and climate policies, now's the time to take control of our energy future!
At this kickoff, we will be learning about the Power San Diego initiative and how to get it on the ballot. You'll learn how to talk about the initiative, how to collect signatures, and you'll be able to sign up as a volunteer to petition and for other roles. We will have petition packets so you can hit the ground running and start collecting signatures on December 7th, when petitioning begins! (Visit the Power San Diego website to learn more).
Speakers include: Bill Powers and Dorrie Bruggemann from the Power San Diego Campaign, Adam Aron (SD350 & UCSD Green New Deal), and Yusef Miller (Interfaith Coalition for Earth Justice).
Join SanDiego350, Power San Diego, the First Unitarian Universalist Climate Justice Team, UCSD Green New Deal, Interfaith Coalition for Earth Justice, and other partners.
We'll be meeting in Bard Hall at the First Unitarian Universality Church in Hillcrest (follow signs). Please make every effort to carpool, walk or bike, or take public transit. The 11 and 3 buses stop near the church. We will have a limited number of parking vouchers, and overflow parking is available for an hourly rate at the nearby hospital.
Please register using the green button above.
If you're ready to volunteer or can't make this meeting but are interested, please fill out this form to volunteer on this campaign! (Sorry, link was broken earlier – now working)