By Jeffrey Meyer

Mayor Bob Filner and over 500 San Diego protestors in Mission Bay Park joined similar rallies in cities across America Sunday in protest of the Keystone XL Pipeline project, beginning a massive effort to demand President Obama block it and call for leaders at all levels to take action to fight global warming. (Watch coverage on 6 TV stations)
Speaking at the San Diego rally, Mayor Bob Filner expressed his concerns about Keystone, climate change and what he wants to do in San Diego.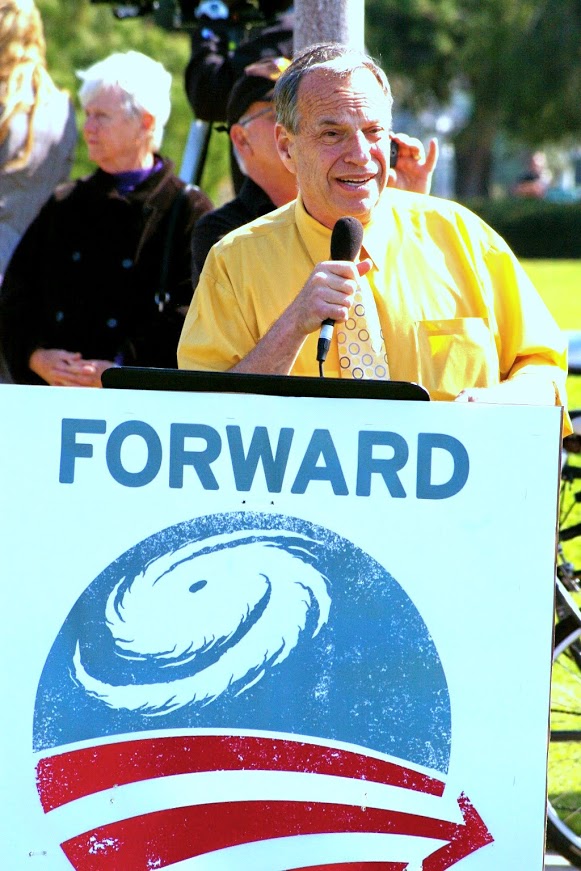 "If we're going to save our beaches in San Diego, we need to take our heads out of the sand, especially the tar sands," he said, imploring the Mission Bay crowd to push President Obama to deny permits for the Canadian pipeline that is part of a massive proposed tar sand mining and pipeline project intended to deliver bitumen slurry to Texas coastal refineries.
Mayor Filner explained that every level of government has to take some responsibility for dealing with global warming and that San Diego can be a national leader in the use of alternative energy sources.
"I want to have solar power in all San Diego public buildings within the next five years," he said.  "San Diego can lead the nation in the use of alternative energy and moving away from fossil fuels."
Part of a nationwide protest, with the major rally drawing an estimated 35,000 people today in Washington D.C.,  numerous San Diego groups participated in the rally, cheering numerous speakers,  waving banners and hoisting protest signs.  Major organizers locally were  sandiego350.org, Citizens Climate Lobby, the Sierra Club, the Environmental Health Coalition and Greenpeace.
Also, speaking at the rally, Dr. Jeffrey Severinghaus, director for the Scripps Institution of Oceanography Climate-Ocean-Atmosphere Program, said there is an abundance of misinformation about climate on the public airwaves making real climate science more needed than ever.  About 98 percent of climate scientists and researchers around the world agree with Severinghaus that humans, and not nature, are the source for the additional CO2 that is causing global warming.
"There is no such thing as Republican physics or Democratic physics.  Physics is physics.  Accurate science is desperately needed, now more than ever, and that is why I'm speaking up   We need to draw a line in the sand on the use of tar sands," he said.  "Those who will suffer the most are not yet born.  We need to act now and speak for them."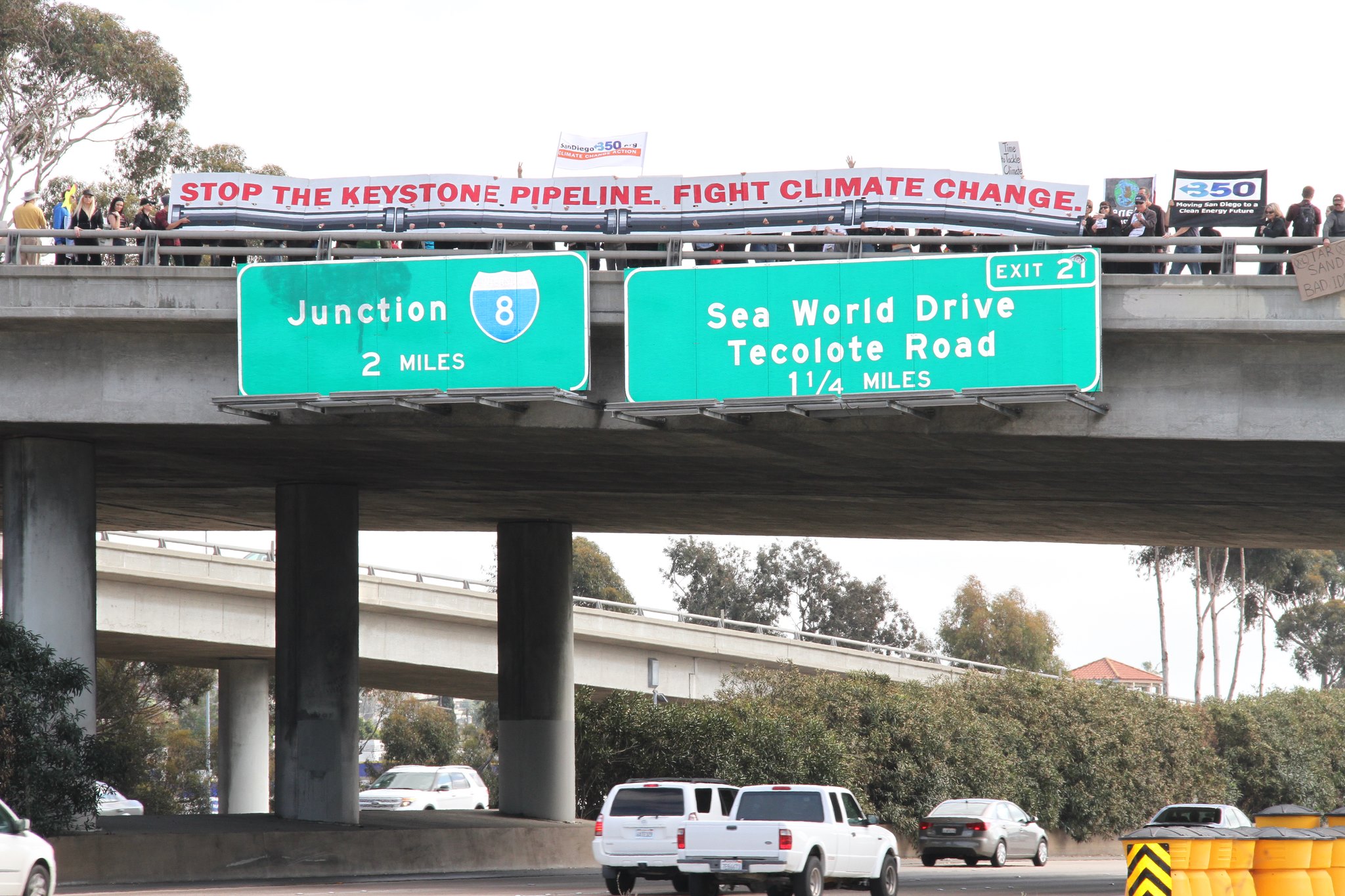 He noted San Diegans should show support for a new bill bill to curb carbon pollution introduced this week by Sens. Bernie Sanders (I-Vt.) and Barbara Boxer (D-Calif.).  "You need to let Boxer know you have her back," he said about the new bill which has an estimated tax potential of more than a trillion dollars and would be invested in sustainable energy programs, with a large portion returned to taxpayers.
Former State Assemblywoman and present Chair of the Executive Committee of Sierra Club, San Diego chapter, Lori Saldana, also spoke at the rally, offering her perspectives on Keystone and climate change. "We're here today as part of a nationwide call for President Obama to step up to the plate and stop the Keystone Pipeline once and for all – and to begin implementing policies to reduce greenhouse gas emissions, something that California pioneered,"  she said.
Another speaker, Rev. Dr. Beth Johnson, minister of Palomar Unitarian Universalist Fellowship in Vista, who has been involved in the environmental movement  for over 20 years,  said "Everything is connected and everything is at stake."
Elizabeth Perez-Halperin, a Native American, military veteran and green business owner, said "My Native American roots and military experience have influenced me to become an environmentalist and conservationist. The threat of not protecting our environment is a national security issue."
High-schooler, Tierra Gonzalez-Hammonds (daughter of Lorena Gonzalez, labor leader and candidate for the 80th Assembly District), also spoke, addressing her concerns about her generation's future in a heated world.
Franco Garcia, of the Environmental Health Coalition, talked about the impacts of climate change on some of the people hardest hit locally. Simon Mayeski, a member of SanDiego350.org, said "It is of utmost importance that President Obama 'see the light', show us the leadership we need and reject the XL Pipeline. We need long-term clean energy relief, not a short-term CO2-laden fix."
Scientists expect the sea level to rise at least three feet by 2100 due to global warming caused by CO2 generated by our use of fossil fuels.  This means that much of Mission Bay and the San Diego area will be covered in several inches of sea water at high tide, and we will have enormous areas subject to flooding during storms.  Sandy beaches up and down the coast could be washed away, destroying property values, wildlife habitat and tourism.  Key climatologists believe the exploitation of tar sands and our relentless release of CO2 will tip our planet's temperature into a catastrophic nightmare, and unless action is taken now, they say the damage will be irreversible.