On Thursday, March 6, at San Diego's World Resources Simulation Center, Ocean Scientists for Informed Policy (OSIP) shared their impressions of the United Nations Framework Convention on Climate Change (UNFCC) Conference of the Parties (COP) in Warsaw, Poland
In San Diego, if you want to get involved in a spirited and informed discussion about addressing climate change, a Climate Chat sponsored by SD350.org is the place you will find it.  On the first Thursday evening of March, four members of OSIP returned from their recent experience at the Warsaw COP with concerns that give us at SD350.org even more reason to commit to our own mission, combating climate change.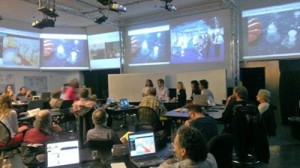 Walking into the large open room of downtown's World Resources Simulation Center, one sees a series of video screens encircling the room.  On the screens are photos of three young Scripps ocean scientists, Yassir Eddebbar, Natalya Gallo and Lauren Linsmayer, taken with Christina Higuera, chairperson of the UNFCC COP in Warsaw.  Later these screens will feature a lively video of two other OSIP delegates, the media team of Nick Obradovich and Kate Furby, making themselves comfortable on beanbags while they strategize their next move: how to poll the delegates to find out what they actually know about ocean science.  It turns out most know very little.  More on that later.
Scripps Ocean Scientists Show Their Dedication
It would be hard to find a brighter and more energized group of young people anywhere than these members of OSIP.  How they found time, amidst work on their PhDs, to organize themselves as a delegation to COP and then as a panel to field questions at an open forum about the effect of climate change on the oceans is a testament to their commitment to inform the public about current ocean science.
This evening, four of them are here: three Scripps Institution of Oceanography (SIO) scientists, Natalya, Yassir, and pilot-whale researcher Amy van Cise, along with Nick, who is a UCSD political science graduate student.  Before the evening is over, they have convinced this audience that they know their science and, furthermore, they understand the diplomatic and political obstacles facing those who would save the oceans.  When the forum closes, the four stay to answer the questions that keep coming.
Obstacles to Combating Climate Change Provoke Lively Discussion
This is the third Climate Chat sponsored by SD350.org and it has attracted a good audience.  Those of us who arrived early have seats on comfortable stools at high tables with computers in this high energy, high tech venue.  Those who arrive later find places around the room in office space and on assorted chairs and couches.  It's a full house.  After brief introductions, a call for questions from the floor draws out some daunting obstacles facing any effort to protect the oceans.  An energized discussion of them ensues.
For these graduate students, primary among those obstacles is that scientists who do research and understand what's happening cannot themselves advocate for ocean-friendly policies.  If they do, they stand to lose credibility, for both themselves and their disciplines. For most scientists, especially young ones who are establishing their reputations, that's not a risk worth taking.  They need others – like us at SD350.org – to advocate for the oceans as a significant aspect of our combating-climate-change mission.
In response to a question about the efficacy of COP itself, Yassir brings up a knotty diplomatic problem:  No nation owns the oceans, so who bears the responsibility for caring for them?  It will take international cooperation, which in turn will require political will from the politicians of COP member nations.  With many nations looking to the US, the world's largest economy, for world leadership, progress in forging international commitment to reducing CO2 is currently doubtful.  The money that turns the wheels of our political system, so much of it coming from the fossil fuel industry, makes it difficult even for those politicians who see the need to act now.
That brings attention to another, related obstacle: the lack of urgency among the general public, who haven't personally felt the consequences of climate change.  This complacency prevents politicians from having the confidence to take action, even if they understand that climate change is real and that human beings are causing most of it.  Without this populist counterbalance to the money poured into their campaigns from the oil industry, politicians are unlikely to stand up for pro-planet policies that defy their major political contributors.  Again, that's where we at SD350.org come into the picture.  We must work to engender the political urgency needed for positive action.
Interest in Ocean Science Strong Among COP Delegates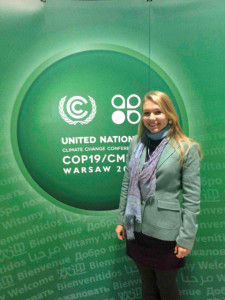 Despite the gloomy political picture, the ocean-science panelists found something positive while in Warsaw:  They perceived among the delegates to the conference a hunger for information about the oceans.  Two Scripps scientists – one of them, Natalya Gallo of this evening's panel – earned venues to present their science at the Warsaw conference.  Their presentations had standing-room-only audiences – a heartening sight to the scientists.
The evidence of such interest in ocean science, plus the energy and commitment of these ocean scientists, makes it obvious that they should continue their efforts.  They should go to the Lima COP later this year with their skills at communicating the data of ocean science; then continue on to Paris in 2015, where a new treaty will be drafted, this time with more specific language relating to the oceans — likely thanks in large measure to their efforts.
SD350.org's Challenge
Meanwhile, it is our job at SD350.org, informed by the latest ocean science, to carry the message of the oceans into the political arena, where we will work on the seemingly intractable problem of generating the political will to combat climate change.  This Climate Chat was, in a way, a passing of the torch from OSIP to us.
Those of us who enjoyed and learned from the Climate Chat owe much thanks to SD350.org's Dr. Janina Moretti for her hard work in bringing this successful event to fruition and to SIO for putting SD350.org in touch with OSIP.
_____________________________________________________________
Check out Ocean Scientists for Informed Policy

This text by Bonnie Mosse Funk is used here by permission of the author, and is licensed under a Creative Commons Attribution-NonCommercial-ShareAlike 3.0 Unported License.