Have you spotted our PSA on TV, radio, or online?  Tell us!

SanDiego350 is currently contacting over 50 media outlets to air our new climate change Public Service Announcement.  The PSA invites the audience, who may already be concerned about climate change, to become active in the climate movement with SanDiego350. The first TV stations to confirm they would air the PSA, starting July 17, were the Spanish-language Entravision/Univision affiliates KBNT, KDTF, LATV, XHAS and DDTV. Six other stations including Channel 10 KGTV ABC, Channel 8 KFMB CBS, and Channel 9 KUSI have indicated they will try to air it.
The stations aren't able to tell us when the PSA will air. IF YOU SEE OR HEAR OUR PSA, PLEASE EMAIL Louise Russell at louiserussell9@icloud.com, indicating the station and the approximate time it aired.  That will help us track how the air time is adding up. If you haven't seen the PSA, here's what to watch for: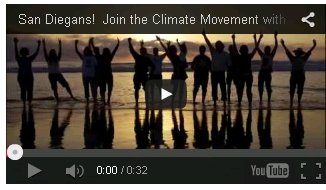 The 30-second PSA was put together by a team of SanDiego350 volunteers with technical assistance from Gregg Brandalise of Blindfold Studios, Poway (pro bono) and also from Patrick Espinosa of Cypress Productions, San Diego.  It can be viewed at sandiego350.org.
Posted by Bonnie for Louise.