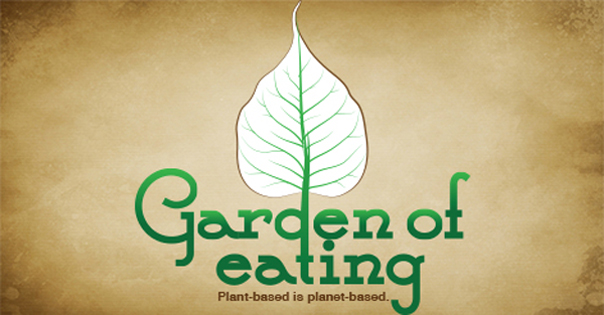 Hungry? Step Inside Earth Fair's Garden of Eating!
Many of us take pains to do the right thing for the environment. We may recycle, take shorter showers, and turn the lights off when leaving a room. But did you know that you can eat your way into making an even bigger difference?
It's true: food choices matter in so many ways. The great news is this is an area where personal health and happiness come together with conserving resources, building community, and addressing climate change – not to mention more compassion for the animals we share this planet with.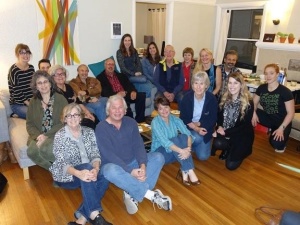 At this year's Earth Fair on Sunday, April 19 from 10am – 5pm in Balboa Park, SanDiego350's "Planet-Based Diet" team invites you into the Garden of Eating, where you can experience the pleasures of good food, good life, and good earth – and we promise, it's anything but rabbit food!
Why Check It Out?
An overwhelming body of research shows that plant-based is planet-based. The UN says, "The livestock sector emerges as one of the top two or three most significant contributors to the most serious environmental problems, at every scale from local to global."
How can this be? In a nutshell, we are now rearing 70 billion livestock animals for slaughter annually on a planet of 7 billion people, with both numbers growing each year. Yet our resources are finite, and it takes quite a bit of them – and causes shocking amounts of environmental damage – to accommodate these animals before they end up on our plates.
Got Drought?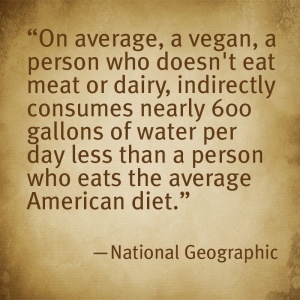 Take, for example, freshwater depletion. Per Pacific Institute, the crop receiving most of drought-stricken California's water is alfalfa hay (livestock feed) and a whopping 47% of California's total water footprint is associated with meat and dairy. Yet: "Eating lower on the food chain could allow the same volume of water to feed two Americans instead of one, with no loss in overall nutrition" (Scientific American, "Growing More Food With Less Water"). While Shorter showers save about 2.5 gallons, National Geographic says the average vegan diet saves 600 gallons of water per day! With California's water supply running out, there's no single more effective way to help save it.
Other areas of resource depletion in which animal agriculture is being called a leading cause are deforestation, water pollution, rainforest destruction, species extinction, habitat loss, topsoil erosion, and ocean dead zones. The documentary "Cowspiracy" explains this in further detail (check out their extensive fact sheet).
The Climate is Changing

And then there's the creation of greenhouse gases and climate change, which is the focus of SanDiego350. Although energy and transportation are major contributors, animal agriculture is responsible for 35% of methane and 65% of nitrous oxide emissions, which trap much more heat than carbon dioxide (UN FAO). In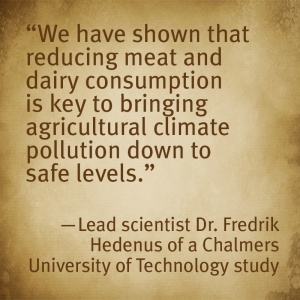 fact, animal agriculture is reportedly responsible for more emissions than all forms of transportation combined (UN FAO), with one more recent study finding it is responsible for 51% of total emissions (Worldwatch Institute)!
Deutsche Bank Research says, "Greenhouse gas emissions from meat-eating warrant the same scrutiny as do those from driving and flying." And Rajendra Pachauri, the head of the UN IPCC, begs us, "Please eat less meat—meat is a very carbon-intensive commodity." He adds that doing so is the most immediate and feasible way to reduce emissions in a short period of time.
Do Fish Count?
Although fish are often considered a more environmentally friendly option, our population's demand for seafood is simply greater than the oceans are capable of producing. Outrageously, one third of all fish removed from the ocean, with most discarded as "bycatch," are fed to livestock. Scientists say the oceans will be completely depleted at this rate by 2048. Additionally, removing too many fish from the ocean sets off a chain of events that further warms the atmosphere. Due to this rapid depletion of wild sea life, about half of the world's fish currently come from fish farms, which are incredibly environmentally destructive and often poorly regulated.
But Grass-Fed Beef and Cage-Free Eggs Are Fine, Right?
Those opposed to factory farming may be reassured by meat labeled grass-fed, cage-free, local, organic, or sustainable. But what do these words really mean in this sense? Although impacts may be less in some areas, producing animal versus plant foods still uses far more resources and creates more greenhouses gases under any circumstances. Far more plants can be produced on a given acre of land, and using fewer resources, than animal foods. And ultimately, creating demand for meat products is what necessitates factory farming in the first place due to scarcity of land.
Need, Not Greed

Finally, consider the fact that one-third of all arable land on earth is used to grow livestock feed while millions of human beings starve to death each year – yet the World Hunger Program at Brown University found that a plant-based diet can feed billions more people. This seems like reason enough to give veg eating a try, no?
Death and Taxes… and Meat?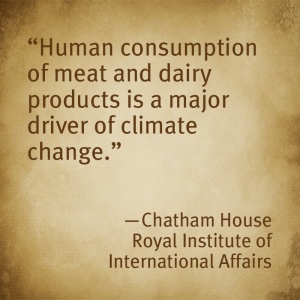 With all this destruction being caused by animal agriculture and fishing, why are meat and animal products still so prevalent? Apart from current preferences and habits, it's a clear case of profit over planet. Gigantic tax subsidies ($38 billion for meat and dairy vs. only $17 million for fruits and veggies, per Meatonomics) keep the price of meat products artificially cheap compared to the amount of irreplaceable natural resources used to produce them, and the true environmental cost is deferred to future generations ­– and possibly ourselves.
But Where Do You Get Your Protein?
Is a plant-based diet healthy? Most definitely! It is the American Dietetic Association's position that vegetarian and vegan diets are "healthful, nutritionally adequate, and may provide health benefits in the prevention and treatment of certain diseases" and "are appropriate for individuals during all stages of the life cycle." If our closest relative, the gorilla, can thrive as an herbivore, so can we!
Luckily, plant-based eating is a trend that's here to stay. Vegan alternatives are getting better and better, and are now available in most grocery stores.
At the Garden of Eating, plenty of samples, demos, speakers, performers, factoids, and other features await you once you step inside, including nationally recognized environmental activist Rob Greenfield's "Food Waste Fiasco." Jimbo's, San Diego Soy Dairy, and Be Wise Ranch have generously donated food and supplies for our food demonstration stage. Vegetarians and omnivores alike are welcome! No "vegan police" will be present. The hope is simply for you to come away inspired and excited about plant-based eating.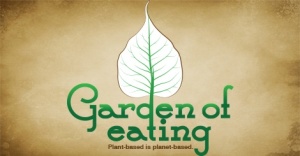 The Garden of Eating will be located adjacent to the Timken Museum. Get more event info and RSVP here!
Bring your appetite, and we'll see you there!
Graphics by Amy Duncan/Wonder Creative.