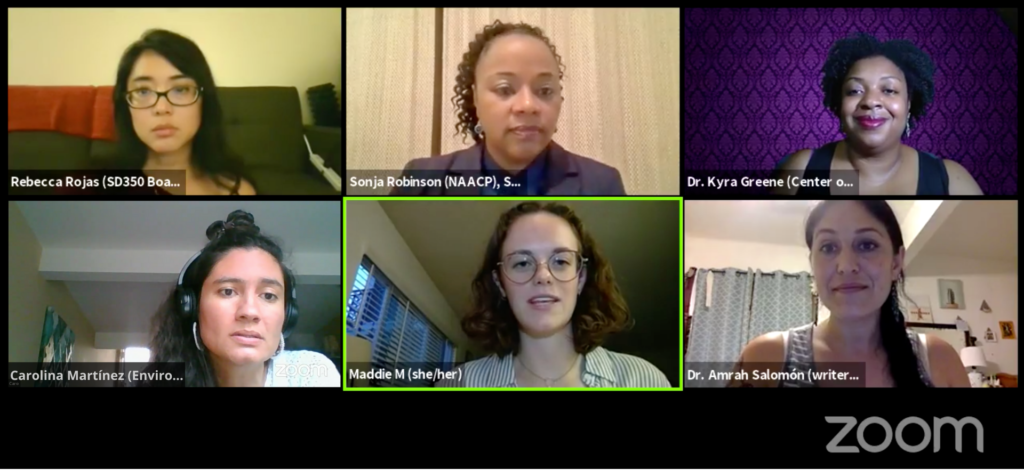 By: Louise Potash, SD350 Communications Volunteer
Within a week of joining SanDiego350, I found we were hosting a panel discussion on a just recovery from COVID-19. I myself have been confronting these questions and feeling daunted by the enormity and complexity of our current and future systemic challenges.
The Facebook Live discussion brought together a diverse group of experts: Rebecca Rojas (SD350 Board Member), Dr. Kyra Greene (Center on Policy Initiatives), Sonja Robinson (NAACP and SUN Host), Carolina Martínez (Environmental Health Coalition), and Dr. Amrah Salomón (Writer, Artist, Educator, and Activist for Indigenous and Tribal communities). Panelists contributed their expertise in policy initiatives, climate justice, environmental health, and Indigenous and tribal communities, to address issues and opportunities in the wake of the COVID-19 pandemic.
How do we tackle environmental justice issues?
COVID-19 has given us an unfortunate but important opportunity to grapple with the potential economic and societal reorganization presented by this moment. The communities most directly affected by COVID-19 are the very same ones most affected by the climate crisis, social injustice, racism, economic injustice, and other adverse public health injustices. So, a truly just recovery from COVID-19 must address these intersecting issues.
The panelists also asked the audience to grapple with questions such as:
How has the San Diego tourism economy exploited land and people?
What kind of labor do we envision in a just society?
How do we build a future for those who have historically been denied a future?
How can we shift to creating non-oppressive relationships between communities?
What would a just recovery look like and how do we get there?
The panel reminded us that while "recovery" implies a return to a previous state, the prior economic status quo was not healthy or just for all. Rather, we must re-imagine an economy with sustainable climate opportunities focused on communities of color. Moving forward, the needs and opinions of our frontline communities should be considered in the solution. As we restructure, we must engage with and listen to these community members.
To do so, we must be bold and push the dialog for regional change. Panelists suggested working with, and financially supporting, social movements based on intersectionality and voting on both local and national issues.
How can we as climate activists use this discussion to become engaged and effect change?
The panelists' knowledge and experience were not only extensive and impressive, but I was most appreciative of their wisdom to ask questions of the audience and to ask us to be active participants. As to how we as climate activists can take action, the panel reinforced the importance of actions such as lobbying, petitioning, and voting.
This work is not new. This moment simply feels new in the light of the COVID-19 pandemic. We must always continue working toward a reimagined society and economy that eradicates the injustices felt by underserved communities. The resounding remarks from the Just Recovery Panel tell us that recovery cannot be a return to previous conditions. Instead, a true just recovery must redesign a new normal that supports communities at the forefront of current environmental, racial, economic, societal and health injustices.