By Joshua Piedra, SanDiego350 Board Member
Attention everyone who lives in County Supervisor District 4: make sure to cast your ballot by August 15. Read below about our nonpartisan candidate forum and watch the livestream.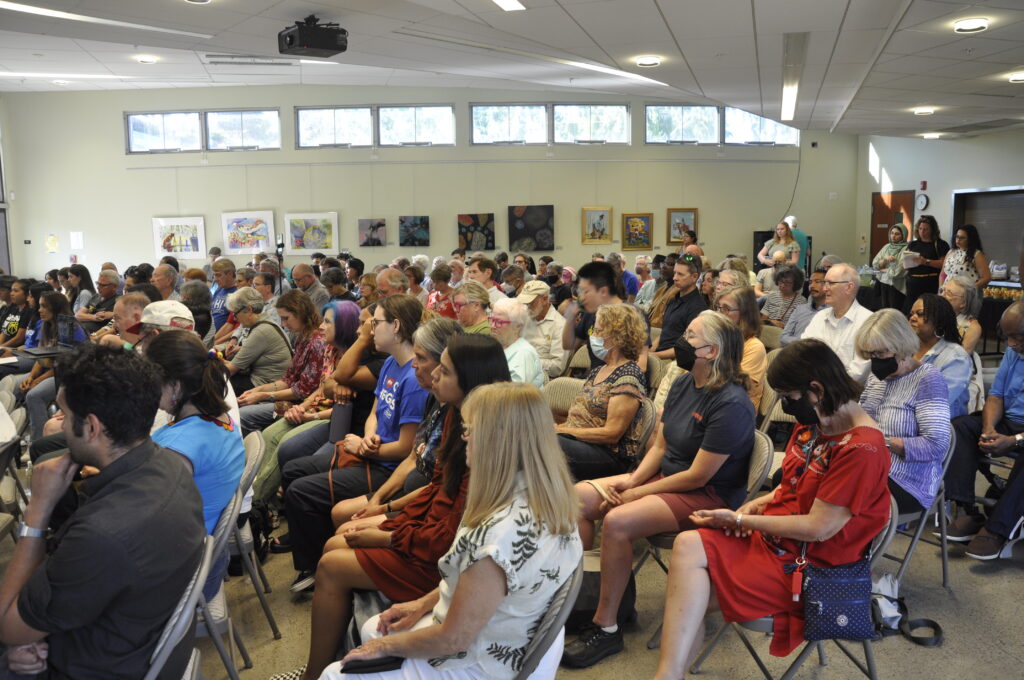 Our Candidate Forum asked questions on climate and environmental justice
The Candidate Forum went really well! We had a packed auditorium with more than 150 folks participating, and according to one of the candidates it was the largest forum they had attended! The forum included 3 of the 4 candidates running for County District 4 in the Special Election. We partnered with more than a dozen organizations to put the event on.
It was a riveting discussion with questions from the sponsoring organizations and the in-person audience, moderated by two local environmental journalists. Learn more about the positions that each candidate has on climate issues by viewing our recorded live-steam (para español usa este enlace – thanks to Environmental Health Coalition) and view the photos. A big shout out to all the volunteers, organizations, and folks who showed up to make this candidate forum such a success!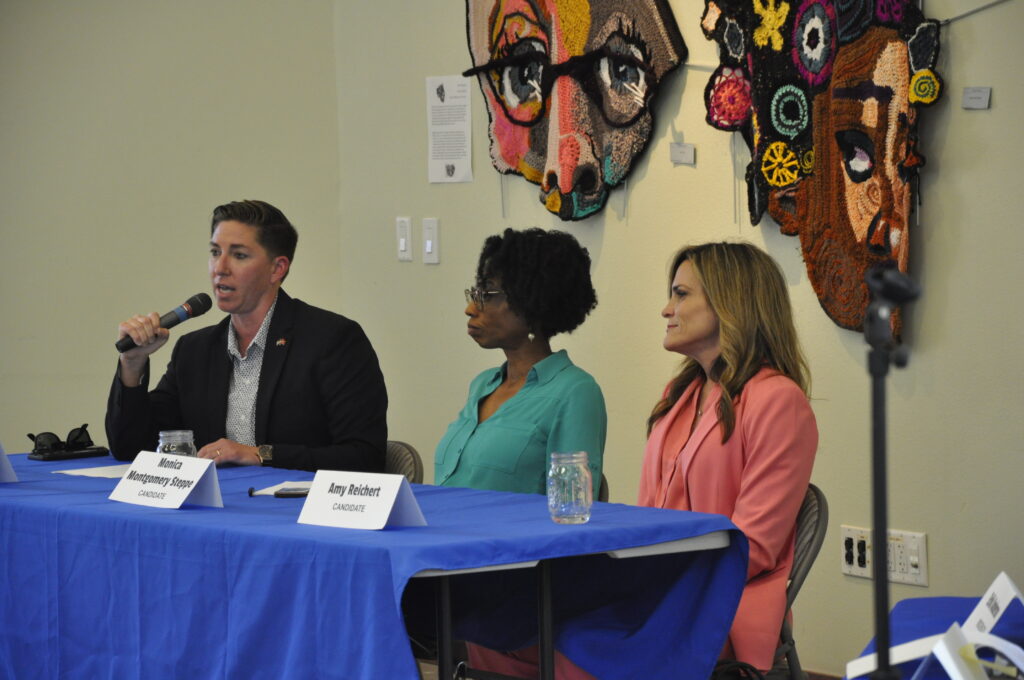 The ultimate reason why we hosted this forum was to allow District 4 residents to ask important climate-related questions and learn more about the positions that each candidate holds. One of these candidates will be the next representative for District 4, and with it comes a ton of power. Our next step in this civic process is to make sure every resident of District 4 turns out to vote!
Read my prior blog on the D4 election here.
Who are the Candidates?
The four candidates on the ballot are:
Learn more: read the Union Tribune's Q&A with the four candidates, including questions on climate and transportation
How do I vote?
If you live in District 4, you should have already received a mailed-in ballot. You may mail your ballot, drop it off at a drop-off location, or vote in person at a voting center (these will be available starting August 5th through August 15th). If you'd like to vote in person, be sure to bring your ballot to the location. However you submit your vote, please remember to do so by no later than August 15th! That will be the last day you can vote in this special election. For more information, visit the Registrar of Voters website.
What is a County Supervisor?
If you need a refresher on what a County Supervisor does and how the County Government impacts our ability to address the climate crisis, please take a look at this previous blog with more information.
Why does this Special Election matter to SD350?
I digress, It matters because of what we care about: climate action and environmental justice. The politics of the Board of Supervisors has changed drastically in the past few years, giving us an opportunity to push for climate actions and investment that centers those most impacted by climate change.
Progress in the past few years has included creating and staffing up an Office of Sustainability and Environmental Justice at the County and development of a Regional Decarbonization Framework. Our work has focused on advocating for a Climate Action Plan for the unincorporated areas of the County that puts us on track to achieve state requirements, pushing to expand public transit and limit sprawl development, and investing the necessary funding to decarbonize our region.
However, with Fletcher's resignation, the most ethnically diverse district in the County is without representation, the County Government is politically divided, and key policies and programs have come to a standstill.
Given what is at stake for the region and for District 4 constituents, it is critically important that District 4 residents learn about the candidates and turn out to vote in the special election.
Who votes in this Special Election?
District 4 (see map) includes City of San Diego communities Bay Park, Bay Ho, Clairemont Mesa, North Clairemont, Hillcrest, Balboa Park, North Park, Bankers Hill, Old Town, Mission Hills, Normal Heights, University Heights, Oak Park, Webster, Valencia Park, Encanto, Bay Terrace, Paradise Hills, Skyline, Kearny Mesa, Linda Vista, Birdland, Serra Mesa, Civita, portions of Grantville, City Heights, Rolando, Azalea Park, Chollas Creek, Rolando Park, Kensington-Talmadge, Montezuma Mesa, Mid-City, and SDSU Mission Valley, as well as Lemon Grove, La Mesa and the unincorporated communities of Crest-Dehesa, Spring Valley, Casa de Oro, Mt Helix, and Rancho San Diego.